Any doubts about the presence of sophisticated organized criminal organizations in Costa Rica were dashed Wednesday morning. The Judicial Investigation Police (OIJ) raided several properties across Costa Rica and arrested seven people in an international joint operation between Costa Rican, Italian and U.S. authorities to take down a cocaine trafficking ring linked to the 'ndrangheta mafia.
In an unrelated incident on Oct. 9, a suspected hitman was gunned down in broad daylight after being picked up by a taxi at a relative's house in San Francisco de Dos Ríos, southeast of San José. Four men armed with AK-47s blocked the cab with a black SUV and fired up to 100 rounds. Images of the bullet-ridden taxi spread like wildfire over social media.
Examples like these, along with a steadily climbing homicide rate, have left Costa Rican authorities struggling to express a strategy to combat increasingly violent and well-organized criminal elements, both international and local. Between the start of the year and August, 370 homicides were committed, 202 of them related to organized crime, according to a statement from the Public Security Ministry.
Costa Rica enjoyed a downward trend in homicides between 2010 and 2012 before seeing a spike in 2014, including a rash of killings in Desamparados, south of the capital. Those high numbers so far have continued in 2015, making for an ugly reversal. In 2010, 527 homicides were committed, but that number dropped to 407 in 2012. The number crept up in 2013 to 411, but 2014 saw a spike in killings. By the end of 2014, 471 homicides were reported, up 14.6 percent from 2013, according to statistics from OIJ published in February. According to the Public Security Ministry, a total (not just organized crime-related) of 426 homicides were committed between January and Oct. 9 in 2015.
On Tuesday morning, Public Security Minister Gustavo Mata held a news conference calling on the OIJ — which is in the judicial branch, not the executive — to create a specialized unit dedicated exclusively to investigating organized crime. Mata said the fact that 55 percent of the year's homicides were tied to organized crime was "reason for why a unit focused exclusively on organized crime was necessary."
"The shape that organized crime has taken in our country and its direct relationship with the increase in homicides during the last year merits a more holistic response that institutions involved in its prevention and repression have given," Mata said in a statement.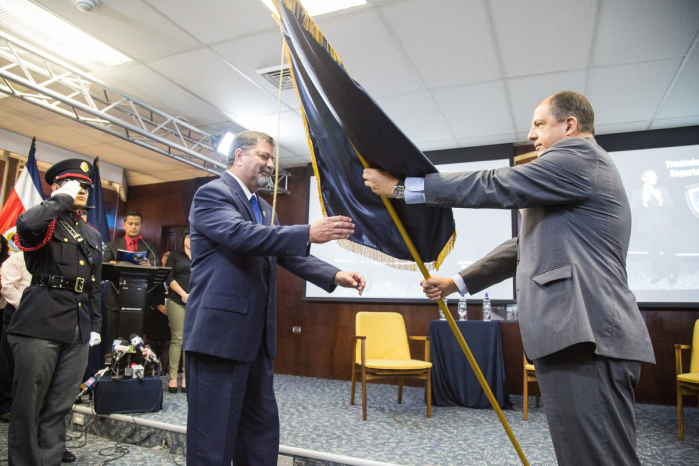 Mata said he has been pushing for an inter-institutional unit housed in OIJ that would coordinate responses to organized crime between agencies in the judicial branch, including prosecutors, judges and OIJ investigators, and the police force.
Chief Prosecutor Jorge Chavarría pointed to examples such as the 'Ndrangheta raids as examples of successful coordination across institutions and countries, but agreed that a change is needed in how Costa Rica tackles organized crime.
"The level of violence that we're seeing, the kinds of crimes, demand that we re-think how we investigate. In this sense, we're in agreement with Mr. Gustavo [Mata]," Chavarría said.
Despite calls for greater coordination, however, both sides continue to speak past one another.
"What we need to do is prevention – prevention of consumption, prevention of trafficking, prevention of money laundering," said Chavarría, speaking of an area typically under the purview of the Public Security Ministry.
Mata's words, meanwhile, spoke about improving investigations, which are the responsibility of OIJ and the Prosecutor's Office.
Chavarría left little to the imagination if the current trend continues: "I think that there's no going back on the level of violence that has started in this country. We're a country with organized crime. The number of homicides indicates the presence of organized crime."
"The example is the Northern Triangle," he said, referring to El Salvador, Guatemala and Honduras, the most violent countries in Latin America. And "the path we're on is toward the Northern Triangle if we don't take action today."