MANAGUA, Nicaragua — As a kid in a poor neighborhood of a poor country, Nicaragua's Román González collected garbage with his father in a cart pulled by a rented horse.
Now he is on top of the world, at least the boxing part of it: González, whose nickname is "Chocolatito," is undefeated in his career over three lower-weight classes, a three-time world champion and the reigning WBC flyweight champ.
Outside the ring, he is soft spoken, the kind of guy who might go unnoticed.
But inside it he is pure energy, an aggressive attacker and skilled defender, and praised for his impeccable technique. His record is 43-0, with 37 knockouts.
And he has a title defense bout coming up Saturday in a mythical arena, Madison Square Garden.
Growing up in a neighborhood called La Esperanza — Spanish for hope — González liked football, even though the most popular sport in the Central American country is baseball.
His father discouraged him, saying soccer would get him nowhere.
So González gravitated towards a boxing gym where he met a retired Nicaraguan boxing legend named Alexis Argüello, who would guide him as he got started in the sport.
"I never thought I would become the world No. 1 or the world champion three times. But thanks to God and with the help of my family, we achieved it. It has been very special for me," González told reporters from his training site in Costa Rica, where he is preparing for the title defense fight in New York against an American from Hawaii named Brian Viloria.
His feat of reaching the pinnacle of boxing glory has the sports media in this country in a frenzy. They have not seen such a thing since the days of Argüello, another Nicaraguan who was a world champ three times in his career from 1974 to 1989.
González, 28, has yet to suffer a defeat in the three categories in which he has fought: flyweight (112 pounds), light flyweight (108 pounds) and minimumweight (105 pounds).
U.S. sports media such as the boxing magazine The Ring or ESPN have lavished praise on González, who says he would like to match Floyd Mayweather's 49-0 record.
González has a style that recalls that of Julio César Chávez, considered one of Mexico's best boxers ever, said González's manager, Carlos Blandon.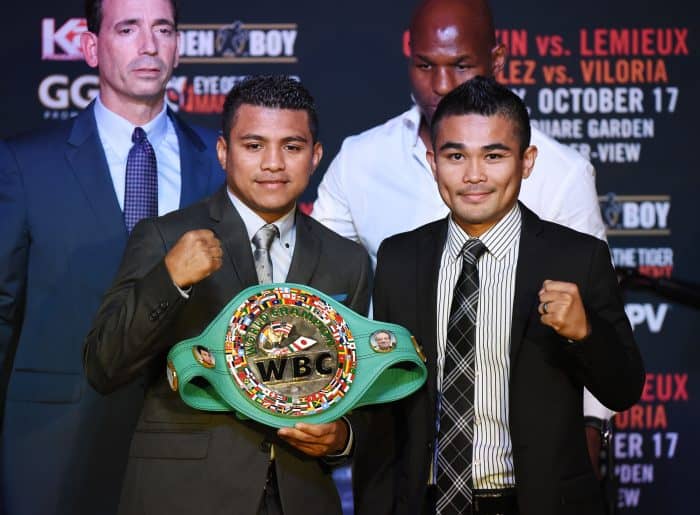 "Chocolatito" has almost perfect technique: sports analyst
He is aggressive but at the same time defends well, and moves very well, the manager said.
"He does not let opponents fight the way the way they want to fight. But he does fight how he wants to," said Blandon.
Sports journalist and analyst Alfonso Malespin says González is a natural with almost perfect technique. He is great at anticipating the opposing fighter and letting loose with a rapid-fire volley of punches from just about any angle, he said.
"He is overwhelming," said Malespin.
"He does not need to have a killer punch like other fighters do in order to wear down the opponent. And if to that you add his ability to block, bob and weave and anticipate punches … his technical capability is more than impressive," said Malespin.
González rules in the flyweight class now after what has been a 10-year career to date. He did just as well in the two other lighter-weight classes.
"Chocolatito" is far from an unknown commodity in the world of boxing, but Blandon says he is not super-famous because he was fighting a lot in Asia and had no promoter.
When he hit the top of the ranking, González also made history because he drew attention to a weight category that had fallen by the wayside since the days of fighters like  Humberto 'Chiquita' González and Ricardo 'Finito' López, said Blandon.