When it comes to slowing climate change, it takes more than a village.
On Wednesday and Thursday, 51 countries filed their climate action plans with the United Nations, a key step toward reaching an international accord at the Paris climate summit in December. Altogether, more than 130 nations accounting for about 85 percent of global greenhouse gas emissions have filed plans.
But are they enough to keep global warming from exceeding the international target of 2 degrees Celsius by 2050? Not yet.
A group called Climate Action Tracker said that while the new global commitments would slow climate change, global warming would still grow by 2.7 degrees Celsius by 2050 and roughly 3.6 degrees by the end of the century. Other forecasts are even more dire.
India filed a climate plan Thursday that fell short of what some international negotiators hoped, pledging to cut the greenhouse gas intensity of its economy by 33 to 35 percent by 2030 and setting ambitious renewable energy targets, but failing to set a peak level for its global warming emissions.
Analysts said that if India's economy continues to grow at roughly the same pace for the next 15 years, its greenhouse gas emissions would jump by more than 77 percent and would account for about 11 percent of global emissions by 2030.
India was the largest of the nations rushing to submit plans by an Oct. 1 deadline in order to forge an agreement in Paris, one of President Barack Obama's top priorities and potentially a landmark accord in the effort to slow down the rate of climate change. Obama and Indian Prime Minister Narendra Modi have met twice in the past year, focusing in large part on climate change.
Obama has also made climate a centerpiece of his two summits with Chinese President Xi Jinping. Xi, for domestic reasons as well as international ones, has said that China, the world's biggest emitter, would reach a peak of carbon emissions by 2030 or even earlier. Xi also announced last week that China would establish a nationwide cap and trade program to implement the goals. He also said that China, which has a huge foreign aid budget, would not provide financing to any new coal projects abroad.
Spurred on by the U.S. and Chinese examples, most nations have pledged to take major steps to reduce dependence on fossil fuels. In earlier years, many developing nations argued that slowing climate change was a job for big developed counties. Yet U.S. officials say that they have been pressing every country to do as much as it can, and one key element in last month's Obama-Xi summit was agreement on language setting aside the divide between developing and developed nations.
Even India has promised to boost its electricity grid's reliance on non-fossil fuels, including solar, wind, hydro-power and nuclear, from 28 percent to 40 percent by 2030 – a daunting goal announced during Obama's trip to India early this year.
India also said in its plan that it would boost its forest and tree cover to create a carbon sink capable of absorbing 2.5 billion to 3.5 billion tons of carbon dioxide.
"Despite the challenges in implementation, this plan reaffirms India's intent to achieve its bold renewable energy goals," said Nitin Pandit, head of World Resources Institute India. He said, "Surprisingly, the country's carbon intensity target doesn't fully capture the emissions it would avoid if it succeeds in meeting its renewable energy goals. We expect India can exceed its carbon intensity target in the course of shifting to non-fossil energy."
Jake Schmidt, director of international programs at the Natural Resources Defense Council, said that "like many countries, India wants to under promise and over deliver." He said India would find itself "within easy reach of doing more."
"What is ground breaking is that, for the first time, all of the major emitting nations of the world are committing to a truly international approach to addressing climate change," said Gary Guzy, a lawyer at the firm Covington & Burling and former deputy director and general counsel of the White House Council on Environmental Quality under Obama. "While perhaps not perfect, the scale of the commitment to cleaner energy development is striking and will continue to drive a focus on cost effective solutions."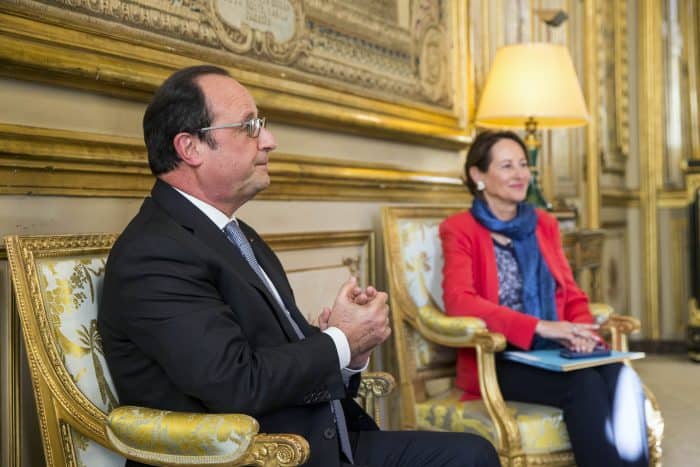 Climate negotiators have been talking about a mechanism that would reopen targets in five years so that they can be tightened depending on more climate data and hoped-for advances in — and lower prices for — renewable energy technology.
Some countries have already pledged to do more. Brazil, the world's fifth largest greenhouse gas emitter (if the European Union, which submitted a plan for its members, counts as one entity), became the only country promising to cut emissions below 2005 levels. Brazil vowed to reduce its emissions to 37 percent below 2005 levels by 2025 and 43 percent by 2030.
South Africa said it would trim emissions by 34 below what is known as business as usual in 2020 and 42 percent by 2025. It said it would reach a peak emission level by 2030.
Similarly Mexico said it would cut emissions well below business as usual, and that its emissions could peak by 2026.
Sweden pledged to go completely fossil free.
But Saudi Arabia, the world's 16th largest greenhouse gas emitter responsible for 1 percent of emissions, did not even submit a climate plan yet. And neither did nearly 50 other countries that account for more than 10 percent of global emissions, including other major oil producing countries. The top emitters from that list include Bolivia, Iran, Saudi Arabia, Sudan, Pakistan, Nigeria, Egypt, Venezuela and Malaysia. Last December, a Malaysian delegate to climate talks in Lima, Peru sharply criticized developed nations for colonialism and demanded compensation.
French President Hollande said last week that he hopes world leaders can arrive early in the Paris summit, as early as Nov. 30, in order to instill political will even if top officials need to wrap up details before the conference ends in mid-December. The French president is eager to avoid the sort of last-minute, rancorous bargaining between heads of state that took place at the last climate summit in Copenhagen in 2009.
For Obama, more obstacles to an international accord could await him back in the United States after the Paris summit. On Sept. 22, Sen. Bob Corker (R-Tenn.) wrote in a letter to Secretary of State John F. Kerry that any agreement that is legally binding should be considered a treaty and submitted to the Senate for ratification.
© 2015, The Washington Post