Update, Thursday, Oct. 1, 10:25 a.m.
Since this story was filed, the Martin Sheen has returned to port in the central Pacific town of Quepos.
Original post continues here:
UVITA, Puntarenas – There's a new sheriff in town at Ballena Marine National Park in southern Costa Rica: Conservation group Sea Shepherd is here, and they've come to protect the whales.
This year, for the first time, the international conservation group sent a research vessel to help Costa Rican authorities protect humpback whales (Megaptera novaeangliae), which migrate annually to the shallow waters of Costa Rica's southern Pacific coast to birth and raise their young.
The endangered humpbacks migrate from the Antarctic and linger in the waters off the coast of Uvita for several months each year, usually from July to October. Their acrobatic nature has them breaching and slapping the water, prompting many eco-tourists to flock to the area, cameras ready.
Ballena Marine National Park administrator Pedro Porras told The Tico Times that tourism revenue in the area generally helps ongoing conservation efforts. But if undertaken incorrectly, whale watching can be harmful to the animals that tourists come to see.
Tourism "has benefitted the community. It has benefitted the tour operators. It has benefitted the park," Porras said. "But we have to be careful of whale assault, because it may be that [the whales] will not return."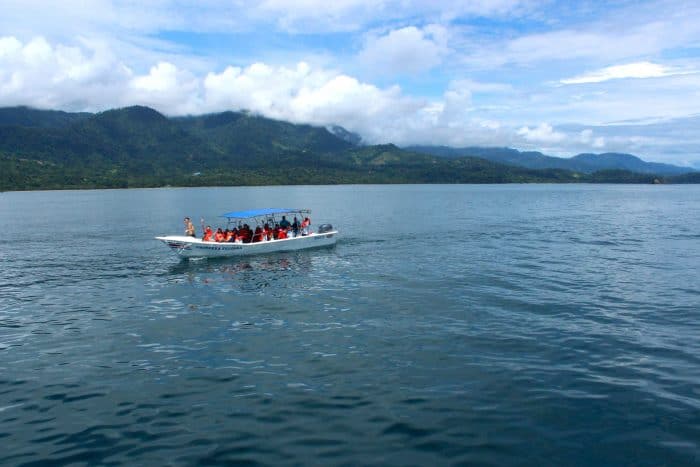 Tour boats approaching too fast or from the wrong angle can scare the whales, causing them to alter their behavior, potentially harming them and their young.
Wildlife veterinarian and Sea Shepherd volunteer Pamela Nepe told The Tico Times that two things can happen when a whale feels threatened: First, the whale never returns to the place where it was threatened; and second, a whale expends extreme amounts of energy trying to escape.
"Imagine that you are swimming with your child and suddenly there comes a boat that wants to attack you. You are going to use a lot of energy in trying to get away from the situation," Nepe said. "So there are many whales that die because they don't have enough energy to return to the south because they are wasting it on things such as fleeing from boats here."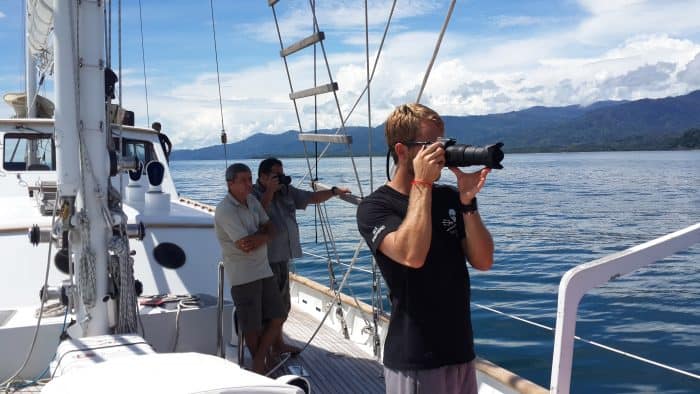 The rules of engagement with whales are pretty simple and based on Costa Rican law. Whales must be approached from the side and never trapped or surrounded. There is a limit to how many boats can observe at once, and boats approaching whales must stop 100 meters from the whale.
Costa Rica's Coast Guard works to ensure that no one violates those rules or endangers the whales. But Coast Guard officers patrol only on weekends. Sea Shepherd has picked up some of the slack by agreeing to help patrol during the last week of September, a time when tour companies are especially busy.
Last week, The Tico Times spent the day patrolling with a Sea Shepherd crew on board the Martin Sheen, an 80-foot ketch donated to the organization by the boat's namesake. At about 8 a.m. on a Tuesday, the six-person crew pulled up anchor and set sail.
Well, not exactly.
"You can't sail in in the Costa Rican Pacific. There's no wind," laughed Francois Martin, captain of the Martin Sheen, as we motored around looking for whales and other marine life.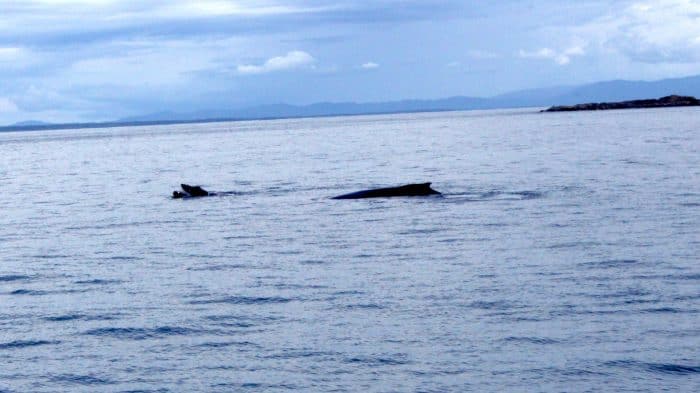 When a whale or dolphin was spotted the crew jumped into action. Martin brought the boat around slowly while other crew members began photographing and documenting the sighting, including the number of whales, the date, time, latitude and longitude. That data will be used to learn more about what Porras calls "ballenas Ticas," or Costa Rican whales. He uses the term because these whales are born and raised in Costa Rican waters.
We caught sight of other whale watchers throughout the day. All of them respected the law and kept the appropriate distance from the whales. One boat even radioed in a dead calf, which the Sea Shepherd crew later examined.
Two members of the Environment Ministry's National System of Conservation Areas (SINAC), who are tasked with overseeing conservation efforts at Ballena Marine National Park, came along for the ride. Porras, one of the officials on board, told The Tico Times that Sea Shepherd is "an enormous help," and that he hopes the partnership will continue into the future.
"They [Sea Shepherd] are here to watch, to document. If anything is wrong, they report it to us and we act," Porras said.
Patrolling is expensive, he added, and SINAC's limited funds prevent them from conducting constant patrols.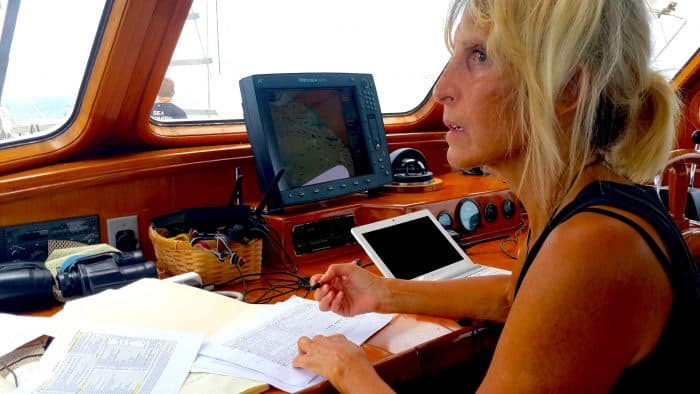 The Martin Sheen's current voyage is part of Sea Shepherd's "Campaña de Buena Voluntad para el Pacífico," a "Goodwill Campaign for the Pacific," which may seem a bit tame compared to the group's other missions. Sea Shepherd Global is most famous for its direct action ships featured in Animal Planet's popular TV show "Whale Wars," in which various crews take on Japanese whalers in the South Pacific.
However, Martin stressed that the Martin Sheen is not a direct-action vessel. He said the crew in Costa Rica is focusing on education, research and forging partnerships with local conservationists. Overall, said Martin, the campaign is a success.
"We are very happy. The people are very aware of conservation, of marine life, and of illegal fishing," Martin said, adding that several local organizations hope to work with Sea Shepherd in the future.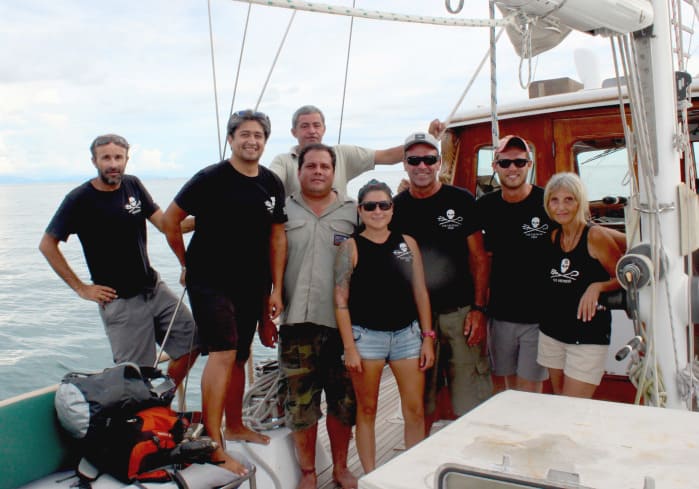 The Martin Sheen has been in Costa Rica since early June, filming marine life and collecting data, especially near Cocos Island, an uninhabited national park located 590 kilometers (365 miles) west of the Pacific port of Puntarenas. It was the first time that Sea Shepherd had visited Cocos Island since 2002, when a Sea Shepherd crew was working on the now-famous documentary "Sharkwater."
While sailing to Cocos Island that year, Sea Shepherd founder Paul Watson was detained by Costa Rican authorities after his ship entered into a skirmish with a Costa Rican fishing vessel accused of shark-fining in Guatemalan waters. That incident scuttled the Cocos Island agreement and has had Watson at legal odds with Costa Rica ever since. Thirteen years later, Watson remains on Interpol's Red List as a fugitive from Costa Rican justice. The Martin Sheen crew completed its current campaign without the legendary and polemic captain.
According to Jorge Serendero, Sea Shepherd spokesman for Central America, part of the group's current mission in Costa Rica is to repair its relations with the country. Sea Shepherd also operates a turtle rescue campaign on the Caribbean coast called "Operation Jairo," named after Jairo Mora, a 26-year-old Costa Rican conservationist killed in 2013 because of his work protecting sea turtles.
"It is very important that Sea Shepherd operate in conjunction with the Costa Rican authorities for the protection of marine life against illegal fishing and shark finning," Serendero told The Tico Times. "That's why we started the Goodwill Campaign for the Pacific."