MEXICO CITY – Parents of 43 students who disappeared last year began a 43-hour hunger strike on Wednesday, a day before meeting with President Enrique Peña Nieto ahead of the case's one-year anniversary.
The families of the 43 missing students gathered under a white tarp in front of Mexico City's cathedral at the historic Zócalo square and declared the start of their protest at 7 p.m.
Holding signs with the pictures and names of their sons, they sat as a doctor examined them to make sure they could take part in the nearly two-day fast. They were to spend the night there under tents.
"For 43 hours, we will only drink water and we'll be fasting when we meet with the president," Nardo Flores, whose son Bernardo is among the missing, told AFP.
It will only be the second meeting between the parents and Peña Nieto since last year's tragedy, which turned into the biggest crisis of his administration and caused his approval rating to dip.
The Mexican leader and the families will come face-to-face at 1 p.m. on Thursday in a museum at the city's vast Chapultepec park.
Vidulfo Rosales, the parents' attorney, said they will call on Peña Nieto to order a new investigation and for authorities to present the 43 missing students alive.
"I don't know if I can handle the fast. I'm diabetic. I'll do all I can," said Genovena Sánchez, whose 21-year-old son Israel Caballero is among the missing. "I'm doing this to get my son back."
Wearing a straw hat, Epifanio Álvarez held a picture of his son.
"Today is very special. Today my son turns 23 and wherever he may be, we are looking for him," he said.
A deputy interior minister, Roberto Campa, said the meeting between the parents and Peña Nieto will be "complicated" as it involves the sensitive issue of Mexico's thousands of disappeared.
"I'm confident that we will have a productive meeting, which will produce agreements to obtain the two main objectives, which are getting to the truth and getting justice," Campa told local radio.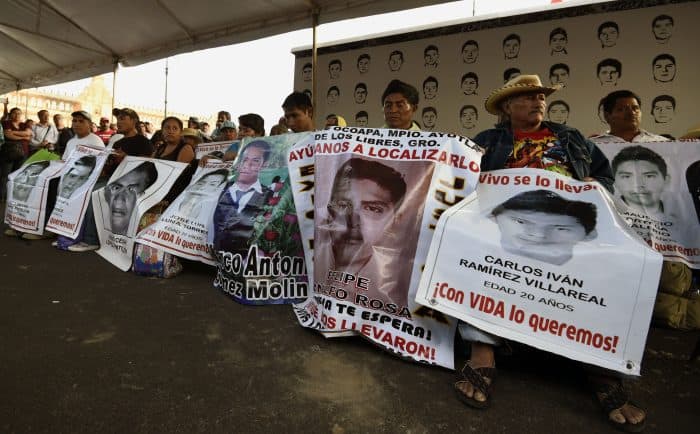 Official investigation questioned
The students, from a rural teacher college in the southern state of Guerrero, disappeared after they were attacked by local police in the city of Iguala.
Prosecutors say police then delivered the young men — who had gone to Iguala to hijack buses to travel to a protest elsewhere — to the Guerreros Unidos drug gang, which killed them and incinerated their bodies.
But the official investigation was questioned by independent experts from the Inter-American Commission on Human Rights, who said there was no evidence that the students were burned in a funeral pyre at a garbage dump.
Only one student was positively identified among charred remains while the attorney general said last week that there was a possible match for a second one.
The parents and other students from their teacher college will lead a protest in Mexico City on Saturday to mark the one-year anniversary of the mass disappearance.
The demonstration follows violent protests in Guerrero, where demonstrators ransacked a government building and clashed with riot police earlier this week.