HAVANA, Cuba – Colombian President Juan Manuel Santos and the leader of the FARC rebel group announced a major breakthrough Wednesday in their peace negotiations, bringing the country to the verge of ending one of the world's longest-running wars.
The dramatic announcement came Wednesday afternoon in Havana, where the two sides began formal negotiations in 2012 in ending the 50-year-old conflict. It was the first time Santos has appeared beside Timoleón Jiménez, alias "Timochenko," the elusive FARC commander who had previously surfaced in videos recorded from his jungle hideouts.
With Cuban President Raúl Castro seated between them, Santos said he and FARC's Timochenko had told their negotiating teams to reach a final agreement within six months. The guerrilla commander remains an adversary, Santos said, but "today we are making progress in the same direction, toward the most noble goal a society can have: peace."
"We must break once and for all any link between politics and weapons," he said.
More than 220,000 people have been killed in the three-way violence between the guerrillas, the government and right-wing paramilitary groups. At least 6 million Colombians have been forced to flee their homes. Only Syria has more "internally displaced persons," according to U.N. data.
The agreement announced Wednesday breaks an impasse over the most sensitive element of the talks, namely whether guerrillas who lay down their weapons would be subject to criminal prosecution, prison terms and potential extradition to the United States.
Leaders of the FARC, or Revolutionary Armed Forces of Colombia, have insisted they would not submit to such terms. There are reams of criminal charges against them in Colombian, U.S. and international courts for murder, kidnapping, drug trafficking, terrorism and virtually every other serious offense imaginable.
The deal would establish a truth-and-reconciliation process through which guerrillas and Colombian military commanders accused of rights abuses would be required to confess their crimes at special tribunals.
Timochenko, who is rarely seen on television by Colombians and even less so without a combat uniform, read a brief statement after Santos' remarks. His graying hair and beard appeared had been trimmed, and he wore a white guayabera shirt, as did the other members of the FARC delegation.
The rebel commander praised the system of special tribunals as a mechanism "designed for all of those affected by the conflict, combatants and non-combatants … built on the basis of reparation and non-repetition" of conflict.
"Now we must work to build consensus" toward a peace deal, he said, "and work to transform FARC into a legal political movement."
Under the terms of the agreement, combatants who provide truthful testimony and atone for their crimes would be eligible for a system of "alternative justice" that would limit their punishment to financial reparations to victims and five to eight years that could be served at low-security work camps or halfway houses.
But the special tribunals would have the power to investigate and cross-examine those accused of war crimes. Combatants who failed to fully confess or withheld evidence would lose eligibility for a lighter sentence, and face full criminal prosecution.
FARC commanders who have already been extradited to the United States would not be eligible, according to a source with knowledge of the deal.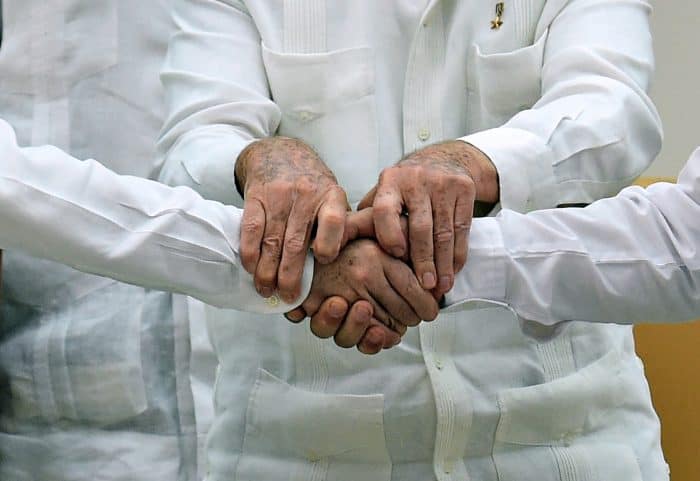 At war since 1964
Nurtured by drug trafficking profits, illegal mining and revenue from kidnapping and extortion, the leftist insurgent group has been at war with the government since 1964.
The announcement in Havana came three days after Pope Francis celebrated Mass in the city's Plaza of the Revolution with a plea to Colombians to "achieve definitive reconciliation" in the peace talks to end "the long night of pain and violence."
"Please, we do not have the right to allow ourselves yet another failure on this path of peace and reconciliation," Francis said.
Wednesday's agreement does not complete the peace process, but it resolves one of the thorniest and most controversial aspects of the talks. The two sides have deals in place on other elements: rural development, an end to drug trafficking and guarantees for the future participation of FARC members in the country's political system.
Still pending are the nuts-and-bolts issues of disarming and demobilizing the estimated 7,000 or so FARC combatants who remain on remote battlefields in Colombia's jungles and mountains.
Wednesday's announcement was especially significant because it also sets the first timetables for ending the conflict. FARC combatants would have 60 days to lay down weapons once a deal is reached.
"These are the most important breakthroughs since negotiations began more than three years ago," said Bernard Aronson, U.S. special envoy to the Colombia peace talks. "Taken together this means the war in Colombia is coming to an end."
Under the terms of the peace process, the final agreement must be approved by Colombian voters. Though many Colombians say in surveys that they want peace, Santos' popularity has slumped since his re-election last year, and the deal could collapse if voters reject it because they think it lets FARC off too easy.
"Santos, it's not peace that's near, it's the surrender to FARC and the tyranny of Venezuela," wrote former president Álvaro Uribe, Santos's political archrival, on Twitter, linking Wednesday's announcement to Colombia's ongoing tensions with the government in Caracas.
Santos no es la paz la que está cerca, es la entrega a Farc y a la tiranía de Venezuela

— Álvaro Uribe Vélez (@AlvaroUribeVel) September 23, 2015
During his 2002 to 2010 presidency, Uribe rolled back FARC's territorial gains and decimated its ranks, but he could not completely defeat the rebels.
"Without jail time for the commanders, there will be a deal in Havana but also a recipe for more violence in Colombia," Uribe warned.
A smaller leftist group, the National Liberation Army, known by its Spanish initials ELN, is still at war with the Colombian government, but they are expected to also ask to negotiate a peace deal.
"This is huge news," said Adam Isacson, a Colombia expert at the Washington Office on Latin America (WOLA), a DC think tank. "Transitional justice was by far the hardest issue on the agenda."
"It might be an overstatement to say that they're now on a glide-path toward a final peace accord," said Isacson. "But what remains to be negotiated is easier than what has been agreed."
Isacson noted that a FARC cease-fire over the past two months has brought the country a preview of what a lasting peace deal would mean.
"If this kind of tranquility persists, Colombians won't want to go back to the way things were," said Isacson. "They will swallow hard and support the accord as long as it includes some real accountability for human rights abusers."
© 2015, The Washington Post