Last weekend hundreds of tourists crowded the beach at Ostional Wildlife Refuge in Guanacaste, preventing several olive ridley sea turtles from nesting along the coastline, as they do every year.
The Environment Ministry's Workers Union (SITRAMINAE) reported on its Facebook page that hundreds of tourists stood in the way of the turtles, causing many of them to return to the sea without laying their eggs.
Refuge administrator Carlos Hernández, told the daily La Nación he had never seen that many people at the beach, located in the canton of Santa Cruz. Some tourists touched the turtles, others stood on top of the nests, and parents placed their children on top of the turtles to take photographs, the group reported.
Ostional receives massive turtle arrivals, known as arribadas, almost every month. But September and October are the peak months of the season, and tourism companies increase tours to watch the turtles' arrival and nesting.
This particular arribada occurred during a weekend, increasing the number of visitors, SITRAMINAE members said.
The lack of rainfall affecting the northern region also helped attract more visitors. September and October usually register the most rainfall of the year, and rains at Ostional can cause large river swells that prevent visitors from reaching the beach.
The refuge is guarded by only two park rangers, and last weekend they received help from only three National Police officers, who were unable to control the situation.
Hernández said that although visitors may only enter the beach with a licensed tour guide, many entered the refuge via unauthorized access points from nearby locations. He said that in coming days officials will meet with National Police officers, local tour guide associations and community leaders to better implement control.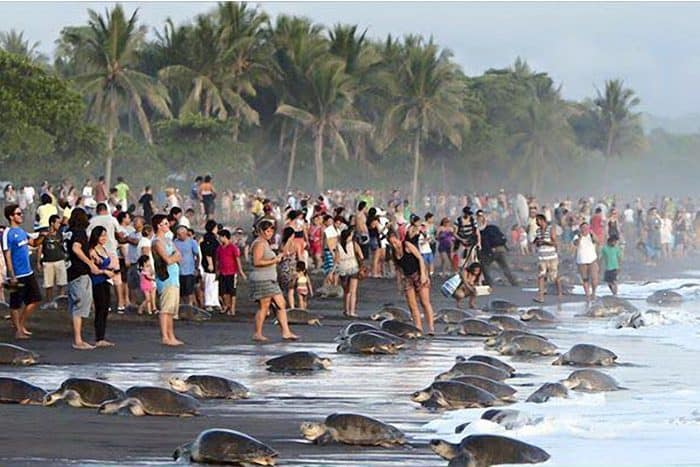 Community benefit
Ostional is among the top four most important sites in the world for nesting of olive ridley sea turtles (Lepidochelys olivacea). Hundreds of thousands arrive each year along this 7-kilometer stretch of beach.
The number of turtles during September and October and the amount of eggs they lay at each arribada is so high that when new groups of turtles arrive, they often end up destroying the eggs from earlier nesting.
Residents of this small community are the only people legally allowed to harvest turtle eggs for consumption and sale. They can take only eggs deposited within the first 72 hours of the arribadas.
Turtle nesting observation tours are regulated by national law at Ostional and other popular destinations, both on Pacific and Caribbean beaches.
Regulations state that tourists may only enter the beach with a licensed guide in small groups, carrying only special flashlights and following guide instructions at all times to avoid disturbing the turtles.