Over the concrete, the ball zigs through a moving maze of neon shoes, whistling as it scrapes along until a powerful kick sends it into the waist-high goal with a decisive swoosh.
Eight players of varying ages and backgrounds practice street football on a rectangular stretch of pavement confined by a short, green wall at a sports park in San Francisco de Dos Ríos, east of downtown San José. On either side of their makeshift court, one football field is occupied by neighbors playing a mejenga, a pickup game, and the other by a local high school team holding practice.
But it's that relatively anonymous team in the middle that's been chosen to represent Costa Rica in an international tournament.
Midway through practice, the eight players huddle together in a green shed next to the court. José Luis Monge Fernández, team coach and director of the Listening to the Homeless Association, goes over strategy in anticipation of the Homeless World Cup that begins Sept. 12 in Holland. Donning new jerseys and flashy shoes, it's easy to forget that all of the players have had to overcome addictions to drugs or alcohol, life on the streets, and broken families to make it this far.
Mario Montero Calderón, a 52-year-old teacher who has helped Monge at the association for the past six years, gives the players a speech before each of the team's practices, every Saturday and Sunday. Rather than rehashing the players' past addictions and mistakes, Montero said he focuses on what they want for today. He recalled a past player (Homeless World Cup participants are eligible to play in only one tournament) who bought a motorcycle and showed it off at practice because it had always been his dream to buy one.
"It's not about football only, it's about making them understand how important it is to have a goal," Montero said. "I don't have to explain how easy it is to buy something like that. Just work and pay for it. But for him it was completely difficult because he was always drunk. That's the way they change their lives here: They learn to be people again."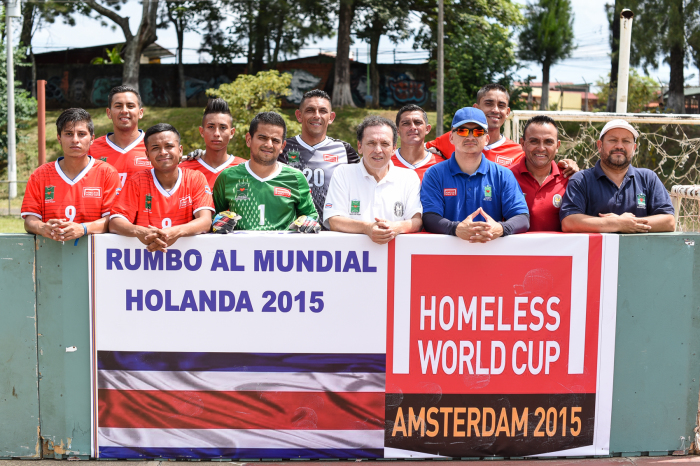 Montero said at first the association worked with drug rehabilitation centers but quickly decided to cut ties with them because of the way they treat addicts. Local rehab houses usually pile blame on addicts, while giving them no chance to speak up or feel equal to their instructors, Montero said as the players continued to joke and talk in the shed.
What Montero and Monge have aimed to do through the association is use the game of football as a lever that can lift people out of the worst of circumstances and offer them a brighter future.
Monge recently wrote a book detailing his seven years in charge of Costa Rica's Homeless World Cup team, titled "Del Cartón al Avión," or "From the Cardboard Box to the Airplane."
"In reality, it's an incredible change in dimensions, because it takes the individual from this clouded world, where he is looked down upon and where he has no future, and puts him in another dimension where his self-esteem is elevated to unlimited reaches and where he's lifted from the anonymity of addiction and loved by his family and valued by society," Monge wrote.
A former player whom both Monge and Montero point out as emblematic of the association's lasting power to keep people off the streets is Miguel Madrigal Naranjo. The 42-year-old is now an assistant coach on staff after having played with the team at the 2010 Homeless World Cup in Brazil. Madrigal was addicted to drugs and living on the streets until he stopped consuming at the age of 33. Now, with three grown kids, Madrigal said the last of his misfortunes are behind him.
Leading up to the 2013 Homeless American Cup in Chile, Madrigal and his brother were on the same team under Monge. His brother had been diagnosed with HIV five years earlier, stemming from either a contaminated needle or an infected sexual partner. "He was sleeping in cardboard boxes and doing drugs for about 16 years," Madrigal said. "Who knows where he was going in San José? Who knows who he had relations with?"
Three months before the team left for Chile, Madrigal's brother died of complications with the virus. His death came just a year after their father died from the same virus.
But tragedy can often open the curtains on a new act. Madrigal, who works during the week watching cars and painting houses, said his involvement with Monge's street football team on the weekends has kept his life afloat. He built the walls around the court to keep the ball from rolling away after every play and brought patches of old grass from the famed Saprissa Stadium so that goalkeepers didn't bloody their legs on the pavement — all to help the team that's taught him life's most necessary lessons.
"This here teaches you character, teamwork, and a discipline that you can't get on the streets," he said. "You have to respect the coaches so you have their trust. I've been here for five years and for me, being here every Saturday and Sunday is a beautiful blessing."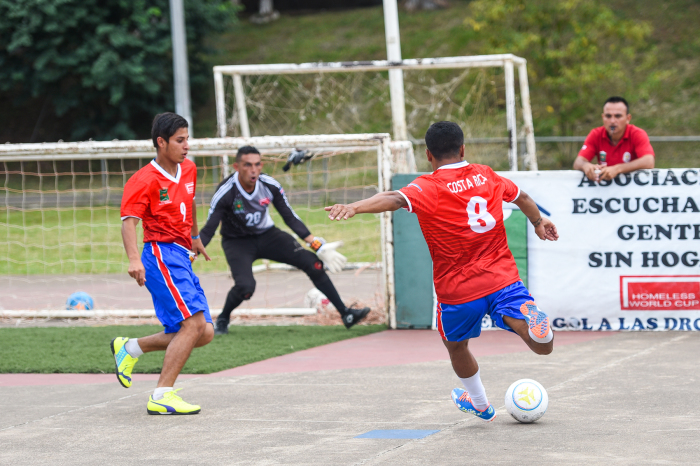 Really, it all began with a bar bet.
When Mel Young and Harald Schmied attended a 2001 conference for the International Network of Street Papers, which Young co-founded, they brainstormed one night over a few beers about how they could get homeless populations more involved in charities designed to benefit them. As they looked around at the conference in South Africa, they couldn't find anyone who was actually homeless.
Young told Schmied how a group of homeless guys back home in Scotland would get together to play football once a week and Schmied said he'd seen the same thing happening in his home country, Austria.
"Scotland may never win anything in football, but we'll beat you in street football," Young said.
"Austria's never won anything either, but we'll beat you guys," Schmied said.
They shook hands, downed some more beers, and the premise for the Homeless World Cup was born. Eighteen months later, the first tournament was held in Austria. In all, 18 countries brought teams for the first edition, which Austria ended up winning. Forty-eight countries, including Costa Rica, are competing this year at the event, which has mushroomed in the past few years, hosting an estimated 160,000 spectators in Mexico in 2012.
There, Young said, that vision that came to two friends in a pub manifested itself into something bigger than they ever could have believed. And their initial desire to get homeless people more active in a cause actually created heroes out of people who, earlier, may have been asking you for change. Mexico's homeless team in 2012 was on the cover of newspapers and featured on television shows, Young said. The players were applauded, when a day earlier people might have crossed to the other side of the street to avoid them.
"We have a complete change in juxtaposition but they're the same person they were a few days earlier," he said. "You can do these things by using a bit of your imagination and giving them opportunities to move on and support them. Homeless people in this situation, their self-esteem and self-respect is really low. But now you are giving them a huge adrenaline boost in self-confidence."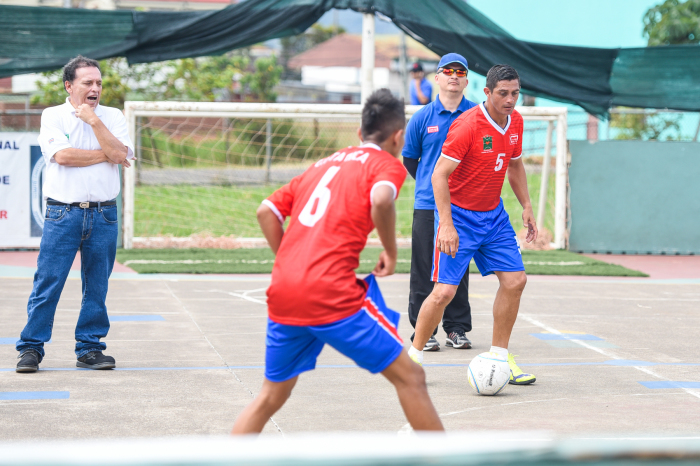 In the United States, homelessness can cost the country up to $40,000 per person, according to studies cited by the Homeless World Cup Organization. Medical care, incarceration and policing add up to big costs for taxpayers in any country with large homeless populations. In Costa Rica, 350,000 people are thought to be living in extreme poverty, according to a report from the Economic Commission for Latin America and the Caribbean, while the municipality of San José estimates that more than 1,000 people in the capital are homeless.
Young contends that getting people off the street to play football, even if temporarily, can have a sizable impact on a national budget. "If governments were to invest just a little money, just 1 percent of their money that they're wasting on trying to police all those people, we would save them a great deal," he said.
Yet of the 48 countries participating in this year's Homeless World Cup, very few are receiving any significant support from their governments. The Costa Rican Institute of Sports and Recreation (ICODER) pays for the team's airfare, but Monge and the association receive no additional backing from the government and depend on small sponsorships or donors to help pay for housing at the tournament and equipment.
"The government isn't doing anything preventative," Monge said. "It doesn't give them opportunities and doesn't actually help them. What we want is to give them instruments that they can keep to begin to work, study, and begin life again."
Young said presidents and ministers have attended Homeless World Cup games in the past, but governments across the world remain largely ignorant of homelessness and how to deal with it. When coordinating with global partners, like Costa Rica's Listening to the Homeless Association, and trying to secure investments from the public sector, he said it's been difficult to convince some officials who don't want to believe homelessness is a serious problem in their countries.
"You get governments who are in some kind of denial, who say there isn't homelessness here, even if there's a homeless person sitting on their doorstep," Young said. "Sometimes politicians don't get it at all. They look at us blankly. You can explain it to a child, they'll understand it. Yet governments don't understand it. "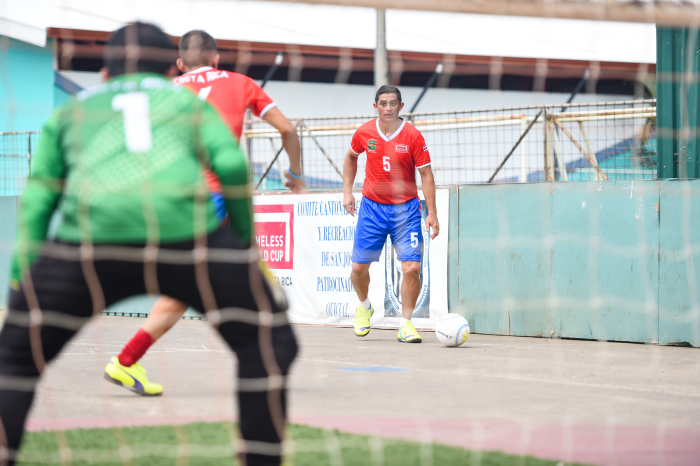 At one of the Costa Rica team's final practices before their 9,000-kilometer voyage to Amsterdam, some of the players reflected on what's already been an incredible journey for them. Juan Carlos Rodríguez Solano is a former alcoholic who has been sober for more than a year and now plays goalie for the team. The 39-year-old Rodríguez said that his time spent with the association has allowed him to push the reset button on his past, and has given him the chance to fulfill his dream of representing Costa Rica at a world cup.
"Here all of us are learning that strength has rewards and the reward of this process was to be chosen to go to the World Cup," Rodríguez said. "We're learning how to start from scratch and, when we do, that there can be great rewards."
Though Rodríguez said winning the Homeless World Cup for Costa Rica would be the best gift he could imagine, the weight of the cup's trophy is nothing in comparison to the heavy effect the tournament can have on each of the nearly 700 participating players. And when the players take the pitch to become unlikely stars for a week, they may not be the only ones at the event experiencing a change in perspective. For government authorities, reporters, and fans watching through a live stream on the Internet, seeing homeless people in matching jerseys playing a sport with purpose can erode many bad assumptions, Young said.
"The day before, you cross the road to get away from them. You see them in the street, you think they're frightening or that they've got diseases," he said. "This is completely changing the public's view toward homeless people. And we're breaking all the stereotypical images of them."
Watch the 2008 documentary "Kicking It" about the Homeless World Cup