A week and a half ago, Guatemala's embattled President Otto Pérez Molina defiantly refused to step down amid a rapidly widening corruption probe that had already claimed his vice president and more than a dozen other officials.
"I will not resign, and I will fully face and submit to the procedures that correspond to the law," Pérez Molina said in a televised address.
On Thursday morning, Pérez Molina's defiance disintegrated as his spokesman announced that the president had stepped down after all, according to the Wall Street Journal and AFP. The spokesman said Pérez Molina was stepping down to deal "individually with the proceedings against him," reported AFP.
The resignation came just a few hours after a judge ordered Pérez Molina to appear in court to face charges of fraud, illicit association and corruption related to an alleged massive, multi-million-dollar customs fraud ring.
"We are convinced that he is involved [in the scheme]," Attorney General Thelma Aldana told Canal Antigua.
It has been a stormy summer for Guatemala, one of the poorest and most corrupt nations in the Western Hemisphere. For months, the country has been riveted by an investigation into the fraud ring. Pérez Molina's vice president, Roxana Baldetti, resigned in May and was quickly arrested for allegedly taking millions of dollars in bribes. Her former personal secretary has been named as the alleged ringleader.
As the investigation steadily crept closer to the president, protesters took to the streets to demand Pérez Molina's resignation.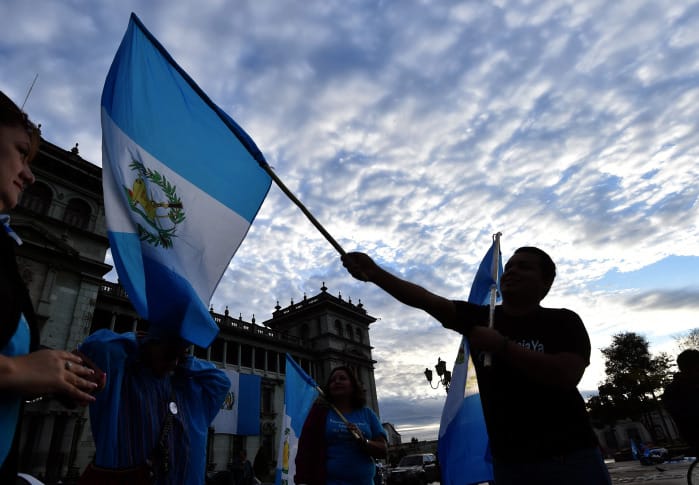 Protesters achieved a major victory on Tuesday, when congress voted to strip Pérez Molina of his immunity from prosecution, clearing the path for his appearance in court and possible arrest.
Pérez Molina's resignation puts current Vice President Alejandro Maldonado Aguirre in line to serve out his term, which ends in January. Maldonado, a former constitutional judge, was selected by congress from a short list of candidates proposed by Pérez Molina to replace Baldetti.
But Maldonado won't get long in office. Pérez Molina's resignation comes just three days before presidential elections, although protesters have demanded that the election be pushed back.
Pérez Molina's resignation leaves the elections in even greater doubt than they were before. Already plagued by spurious polling, the contest appears to be a three-way race between anti-establishment right-wing populist Manuel Baldizón, leftist and former First Lady Sandra Torres and comedian Jimmy Morales. Torres's husband, Alvaro Colóm, was the country's first leftist president, defeating Pérez Molina and serving from 2008 until 2012.
Whoever wins the election will inherit a country facing rampant crime, much of it waged by powerful gangs.
The corruption charges against Pérez Molina, a 64-year-old former general, seem to sum up how entrenched Guatemala's problems are. Prosecutors have accused the president of masterminding a scheme to defraud the customs service of millions of dollars. Officials allegedly received bribes in exchange for allowing companies to escape heavy tariffs, scamming the cash-strapped country out of millions.
For the thousands of protesters who have filled Guatemala City's streets all summer, however, Pérez Molina's resignation is a large step in the right direction.
"It is very painful, very worrying that a president in office should be submitted to a criminal trial," Aldana told reporters on Tuesday after congress stripped the president of his immunity, according to the New York Times.
But in a nation plagued by impunity, it was important to show that "justice can reach anybody," she said.
© 2015, The Washington Post