CARACAS, Venezuela — On the lush savanna in the upper reaches of South America looms a $1.2 billion monument to the deepening troubles of Brazil.
Spanning the mighty Orinoco River in Venezuela, the Orinoquía Bridge stands as a rusting reminder of a not-long-ago time when a prosperous Brazil sometimes channeled taxpayer money to ambitious projects across the continent and beyond.
Today, few people use the bridge, which seems to connect nowhere to nowhere. The plaque marking its 2006 ribbon-cutting is gone, and a nearby picnic area is overgrown.
"Every day is a better day," a government placard proclaims, with an optimism few Brazilians share in this season of economic and political anxiety.
At a time when half a million Brazilians take to the streets to protest the corruption scandal convulsing their nation, questions are growing about just how Brazilian graft might have spread around the world.
See: Brazilians rage against president, corruption
Far-flung projects built by Odebrecht, a Brazilian conglomerate ensnared in the investigations, some financed by BNDES, Brazil's powerful state development bank, are being examined with growing urgency in parallel investigations.
"These international matters are in the early stages of investigation. There is a lot of material not yet analyzed," said Deltan Dallagnol, a lead prosecutor on the landmark case involving Petroleo Brasileiro SA, the state-run oil company.
Even as investigators delve into Petrobras at home, other prosecutors are slowly turning their attention to lucrative contracts awarded to other companies for work in places from Cuba to Ecuador and as far away as Mozambique and Angola.
When the federal police start looking, they will find a string of unfinished work with bloated budgets — roughly $25 billion worth for Odebrecht in Venezuela alone. They will also see that of $12 billion in export financing by BNDES, between 2007 and May this year, $8 billion — or 420 of 539 contracts — went to Odebrecht.
The international element threatens to expand the list of politicians involved and pull Brazil's former president, Luiz Inacio Lula da Silva, deeper into the scandal, which has brought much of business in Brazil to a near-standstill. Known the world over as Lula, he hand-picked his successor, President Dilma Rousseff, who is now facing calls for her impeachment.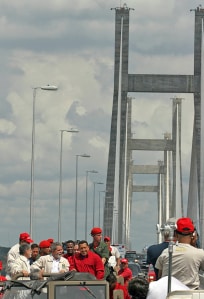 Back in 2006, Lula inaugurated the Orinoquía Bridge with President Hugo Chávez of Venezuela. Both men were at the height of their powers, directing proceeds from a one of history's great commodities booms into some of the most ambitious infrastructure projects ever contemplated for their continent.
"Brazil needs Venezuela and Venezuela needs Brazil," Lula declared at the ceremony. On the same day, plans were announced for another, even larger river crossing, also to be built by Odebrecht, in an even more remote region 450 kilometers (280 miles) upstream.
Now, at 69, Lula is being investigated for alleged influence peddling on behalf of Odebrecht in the years since he left office. Marcelo Odebrecht, the third-generation head of the family firm, is under preventative arrest for allegedly overseeing another bribery scheme involving Petrobras.
The investigation currently underway concerns help he is said to have provided Odebrecht to secure overseas contracts funded by BNDES after his two terms as president, Caracas metro lines among them. How that connects to other Latin American leaders, Lula's time in government or any continued role with the left-leaning Workers' Party he founded remains unclear.
Odebrecht has confirmed that it footed the bill for Lula's paid attendance at events in Venezuela, Angola, Cuba, Portugal, Peru and Panama, but has said there was nothing nefarious about such activity, which is undertaken by many former political leaders, including U.S. presidents.
"On the contrary, lectures sponsored by Odebrecht served to reinforce Brazil's institutional image and open doors of the international market to Brazilian companies," the company said in an April note sent to the press and posted on its website.
Lula received up to 300,000 reais (as much as $180,000 at the time) per lecture, the head of the Lula Institute disclosed in an interview with Folha, a Brazilian newspaper. Lula, through the institute, has said he has done nothing wrong.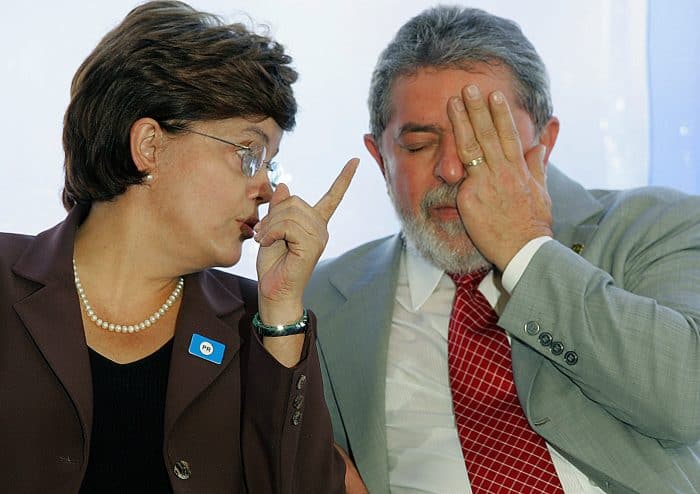 Odebrecht is not the only Brazilian construction firm to win contracts beyond Brazil with the help of political leaders and state institutions. And its connections are hardly limited to single politician. The Orinoquía Bridge was commissioned during the term of Lula's rival and predecessor, Fernando Henrique Cardoso.
When Lula's Workers' Party came to power in 2003, Odebrecht, the largest construction company in Latin America, continued to prosper. Its project list in Venezuela alone swelled to include airports, subways, dams and railways, according to figures compiled by Bloomberg from government filings and statements to local press by officials.
"His party was based on an ideal that went in the opposite direction of everything arising now," said Marco Antonio Teixeira, a political analyst with think-tank Getulio Vargas Foundation.
Three other Latin American countries are investigating Odebrecht. Venezuela, where the company says it has won 21 contracts since 1992, is not among them. Venezuela's Information Ministry and Office of President Nicolás Maduro didn't respond to requests for comment.
In emailed responses to questions, Odebrecht said, "in the case of Venezuela, the relationship with the government is transparent." It added that only three of its contracts with Venezuela were backed by Brazil's BNDES. "Most of the projects and most of the value are financed by Venezuela's own resources."
Nine years since the Orinoquía Bridge was opened, construction of the new bridge, announced at the same ceremony, is proceeding slowly. A lone crane idles over a row of unfinished concrete columns. A dozen workers loiter on a barge. The barge replacing it now carries about 180 cars a day.
© 2015, Bloomberg News