CAÑAZA, Puntarenas — German Quiros Vivas was a boy living on his family's farm in Corcovado when the government came and told his father they would have to move because a national park was being created here. The family would be compensated for the loss of its finca, and new land would be available to build on.
So his family picked up everything and moved to Cañaza, about 10 minutes north of Puerto Jimenez, and established Rancho Raices, the 20-hectare farm where today he leads chocolate tours.
It wouldn't be surprising if Quiros harbored some resentment toward Corcovado tree huggers for forcing his family to move in order to protect plants and animals. But quite the opposite: He doesn't think Corcovado is protected enough.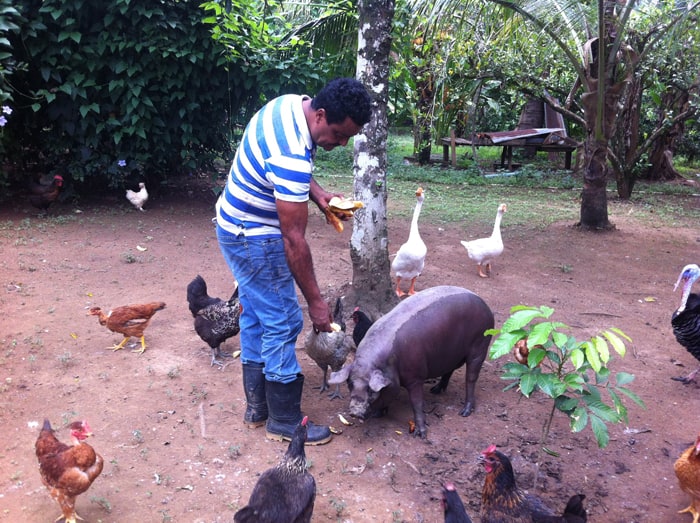 "What I think about Corcovado is that a lot of tourists are entering, about 600 tourists a day, 200 from Jimenez and 400 from Drake," said Quiros, 52. "I think Corcovado is full of way too many people, because those people are going to use insect repellent and other things needed for the care of the body, and I think they're really contaminating Corcovado.
"For me it's a shame, and it hurts me a lot, because we were farmers, when I was little, and the government of Costa Rica uprooted us for the protection of Corcovado, not to destroy it again."
Quiros expressed these sentiments on a hot Thursday morning during a leisurely tour of his farm, which grows cacao, rice, sugar cane, coconut, guanabana, pineapple, lime, yucca, plantains, lychee, lettuce, bell peppers, jalapeño, culantro, sweet potatoes, papaya and corn.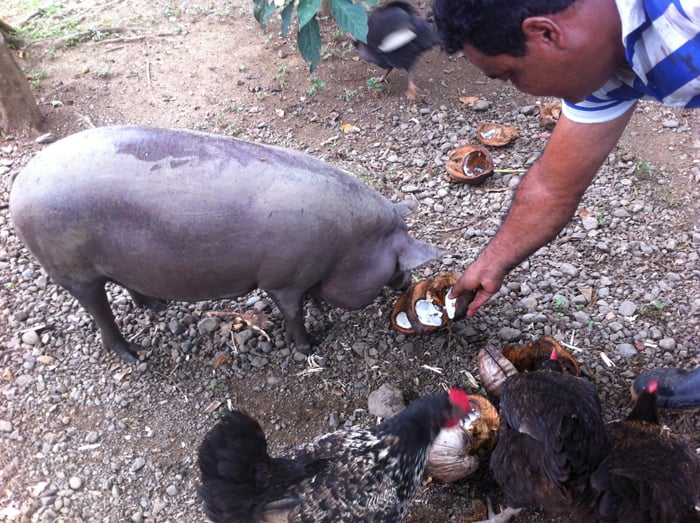 The animals here include a happy pig named Bolincha who likes to eat coconut, an amorous tom turkey who sometimes puts on R-rated displays of bird behavior in front of tourists, a very friendly dog that appears to be a yellow Lab mix, and a bunch of chickens. (And, this being Costa Rica, of course we saw a toucan.)
El Tigre, a recently opened entrance to Corcovado National Park — 424 square kilometers of rain forest teeming with Costa Rica's most spectacular array of wildlife — is just a short drive down the road from this farm.
Quiros believes the government should find international funding to hire local people like hunters and gold miners to be park rangers. And instead of throwing people in jail (I assume he meant for poaching or illegal logging), he says the government should create allowances for their families, arguing that people do these things because they have no jobs and no resources.
"They could educate them, put in a school or a university so that they have some knowledge of what this park is all about," he said.
Quiros' most radical suggestion is to close the park to tourists — "at least for 10 years, to see if it recovers a bit, because Corcovado is not as virginal as it used to be."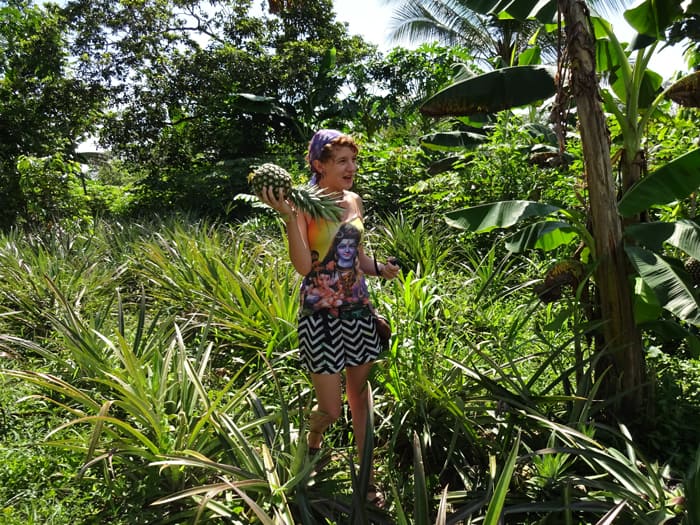 "When we were kids … we could see jaguars, we could see tapirs really close, turtles, hundreds of them," he said. "It hurts me a little bit what's happening."
These are surprising sentiments for a man whose livelihood depends on both tourism and farming. But they are deeply felt by a man who clearly loves this land.
The Frenchman Jean-Michel Pain, 45, is the English-speaking half of the duo leading the tour. He said his friend German wanted Jean-Michel to teach him English, but when he saw how hard English was, he asked him if he would just be his tour guide.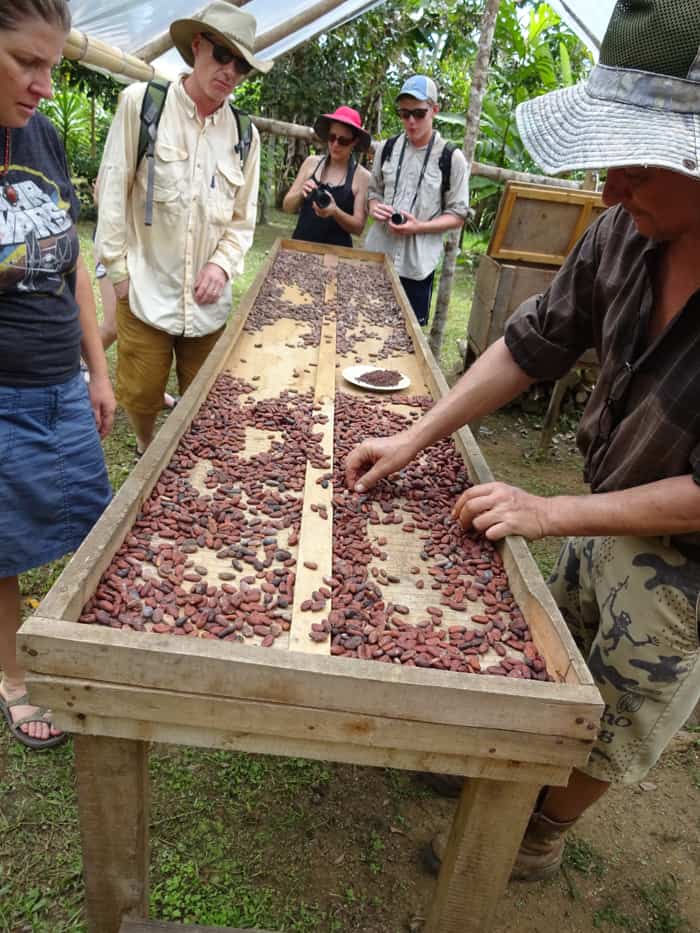 "A chocolate tree can give up to 6,000 flowers," Pain said, doing his job in front of eight visitors from Maryland and California. "Unfortunately, they don't give 6,000 pods. They'll give about 30 pods, and out of those 30 pods, maybe 10, 20 will make it."
Pain said the chocolate tree appears to have originated in Peru and spread from there, in part because cacao beans were used as currency.
"So it did spread," he said. "Maybe sometimes you drop a coin, and yeah, it would grow a tree and so on and so on and so on."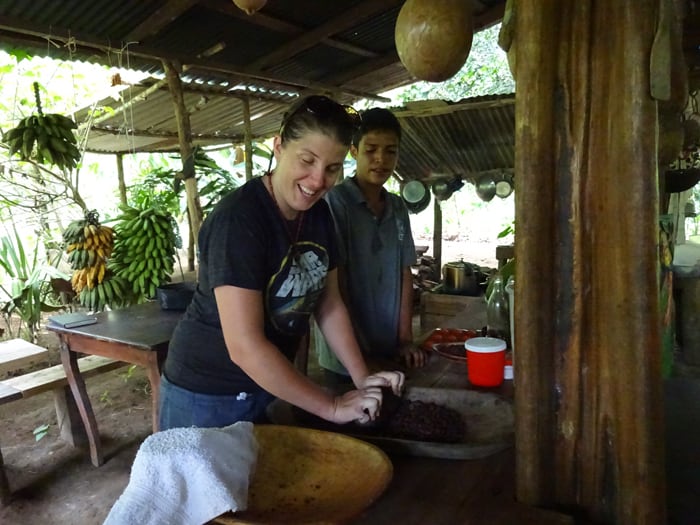 We were welcomed into the rancho, where we met German's wife, Rosy, and their grown children Josué and Glenda. They served us little omelettes enclosed in tortillas wrapped in banana leaves, as well as papaya, pineapple and banana, with chocolate milk — plus, of course, chocolate.
The one thing I didn't expect on a chocolate tour was an open bar. But there it was — a choice of three kinds of chicha: fermented banana, cane sugar and pineapple. I tried all three, and they were strong, but they were so tasty I had to try them all again.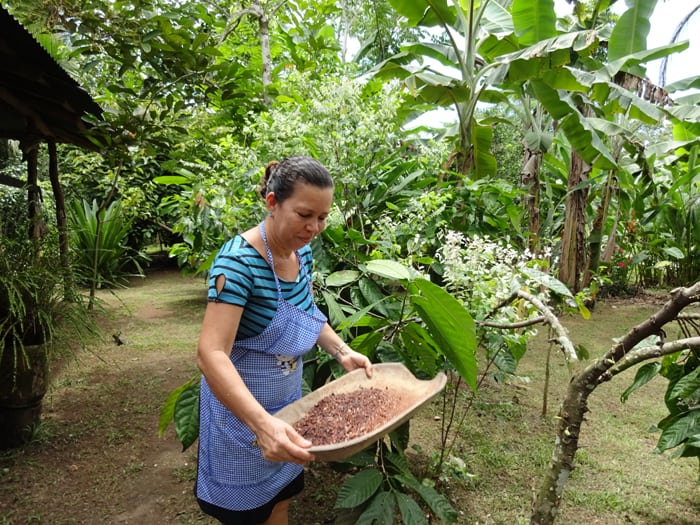 IF YOU GO
Getting there: Drive north from Puerto Jimenez about 10 minutes, and Rancho Raices is located on the right side of the road, just after you reach the small town of Cañazas.
Hours: Rancho Raices chocolate tours are conducted daily, usually starting at 8 or 9, and may be offered as late as 7 p.m.
Cost: $35 per person.
More info: https://www.facebook.com/profile.php?id=100009427395871, http://www.tripadvisor.com/Attraction_Review-g309284-d3174761-Reviews-Rancho_Raices_de_Osa-Puerto_Jimenez_Osa_Peninsula_Province_of_Puntarenas.html.
Contact Karl Kahler at kkahler@ticotimes.net.