MONTEZUMA, Puntarenas — I knew Tom Brady did it, but I couldn't believe my hostel-mate Tizian Gangwisch was actually thinking of jumping off the 12-meter waterfall.
It doesn't sound like that much, 39 feet, but when you walk/creep/crawl to the edge of Montezuma's No. 2 waterfall, it looks like a plunge no human would survive.
"About four years ago, a tourist jumped from there, but he slipped on the rock when he jumped, and he fell on his stomach," said Marvin Calderón, 54, our zipline guide Friday on Sun Trails' canopy tour, which includes a visit to the two upper falls.
So what happened?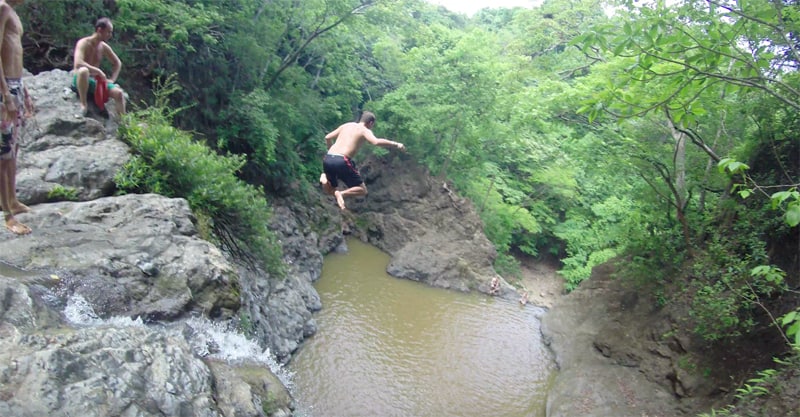 "He died. He drowned. When you fall 12 meters on your stomach, de panza, you breathe water, the impact makes you breathe in, and he breathed water, and he sank."
There are a lot of legends about jumpers' deaths at Montezuma's three falls, usually involving the one at the bottom, which is 30 meters (98 feet) tall. I heard that nobody has survived a jump from the top of that one, but Calderón told me he has watched two people do it successfully.
"Es peligrosísimo," said Calderón, 52, meaning it's extremely dangerous, "because in the middle the rock is not totally vertical, it has an outcropping of about a meter, so the person has to really propel himself to not hit the rocks."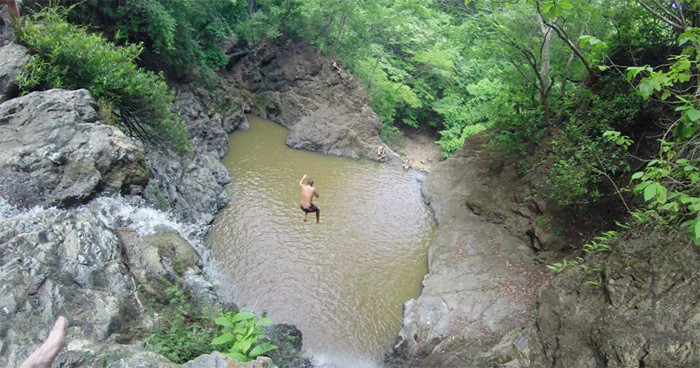 One tourist, he said, sat down on the edge of the waterfall, a slippery place, and the water apparently dislodged him, as he seemed to do a dive without even standing up. He hit the rocks twice on the way down and died, Calderón said.
"I think I have to do it," said Tizian, 26, of Basel, Switzerland, surveying the edge of the fearsome cliff. I couldn't believe he was serious.
Our guides, from the safety of their perch at the top of the upper fall, advised him not to . But they were in no position to stop him.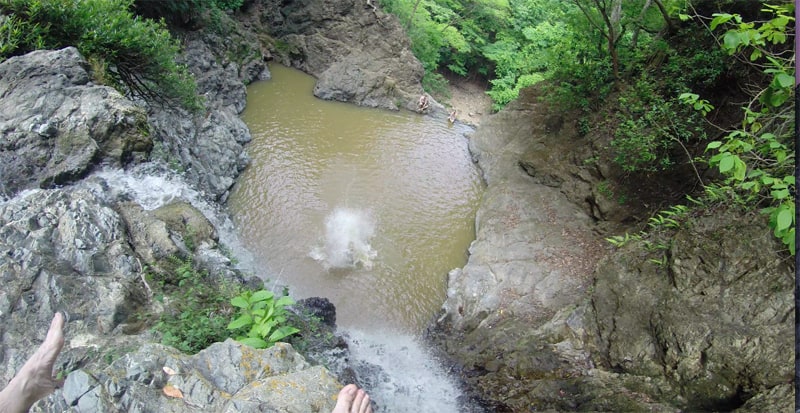 Three or four would-be daredevils hovered at the edge of the cliff, thinking about it.
Then a thin, brown local named Jesús that we met last night appeared on the clifftop, having climbed up from below. He walked to the edge like it was very familiar to him.
Tizian asked Jesús a couple of questions about whether it was safe to do it this way or that way. Jesús answered both questions, "Maybe."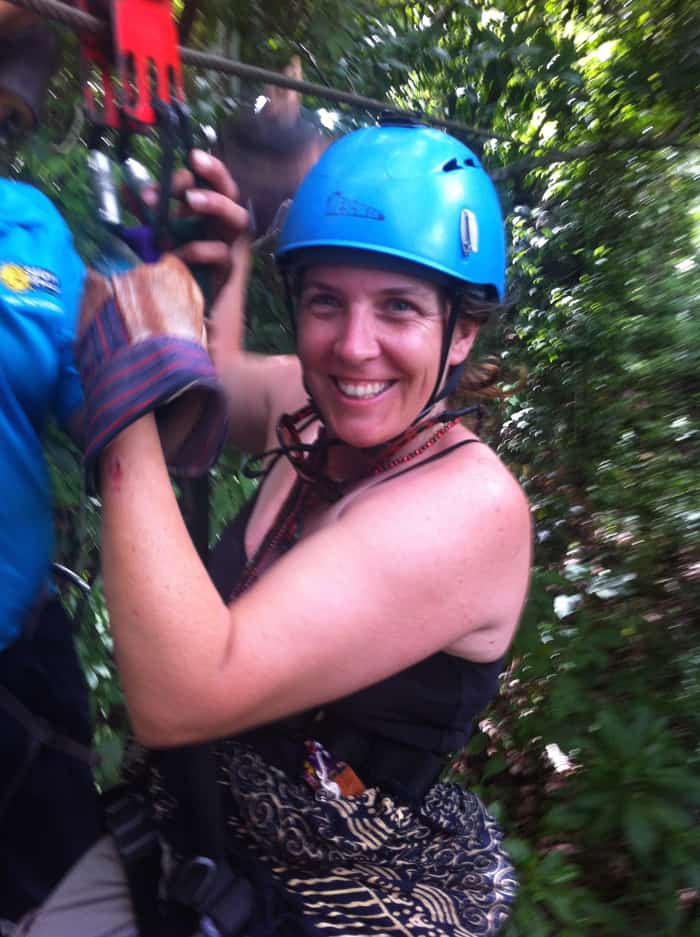 I said, "Show them how it's done." Jesús stood there grinning at me as I sat on the edge of the cliff, and he was still grinning when he dashed to the edge and leaped.
That's all Tizian needed. He told me later he was waiting for somebody else to do it, so he knew where to jump. And he was waiting for his feet to dry so as not to become a slip-and-fall fatality.
He asked me if I could film him on his GoPro, and I crawled to a place where I could see the bottom.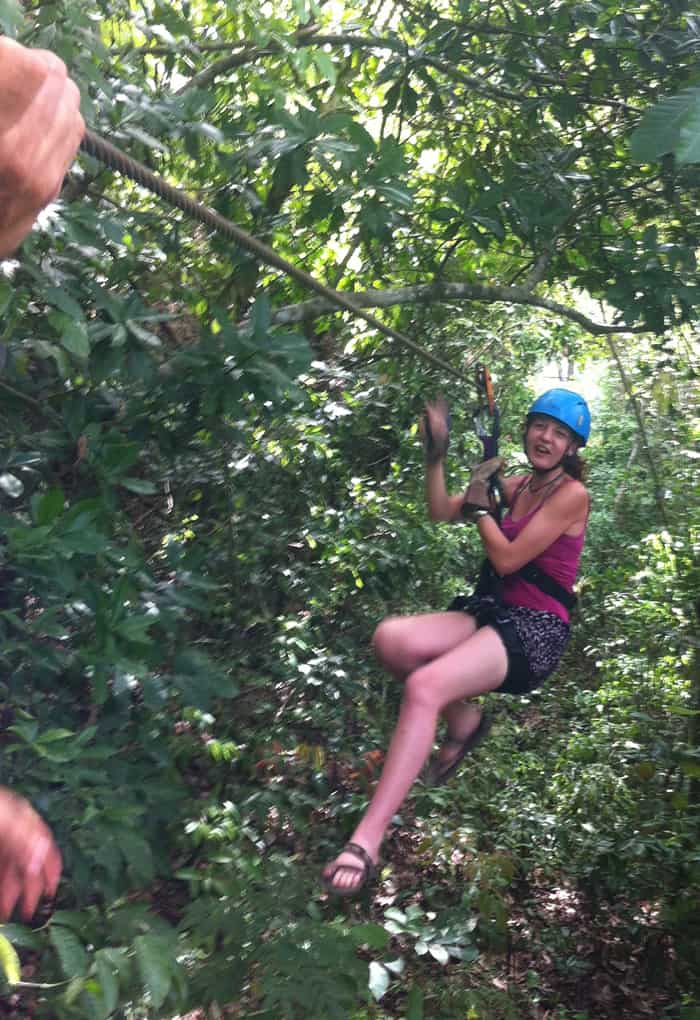 He stood on the edge, in the footsteps of Tom Brady, the New England Patriots quarterback who owns a house in Santa Teresa with his wife, model Gisele Bündchen. Brady posted a video of his jump off this same cliff March 28 on Facebook that's been viewed 11 million times. You don't become a four-time Super Bowl-winning quarterback by accident, I thought.
Tizian inched closer to the edge, breathing in and out sharply, even shaking his head and clasping his face as if to dispel last-minute doubts. But then he froze in place, ready to go.
And he was gone.
Seconds later we saw the splash, and he surfaced again and waved happily. He told me later it hurt his feet, which have cuts in them.
A half-hour visit to these waterfalls is included in the Sun Trails canopy tour, which has nine ziplines, 13 platforms and one hanging bridge. If you're not an extreme daredevil, you can do what I did twice and jump off the 5-meter upper fall.
A husband and wife from San Francisco and their three teenage girls had a great time on the canopy tour.
"They kept telling me how terrified I would be of it," said Charles Pohl, 57. His daughters told him, "You're not going to like it, Dad, you shouldn't do it, you should go play tennis."
So what did he think?
"Actually it isn't very terrifying at all," he said.
Unless you jump from the waterfall.
IF YOU GO
Getting there: You can usually book this canopy tour with transportation at any shop in Montezuma selling tours. Or if you have your own car, drive southwest of Montezuma just a few minutes until your cross the bridge (not the little bridge in town in front of the bus station, but the next bridge). Take the first right after the bridge — a steep uphill, 4-wheel-drive highly recommended, and after the Mariposario (butterfly garden) look for a female mannequin hanging from a zipline in front of Sun Trails.
Cost: $45.
Hours: Every day at 9 a.m., 1 p.m. and 3 p.m.
Info: www.suntrailstours.com
Phone: (506) 2642-0808