"Jurassic World," the fourth installment of Michael Crichton and Steven Spielberg's movie franchise about dinosaurs and hubris, opened in Costa Rica Thursday, but the film's dinosaurs never got the chance to stalk the country's jungles.
The movie might have been set in Costa Rica, but the only dinosaurs here are those at the Monteverde restaurant. The 1993 movie made Costa Rica a household name for many viewers but also stumbled in its representation of Ticolandia.
John Hammond's dream of a dinosaur safari park, "Jurassic World," has come true 22 years after the events of the first film. No expense was spared. Were those bull sharks from the Bat Islands that were served up to the giant Mosasaurs like sardines to sea lions in the trailer?
The film's promotional website advises guests fly to Costa Rica before they take the ferry to the fictional island of Isla Nublar, 120 miles off the Pacific coast. It puts Paquera's Tambor II to shame.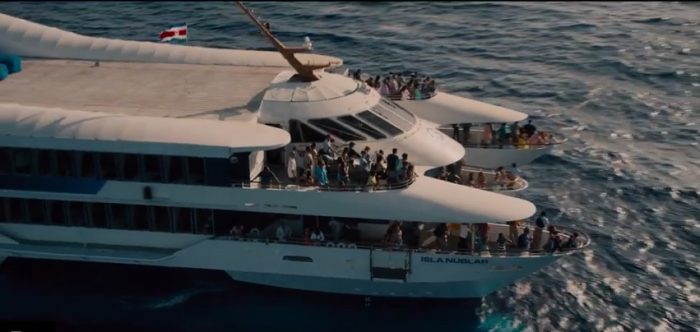 Despite the fact that Michael Crichton set his story in Costa Rica, the Central American country was never used as a shooting location. It consistently lost out to Hawaii when it came to filming the movies.
Dean Cundy, the director of photography for "Jurassic Park," said they had considered filming in Costa Rica originally because the story "takes place on an island," but Spielberg was concerned about road infrastructure and accessibility, according to an interview for "Return to Jurassic Park."
Costa Rica and Puerto Rico (tomato, toe-mah-toe, right?) were both reportedly up for consideration for filming "Jurassic World," but the movie's director, Colin Trevorrow, decided to follow Spielberg's lead and took production back to Hawaii. Additional shots were filmed at an abandoned Six Flags amusement park in New Orleans (which sounds way scarier than a dinosaur safari park).
Had the filmmakers decided to shoot in Costa Rica they would have learned that the country is not an island and avoided an error that movie-goers here have never forgiven – or at least not forgotten.
An early scene in the movie has the scheming scientist Nedry and rival BioSyn operative Dodgson meeting to discuss their plan to steal the dino embryos in a can of Barbasol shaving cream. In San José. At the beach.
The sudden relocation of the capital to the Pacific coast as a dusty beach town complete with crowing chickens raised eyebrows and the temperature of a few moviegoers.
"It made me laugh. It showed how little the filmmakers really knew about Costa Rica, but some people were really offended," said Jessica Carcheri, manager of Cine Magaly in San José.
The erroneous subtitle was scrubbed from the film by the local distributor, Carcheri said.
The movie grossed $1 billion globally but they couldn't afford a fact checker.
"Don't get cheap on me, Dodgson."