SAN FRANCISCO, California — Apple unveiled on Monday a new subscription service, simply called "Apple Music," to compete with Spotify, Pandora and other services that are quickly redefining how consumers buy and listen to music.
The service will offer personalized playlists that stream over the Internet and pull from the massive song library on Apple's iTunes store. Apple Music will also offer a live 24-hour radio station called "Beats 1" and a site that will allow artists to post lyrics, pictures and videos directly to fans.
Similar to Pandora (we'd share the link, but Pandora is no longer available outside the U.S., Australia and New Zealand) and other competitors, Apple's service will shape playlists based on a consumer's song library. Speaking at the company's annual Worldwide Developers Conference here, company executives emphasized the personal element of its service — its song suggestions are not just based on algorithms but are human-curated as well. Onstage, Beats Electronics co-founder Jimmy Iovine said that Apple aims to treat music as art, rather than digital bits, and noted that the Beats 1 radio station will have real DJs.
But Apple's new offering is being launched in a crowded space for music streaming. Spotify, which is already seven years old, counts 60 million users, a quarter of which are monthly subscribers. Some analysts said Apple may be playing catch-up but can leverage its popular mobile devices and computers to win over subscribers.
Apple said the service will cost $10 per month, or $14.99 per month for a family plan of up to six people. It will launch June 30 in more than 100 countries and will be available on mobile devices running Android and computers using Windows. The first three months will be offered for free.
In the first half of the keynote address, Apple executives mainly focused on updates to its operating systems for its iPhones, watches, iPads and Mac computers.
The next version of iOS, Apple's mobile software, will make the devices' voice assistant known as Siri a little smarter, allowing it to predict how people use their phones and offer appropriate suggestions. For those who like to meditate, for instance, Siri automatically could suggest meditation apps. It also will track a person's calendar and could suggest the right time to leave.
The new iOS will have the ability to automatically add events to your calendar from an e-mail inbox, and will have improved search functions, so that users can look for specific things such as "show me my photos from Utah last August."
IPhone users will see about an hour or more of battery life. Apple is also introducing a low-power mode, which turns off phone features to deliver an extra three hours of power.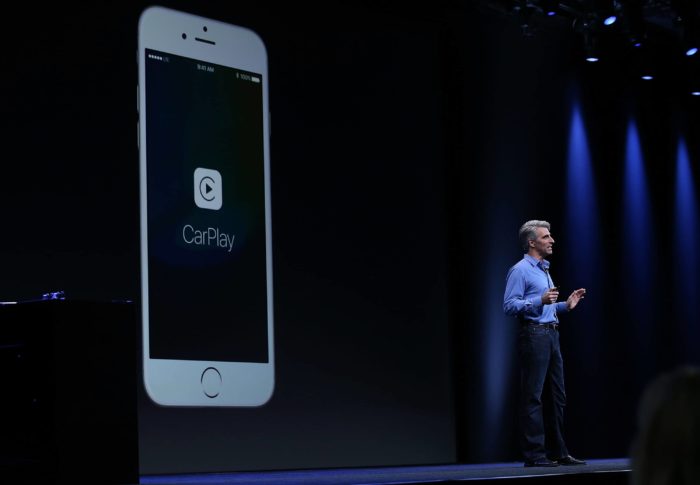 Some of the features already have been offered on smartphones using Google's Android software system. But Apple is attempting to distinguish itself from rivals by emphasizing privacy. Craig Federighi, Apple's vice president of software engineering, emphasized that all of the data analysis is done on the device, not stored on Apple's servers. The onstage remarks echoed comments by Apple chief executive Tim Cook, who last week stressed that Apple is not in the data collection business.
Before the event, Cook had promised that it would feature an unusual sight for Apple events — female presenters. And indeed, Jennifer Bailey, an Apple executive, came on stage to talk about new partnerships with a variety of companies such as Pinterest and Square to expand Apple Pay's reach.
Apple also said it would release the next software version for its Apple Watch, which itself was released just two months ago. The next operating system will allow people to reply to emails or use the watch to start a workout or control lights, appliances and other smart-home devices. Apple highlighted a new feature called "Time Travel," which enables users to rotate the crown of the watch and scroll through a person's schedule.
Apple provided brief updates to its CarPlay HealthKit and HomeKit apps. For example, users in the future will be able to connect their phones to their cars without even taking the mobile device out of a pocket. Apple is also adding new features to the health program, such as the ability to measure UV exposure.
Entrances and exits for subway stations and trains were added to Apple Maps — a feature that has long been part of Google Maps. The transit directions will be available in major cities in the United States and China, Apple said.
In another new update, Apple's iOS will allow iPad users to use two apps at once and also view video while doing other tasks, such as emailing.
The new version of OS X for Mac computers will be called "El Capitan," said Federighi, continuing Apple's scheme to name its systems after California landmarks. Some new features of this system include small updates such as the ability to manage your mail by swiping across the trackpad, or pinning tabs in its Safari browser. Improvements have also been made to speed up the system and enhance the Spotlight search program. The system is available to developers Monday. It will be available to consumers in the fall.
Apple did not launch its much-anticipated video service, however, as negotiations with content providers didn't come together in time for the big show.
© 2015, The Washington Post