It's been more than 70 years since Brazilian singer and actress Carmen Miranda rose to fame as the "Lady in the Tutti Frutti Hat," becoming one of the highest-paid actresses of the 1940s and encouraging Americans to try bananas in the process.
Now, another Latina, Sofia Vergara, has held fast to the mantle of highest-paid actress on television. But how much have things changed since Miranda was dispatched to improve American sentiment toward Latin America?
"It's complicated," said Angharad Valdivia, a research professor at the University of Illinois-Urbana Champaign. Valdivia focuses on the intersections of gender, ethnic and Latin American studies with pop culture.
Vergara's movie "Hot Pursuit," which she co-produced and co-stars in with Reese Witherspoon, opened last weekend in an environment where Latin American relations have once again taken center stage as President Barack Obama has normalized ties with Cuba and declared the days of the United States "meddling" in Latin America over.
Everything old is new again, and how!
Vergara has attained rarefied levels of success, and she's done it while operating within a narrow framework of how Latinas are viewed in America. In the years since Miranda first hit pay dirt, some stereotypes stubbornly persist, especially when it comes to the way Latina bodies should look and how women present themselves. In Vergara's case, that meant dyeing her famously cascading locks from blonde — which is her natural hair color — to brunette.
"The fact is, she does not manage a successful crossover until she fulfills this stereotype of the voluptuous Latina and the voluptuous Latina is almost always brown-haired," Valdivia said. "In fact, that's what makes her Latina in relation to white men. When you go back to Carmen Miranda, Carmen Miranda was playing in relation to say, Betty Grable. So Carmen Miranda was the brown-haired one in relation to the blonde women in cinema."
In Vergara's case, her brown hair serves to set her apart from Julie Bowen's very blonde Claire Pritchett on "Modern Family."
Miranda's road to the mainstream was paved with similar compromises.
When Miranda arrived in Hollywood, the darker-skinned members of her Bando da Lua were gradually phased out to promote an image of Brazilians that looked Mexican at the behest of studio executives, according to Helena Solberg, director of a mockumentary of Miranda's life called "Bananas is My Business." Miranda became one of the highest-paid women in Hollywood playing a Latin American composite, a white Portuguese woman singing the music of poor black Brazilians. (She never actually became a Brazilian citizen.)
Even though Carmen was Portuguese, she assimilated all of Brazil and had a Brazilianess that few Brazilians have," Maria Carmen Barbosa, the playwright who co-wrote "South American Way: The Carmen Miranda Musical," told the New York Times in 2001. "She was irreverent, had street smarts, wit, daring and an impressive innate musicality."
For Vergara, acting was always a means to an end. Before her star began to rise with the circulation of a 1989 Colombian Pepsi commercial, Vergara was studying to become a dentist.
When she decided to lean in to her show business career in earnest, she became a talk show host in Colombia. In 1994, after she moved to Miami and became a well-known entity on Univision, she co-founded an agency, Latin World Entertainment, to represent Spanish-speaking talent Univision had been muscling into bad deals, according to Vanity Fair. The network, the only Spanish-language game in town, would lean on talent to sign contracts in English that they barely understood, without the opportunity to have documents reviewed by a lawyer. Univision did not respond to requests from The Washington Post for comment.
"That is something that's not going to disappear," Valdivia said. "That is something that's going to grow into a powerful component of Hollywood politics."
Vergara has effectively leveraged her stardom to become the highest-paid woman on television for several years running. In doing so, she has become an unironic distillery and distributor of Latin essentialism, not unlike Miranda. "I'm Latin. We love jewelry," she told Howard Stern last week when he gave her an opening to plug her jewelry line. "I'm wearing my Kay Jeweler's line right now."
She employs her Latin-ness, or rather, a version of her Latin-ness filtered through an American lens, to sell everything from a line of clothes at K-Mart (since dissolved) to perfume. In the English-language K-Mart ads, Americans saw a Colombian woman marketing her clothing as universal, while maintaining that they should be made for women with more bosom and bottom. She's providing color, movement and interest in contrast to the bland white professionals charged with making her line a reality. All the while, the commercial is interspersed with guitar riffs vaguely reminiscent of Spanish flamenco.
https://www.youtube.com/watch?v=ibJEgeC8akc
It works. Vergara gets a reported $325,000 per episode for "Modern Family," and pulls in even more cash thanks to a long list of both English- and Spanish-language endorsement deals.
Miranda was courted to sell a very different product. She was instrumental in promoting the U.S.'s Good Neighbor Policy, which dictated that the U.S. stop interfering in Latin American affairs and eventually led to the Marines abandoning their occupation of Nicaragua and Haiti. Miranda wasn't just a cultural force, but a geopolitical one. Her movie "The Gang's All Here" was practically propaganda for the Good Neighbor Policy. As strange as it sounds now, she was enlisted to diminish negative stereotypes about Latin America and reinforce positive ones, achieved by playing a range of Latinas named Dorita, Chiquita, Rosita and Carmelita.
"It's about trade," Valdivia said. "It's about politics. It's about tourism. It's about the United Fruit Company. It's about packaging that. Indeed, as ("Bananas, Beaches and Bases" author) Cynthia Enloe has said, it's about packaging bananas to make bananas a major consumable fruit. People didn't used to consume bananas in the U.S. and they didn't know what to do with them. They had to be taught to consume bananas. Part of what Carmen Miranda did was diplomacy. It was pedagogical, teaching the U.S. public to consume this fruit that was so weird and so tropical. That was crucial."
In 2012, the cast of "Modern Family," including Vergara, met the president in the Oval Office on a White House tour. Seventy years after Miranda's work with the Roosevelt administration, Vergara pooh-poohed the idea of having a serious conversation with Obama.
"I don't think he wanted me to talk profound things," Vergara told Stern. "Oh, let's sit down right now to talk about the situation with trade in Colombia, Mr. President. Let's sit down for a second. … You have to respect his time. He's the president of the United States. He has more important things to do than talk with me, chatting."
Vergara has played up the very element that makes people see her differently, and in doing so, has become incredibly rich. But she also runs the risk of becoming a parody of herself, Validivia said, much like Charo.
The possibility of such a trajectory became real at the 2014 Emmys, when Vergara elected to participate in a bit that involved her standing on a spinning platform to hold the interest of viewers while Bruce Rosenblum, the chief executive of the Television Academy of Arts and Sciences, gave a typically boring speech.
What was supposed to be, at best, a meta critique of industry sexism and objectification was widely interpreted as actual racialized sexism.
"It's like, sexist? I wrote it! I decided to put myself on a platform," Vergara said. "How is that sexist? It's not like they tricked me into it. I guess I was such a good actress at that moment that they thought that they were tricking me."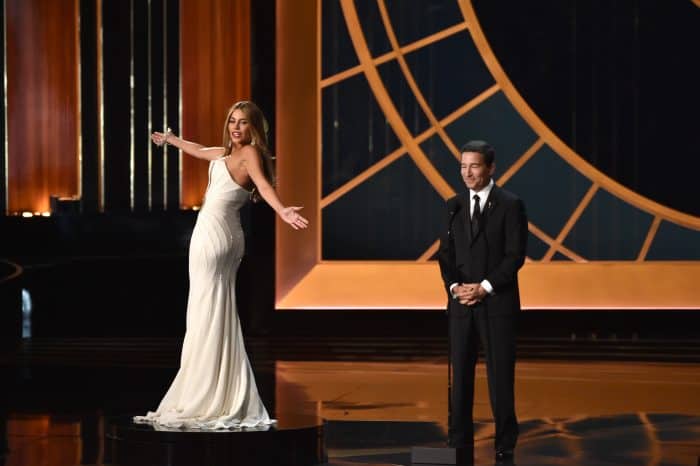 Vergara remains defiantly insistent that "one woman" raised objections to her platform stunt, willfully ignoring the chorus of objections that erupted on social media from those watching the Emmys in real time.
Vergara clearly understands how to exploit her public-facing image to great effect, something she's demonstrated as she navigates the most serious public controversy of her career: the legal battle she's now facing with ex-fiance Nick Loeb over their frozen embryos. Loeb wants to implant them in a surrogate and raise the children himself. Vergara cites a contract they both signed which stipulates that they must both consent in order for that to happen, and she does not wish to consent.
She strategically attended the Met Gala in a gauzy white custom Marchesa gown that read bridal, a reminder of her impending nuptials to "Magic Mike" actor Joe Manganiello and a way to cast herself as sympathetic. It was completely divorced from the theme of the evening, "China: Through the Looking Glass." The red carpet-draped steps of the Metropolitan Museum of Art are as safe a space for fashion risk-taking as you will find; that's part of the appeal of the event.
And yet, Vergara attended in a gown that wasn't particularly modern or fashionable, but simply pretty. The bombshell factor was still present, but purposefully subdued. Vergara has never met a mermaid silhouette she didn't like — it's practically her red carpet uniform — but she chose to eschew that in favor of something romantic and traditionally feminine, two things with which Marchesa is synonymous.
"Sometimes you read in the press like, oh Sofia is wearing the same shape dress, and I want to answer them and say, What the (expletive) do you want me to wear? Obviously there's a reason why that's what I go for," Vergara said in the May cover story of Vanity Fair.
She knows she's projecting an image: If Vergara is a beaming bride, then Loeb is the villainous ex threatening to cast a pall on her upcoming wedding and fairy-tale ending with his litigation shenanigans.
She spoke publicly about the lawsuit last week on "Good Morning America" and the "Howard Stern Show." "More than a mother, (a child) needs a loving relationship of parents that get along, that don't hate each other," she told Stern. "I don't hate him, but obviously he has a problem with me."
"A kid needs parents," she continued. "I wouldn't imagine anyone saying that it's sane to bring to the world kids that already everything is set up wrong for them. It would be so selfish."
It was a rare departure from her typically lighthearted, giggly, flirty persona. Vergara has, when possible, taken the constraints of her bombshell image and bent them to her will. She uses her accent, which she plays up to cartoonish affect, as a disarming mechanism. "It's good because people … lower their guards," and mistakenly assume she's not smart, she told Stern. It's very much a certain generation's way of navigating a man's world, that use-what-you-got-to-get-what-you-need sort of attitude.
"There's no way to mine this as successfully as she has if you're not incredibly smart," Valdivia said. "There are flash-in-the-pan bombshells that come and go all the time."
So how does Vergara reconcile the persona she's built with getting older and remaining relevant and employed? Talking with Stern, she playfully joked about the effects of gravity as he regaled her with compliments. She's slowly started to loosen the reins on the clueless, playful, non-threatening Latina image that she's crafted and maintained with such discipline, admitting to him that she plays up her accent for comedic effect. "I never worry that I'm going to lose it, but of course I do," Vergara said. "Now I know things I hit that make it funnier, you know. Of course you play with it. That I learned while doing the show."
In Brazil, Miranda is finally getting her due. Before, the Carmen Miranda museum, which opened in 1976, was housed in a squat, unassuming building in Rio de Janeiro. But now Brazil's Museum of Image and Sound in Copacabana is dedicating a permanent exhibition to Miranda and her music. Miranda was one of the biggest music acts in Brazil for 10 years before she left for Hollywood to eventually become the "Lady in the Tutti Frutti Hat."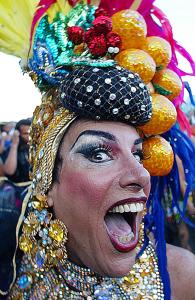 Untangling the politics of Vergara's public performance is complicated, even when examining her "Modern Family" character, Gloria Delgado-Pritchett. Gloria possesses an understated cunning that almost borders on the subversive, though she's often presented as a stereotype. Gloria almost always gets what she wants, outwitting her husband Jay, and her stepdaughter Claire, with whom she is often at odds. What's more, the Pritchetts seldom realize Gloria is manipulating them.
"Is that subversion that's written into the role something that's communicating itself to the audience?" Valdivia wondered. "Who interprets that? Is the majority of the audience just seeing 'there she is, she can't speak English, she's a trophy wife, she's just a Latin bombshell?'"
When confronted with concerns that she's playing a stereotype, Vergara asked Vanity Fair, "Who wouldn't want to be Gloria?" If Miranda is any indicator, it may take some time before the value of Gloria Delgado-Pritchett and the actress who plays her is truly realized.
"The dialogue she gets in 'Modern Family' is very witty," Valdivia said. "I'm just not sure people are getting beyond the bombshell."
© 2015, The Washington Post