The April sun beat down on pedestrians hurrying into the shade across the Plaza de la Cultura in the Costa Rican capital, San José. But Soledad Martínez was all smiles under her red ball cap. Martínez, 33, who sells Claro pre-paid phone cards near the National Theater, said she's happier today than she was last year.
Why? Because she has a new baby, she said, beaming.
Costa Rica maintained its spot as the 12th "happiest" country in the world, according to the 2015 World Happiness Report, produced by the U.N.-affiliated Sustainable Development Solutions Network.
Costa Rica has been crowned the "happiest" country in the world in some surveys. And above average happiness is actually a trend across Latin America — despite the region's high levels of poverty and violence.
The World Happiness Report, released on April 23, is one of a handful of attempts to measure human happiness. The criteria used by different researchers vary, but most who study happiness agree that indicators like GDP and purchasing power parity are not accurate reflections of a country's quality of life.
Besides per capita GDP, the World Happiness Report considers life expectancy, perceptions of corruption and freedom to make life choices, among other factors, to estimate a nation's average happiness.
Switzerland — a country that's wealthy and scores high in quality of life criteria — topped the list this year. Iceland, Denmark, Norway and Canada rounded out the top five.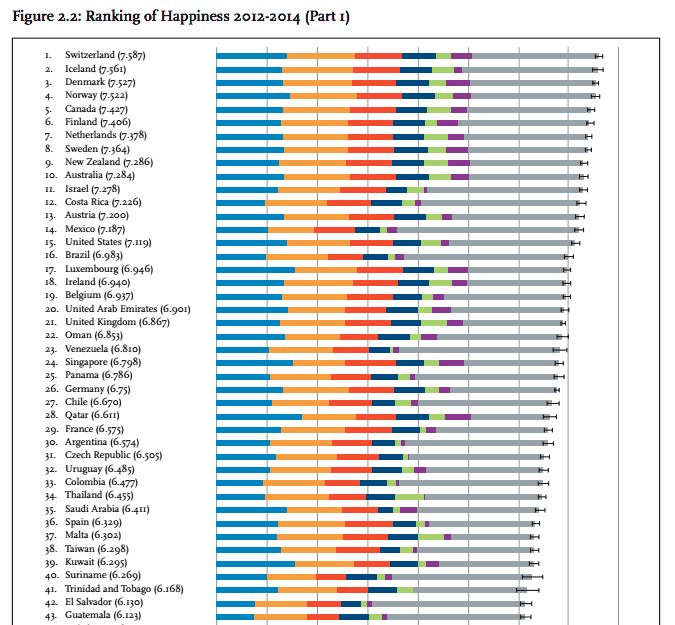 Still, Costa Rica is a classic example of a country that's happier than its GDP might suggest. The country made headlines worldwide in 2012 when the Happy Planet Index declared the land of Pura Vida the "happiest" country on Earth.
The index, created by the London-based New Economics Foundation, which calls itself a "think-and-do tank," based its findings on reports of well-being, life expectancy and the ecological footprint of 151 countries.
But Costa Rica hardly has a monopoly on felicity in this part of the world.
Latin America generally scores well on happiness surveys. In March, Gallup reported that Latin Americans were the "happiest" people on the planet. The public opinion poller found that Latin American countries, led by Paraguay, dominated the top 10 spots on its Positive Experience Index.
The Gallup index quantified people's responses to questions about positive experiences they had the day before the poll, like how much they smiled or laughed, how well-rested they were and whether they learned or did anything interesting that day.
Costa Rica came in eighth, after Paraguay, Colombia, Ecuador, Guatemala, Honduras, Panama and Venezuela.
The World Happiness Report released last week also found that Latin American countries experienced some of the biggest improvements in their happiness compared to other countries in recent years.
Worldwide, Nicaragua saw the greatest increase in happiness from the 2005-2007 period to the 2012-2014 period, according to the report.
Ecuador (3), Paraguay (6), Peru (8) and Chile (9) also saw big leaps in their respective happiness during that timeframe.
Still, insecurity remained a drag on Latin America's happiness scores. The World Happiness Report found that less than half of male and female respondents in Latin America said they felt safe at night.
La familia
Back in San José's Plaza de la Cultura, Soledad was thinking about her baby boy.
"There's happiness where there's a baby in the home," Soledad reflected, lighting up as she described playing with her child, Martin.
Soledad isn't alone is saying family is a major source of happiness for her. The report found that Latin America generally outperformed the researchers' predictions for happiness, at least in part because of "some unique features" of family and social life in the region.
Alberto, 20, also leant credence to the idea that family could be the secret to Costa Rica's bliss bump.
"My girlfriend and I are going to have a baby" at the end of October, he said grinning when asked why he was happy. Alberto also said he recently got a promotion at his job.
"I'm too happy, honestly," he said.
Family was also a source of pain for some people interviewed by The Tico Times. Family troubles or unexpected pregnancies were both mentioned by people who said they were not feeling better about their lives so far this year.
Others had non family-related reasons for being happy. Katherine, 19, a student who works at a shop part-time, said her happiness was a mix of recent accomplishments and future hopes.
"I graduated high school last year, accomplished a goal in life and now I'm on my way to another," she said, referring to her college studies.
"You don't get happiness all at once," she said, "It's something that you accumulate bit by bit. But right now I'm very happy."