Follow more Cuba coverage here
HAVANA — As they begin to visit this long-forbidden island in greater and greater numbers, it is only natural that some travelers from the U.S. will fall in love with Cuba. Others, with Cubans.
And when they do, a few may return home anguished by doubts about their budding Cuban romances. Are they real? Or just scams to get off the island?
They need a love detective.
Fernando Álvarez does not advertise his services quite that way. He is a licensed private eye, with offices in Beverly Hills, California, and Coral Gables, Florida. His firm, Drakonx Investigations, claims to be the only one in the United States offering high-level, professional sleuthing services in Cuba. Infidelity cases are its specialty.
"A lot of foreigners go to Cuba and fall in love, but when they start looking into what it will take to bring their girlfriend or boyfriend out of Cuba, they suspect things might not be quite what they seem," Álvarez said. "They hire us to check it out."
The work is not legal in Cuba. Álvarez's private detectives operate on the island at risk of arrest. But for roughly $100 to $200 a day, they will conduct surveillance and produce detailed reports and time-stamped photographs of their targets' movements and encounters. They will trail them to beach resorts and nightclubs, and even record their restaurant conversations from a nearby table.
With more and more tourists – especially U.S. visitors – streaming into Cuba, demand for this type of service is blooming with every beach-born romance. An amorous culture that is famously libertine and an economy that is famously dysfunctional have left little stigma in Cuba to deceiving one's way off the island, even if it means breaking foreign hearts to do it.
"Some Cuban men even encourage their girlfriends to marry a foreigner in order to eventually get them out," Álvarez said, speaking from his office in Florida.
Cautionary testimonials of fraud and deception are plentiful online, screaming with warnings like "NEVER MARRY A CUBANA." Victims don't fit a single profile, but older foreign men and lonely middle-aged foreign women appear to be prime targets for the beguilers. Some are looking for a long-distance sugar daddy they can string along; others wait until they're out of Cuba to make their move, professing a sudden change of heart before running off.
The problem is so bad in Canada – which sends nearly 1 million tourists to Cuba each year – that immigration officials there have launched ad campaigns warning tourists about "marriages of convenience." A 2010 Canadian government report found that as many as one-quarter of the 700 fiancé visas issued each year to Cubans in Havana were linked to such schemes.
In one widely publicized 2013 case, an Ontario woman's would-be groom went missing three days after stepping off the plane, taking all her money and leaving a badly misspelled goodbye note on a napkin: "Sorry I don't fell love anymore. Don't lock for me."
Álvarez said his detectives are trying to catch a few fraudsters before they can do that much damage. They offer a range of services for the love-struck-but-skeptical.
Some clients are simply trying to determine whether their Cuban lover is two-timing. Others are the wives of foreign businessmen who travel to Cuba, wanting to know what other transactions their husbands may be engaged in. A few are looking for proof that their Cuban partner's ex is truly an ex.
More reading: After 23 years, the US is dropping its claim that Cuba sponsors terrorism. Here's what it means.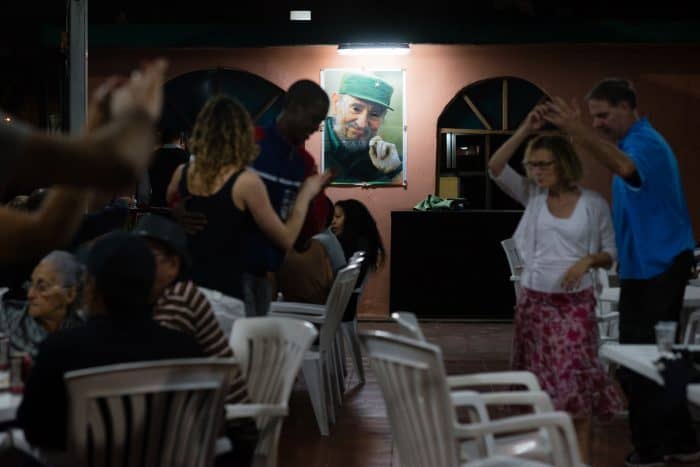 Plenty of the relationships Álvarez's team investigates prove to be authentic, of course, but he says a little extra certainty can save clients a great deal of financial and emotional stress.
His investigators cope with anxieties of their own. Private detective services are not among the 200 or so trades authorized by communist authorities as part of President Raúl Castro's gradual opening to small-scale private enterprise. Álvarez said his team is careful to steer clear of anything with criminal or political overtones to stay off the government's radar.
As an added measure of security, they do not accept Cuban clients who contact them from the island, wary of being trapped by undercover cops.
The private investigators say they're merely filling the service gap created years ago when Cuba's state-run security company, SEPSA, stopped offering for-hire services.
Álvarez, who came to Miami from Cuba a decade ago, would not say if any of the detectives he employs on the island are former or current Cuban intelligence agents or police.
Two of his Cuban staffers agreed to meet a Washington Post reporter at a well-known hotel in Havana to provide evidence of their work. They gave their names only as "Alejandro" and "Sheila," lowering their voices to a whisper when hotel employees walked by.
On a laptop were several case files with hundreds of annotated photos and audio recordings of prior surveillance targets. Some images had confirmed clients' worst fears: a kiss at a doorway, a romantic embrace or lengthy hand-holding in the street.
Alejandro said the Cuban investigative team handled more than 200 cases last year, ranging from a single day's work to long-term surveillance. "All of the photos we obtain are taken in public places," he said. "Our methods are in full compliance with Cuban law."
See also: Poll shows vast majority of Cubans welcome closer ties with US
Clients typically contact Álvarez in the United States first, and he assigns the cases to the investigators in Cuba, who have no office. Once they've completed the surveillance work and filed their reports via email, they erase evidence of the job from their computers, Alejandro explained.
"We know we're at risk of getting caught," he said. "But the job pays well, it's relatively easy to do and it's always interesting."
Rates for their services vary depending on the job or the distance from Havana. In some instances, the detectives need to check into expensive resorts as fake guests in order to conduct surveillance on a subject trying to have an affair discreetly.
"This kind of thing happens in every country, not just Cuba," Sheila said. "The difference is that this work isn't legal here yet."
The detectives do plenty of more prosaic casework too, locating missing heirs or long-lost relatives. A few wealthy foreign parents want their teenagers watched while they're stumbling through Havana's club scene. Another growing segment of the business caters to foreign investors eager to know whether their Cuban partners are flashing wealth while claiming losses.
But Álvarez said the bulk of his cases are related to love.
Last year, about 400,000 visitors traveled from the United States to Cuba, including nearly 100,000 trips by non-Cuban American travelers. That figure is expected to rise rapidly as U.S. travel restrictions are eased.
"Cubans are very warm and affectionate," Álvarez said. "When more Americans start to go there, especially if they're single, they're going to find a lot of temptations."
© 2015, The Washington Post