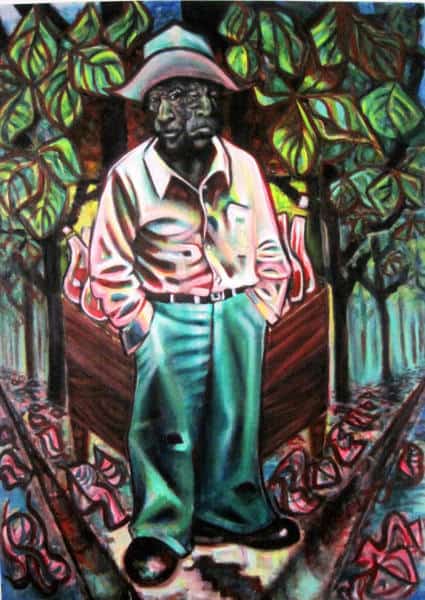 In the painting "Vendedor de Copos," an elderly man stands before a wooden stand. He wears a bushy mustache and a frown. His pinkish shirt and turquoise trousers are definitively Latin American; around him hangs a canopy of tropical leaves. But one thing stands out: The man has two faces, which blend eerily together like conjoined twins. Each face is distinct, separated by a seam in the skin, but they share the same hat.
When 31-year-old Justin Griffin-Zúñiga describes his painting, he takes it a step further. He notes the symmetry of the work, the way the gutters converge beneath the bottom of the frame, as if reaching out of the landscape. He says that anyone looking at the painting is required to "choose a face," just the way someone would pick a "copo" (or "snow cone") from the vendor's cart. He says that he found inspiration in Monet, but mostly he based the portrait on two Rembrandt paintings.
In part, Griffin-Zúñiga can speak so eloquently about his work because it takes him so long to create it: He spent two years painting "Vendedor de Copos." He has no atelier. Instead, he paints in his living room in Ciudad Colón.
After six years of working obsessively with acrylics and pastels, Griffin-Zúñiga will finally receive his first gallery show at the Casa del Artista in Guadalupe. For Griffin-Zúñiga, the opening reception of "Tarde o Temprano" on April 17 is a kind of "coming out" party.
"I've been bothering galleries forever," says Griffin-Zúñiga. "I don't want to sound conceited or cocky. But I'm drawing the line and saying, 'I'm a serious artist, this is what I do, and this is your opportunity to interact with it.'"
In conversation, Griffin-Zúñiga speaks with intense nervous energy, as if he's rushing to explain everything he's thinking. A transcript of his speech patterns would be filled with dashes, semicolons, and ellipses.
But his story is full of surprises: Griffin-Zúñiga was born in Florida and grew up largely in Massachusetts, but half his family lives in Costa Rica, where he would come for summer vacations. He went to the University of Massachusetts in Amherst, where he studied theater, but scheduling problems and cliquey actors made him feel like an outsider. Already shy and anxious, Griffin-Zúñiga spent a lot of his college life alone. In one anecdote, he describes drinking numerous martinis and then wandering around UMass's famous brick skyscraper, the W.E.B. Du Bois Library.
Then Griffin-Zúñiga moved to Costa Rica, and things started to change. "I got slammed by a muse," he recalls. "So I thought, 'I have to do something about this.' It's always a cliché until it happens to oneself, and then it seems quite unique."
For the past six years, he has painted. By day, Griffin-Zúñiga is a contract manager for a major corporation. He is married with one child. But he describes a dramatic inner life, one overflowing with angst and emotions. This is the source of Griffin-Zúñiga's surreal artwork – the globular creatures, the leaves with eyeballs, the gaping, toothy mouths, and the densely layered, psychedelic colors that highlight all his works.
"The world that I live in is quite similar to the world that I paint," he says. "The emphasis is more on the emotional appearance than the physical structure of [my subjects]. One or two are influenced by dreams directly. But most of them start with a sense of anxiety, and I don't know what to do with it."
Then again, Griffin-Zúñiga has managed to overcome this perceived anxiety in other ways. He has traveled throughout Europe and Central America. He has composed music and written poetry collections. If he hadn't moved to Costa Rica, he wanted to live in Dubai. He can reference a range of cultural touchstones in a single breath, like haiku poems and Byzantine iconography, and he can talk about "my fear of death" and "my awe at the beauty of this world" without hesitation or irony. But it is clear that the paintings are the focus of his creative life.
"The way the images are constructed, they're painted – on purpose – in a slightly ambiguous way, because our emotions are ambiguous to begin with," he says. "They're all self-portraits, but they're portraits of us. In my opinion, paintings are mirrors. When we're looking at a face in a portrait, we're trying to see how we relate to that. It's the hallucinogenic experience that I get naturally, on a daily basis."
Like many talented artists with day-jobs, Griffin-Zúñiga feels that his first solo show will be a kind of declaration. Various clients have commissioned his work; Griffin-Zúñiga feels that he has earned a place as a professional artist, and this exhibition will help break the ice with galleries, clients and agents.
"Painting helps me with the existential feeling of being trapped between the ugliness and beauty of the world," he says. "It's the first time I've been able to put energy behind an artistic pursuit in a consistent way."
"Tarde o Temprano" will be on display at the Casa del Artista, Guadalupe. Opening reception April 17, 4 – 9 p.m. Free. Info: Casa del Artista Facebook page.