MEXICO CITY, Mexico — A Facebook post changed David Korenfeld's luck. The picture of this young official, close to Mexican President Enrique Peña Nieto, boarding an official helicopter to travel with his family set social media networks on fire. And the virtual outcry for his resignation came true on Thursday.
Would Korenfeld have remained as head of the National Water Committee had that post not seen the light? It's a question many Mexicans are asking themselves today, and it shows the increasing power social networks have in the country.
"We're not used to power being held accountable, and social networks are becoming monitors for power," María Elena Meneses, a researcher and digital culture expert with the Universidad Tecnológica de Monterrey, told AFP.
Overwhelmed by the effect Korenfeld's picture had, the information technologist Ignacio Vizcaíno says he "simply" did "the right thing." But on Twitter he is already seen as a "a hero" and "#UnMexicanoPatriota" (#AMexicanPatriot).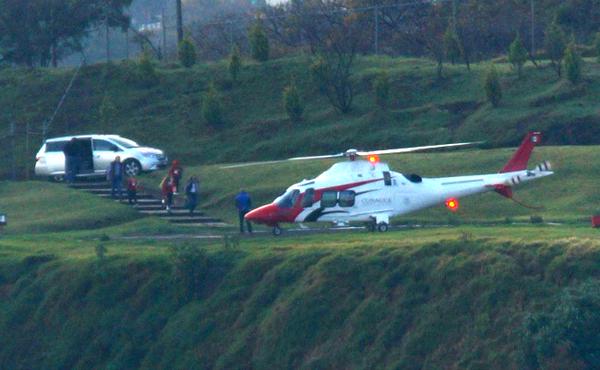 This is not the first time scandal linked to a Mexican politician has caused strong reaction on social networks and made that politician fall.
In April of last year, Twitter boiled with uproar when the daughter of the head consumer protection prosecutor sent inspectors from her dad's office — Profeco, by its Spanish acronym — to close down a fashionable restaurant after she was not immediately given a table.
The young lady was dubbed #LadyProfeco, and her father was dismissed by Peña Nieto.
The president himself is currently under close surveillance for possible conflicts of interest regarding the purchase of luxury houses, by his wife and the Finance Minister, from a government contractor.
Old practices, new tools
"I made an 8-minute mistake," former National Water Committee head Korenfeld said, referring to the duration of his fateful ride on the Conagua helicopter.
Korenfeld had been a cabinet member in the state of Mexico when Peña Nieto was governor there.
Excesses and allegations of abuse of power aren't unique to the Institutional Revolutionary Party, or PRI, which for over 70 years ruled Mexico and took back the presidency with Peña Nieto in 2012. This week, the leftist Democratic Revolutionary Party apologized for having rented five helicopters for campaign activities in the state of Michoacán. And Mexicans still talk about the conservative National Action Party's bash, with alcohol, music and 'escorts," that closed a meeting of its congressmen in August.
Manuel Velasco, the young Green Party governor of the impoverished state of Chiapas, also unleashed anger on social networks resulting from images and videos, including one showing him parading on a thrown carried by indigenous people. Another showed him slapping a volunteer in the face, for which he had to apologize.
"Public officials are acting exactly as they've done for decades, with a propriatary concept of the position," political scientist Ricardo Raphael, author of the book "Mirreynato" ("Myroyalty"), told AFP. "It's a very ostentatious élite that likes to keep distances and look down on people. What's changing is society's attitude, with strong muscle to combat that by informal means."
It's a reaction, in part, to "a number of institutions promoting impunity and corruption" without punishing officials' excesses, Raphael said.
The media's role
With a transparency bill and a new anticorruption system bogged down in the Mexican congress, a stressed Peña Nieto relaunched an ombudsman office, the Secretariat of Public Office, in February. The office is investigating whether there was conflict of interest in the purchase of the first lady's and Finance Minister's mansions. The office is led by a PRI member.
Meneses, from the Universidad Tecnológica de Monterrey, pointed out that social networks have also increased in relevance due to a lack of space for criticism in Mexico's press. The recent, controversial dismissal of influential journalist Carmen Aristegui, whose radio program revealed the purchase of the first lady's house, is a prime example.
Aristegui's employer, Radio MVS, justified the dismissal citing a loss of trust due to another matter. Meanwhile, Aristegui — one of the government's most vocal critics — reported that the presidency was behind the decision, which the Peña Nieto administration emphatically denied.
"In this scenario of scarce plurality, social networks have become that monitor of power that all media must be in democratic societies," Meneses said.