Many Costa Ricans were distraught last week after the country's national space hero cancelled his firm's renewable energy deal with the government over what Franklin Chang Díaz said were frustrating and costly delays.
"Too long a wait and no action," said Chang, who made seven space shuttle missions before retiring from NASA in 2005 to start his own aerospace company. Chang spoke with The Tico Times by telephone on March 6 from his company's Guanacaste headquarters.
The Costa Rica subsidiary of Chang's firm, Ad Astra Rocket Co., has been working with the country's state-owned Petroleum Refinery (RECOPE) since 2011 to produce and store hydrogen capable of powering the country's vehicle fleet — with zero emissions.
Chang said he's been waiting for the past seven months for RECOPE to sign off on the project's final stage: developing a hydrogen pump, like the kind drivers use to fill their cars at gas stations; and testing the whole system out on a demonstration vehicle.
"Keeping the project alive costs money," Chang said. "And who's paying for that? We are."
Chang said he sent an ultimatum in February — asking RECOPE to sign an immediate letter of intent, seal the deal before May 31 and pay $11,000 in back costs — and got no response. Last week, he threw in the towel.
"We basically said enough is enough," Chang said, adding that he's currently searching for alternative funders, possibly another Central American country.
Hydrogen-powered dream
NASA has used liquid hydrogen to blast its rockets into space since the 1970s. Burning hydrogen in an engine yields no carbon emissions.
Developing hydrogen gas as a fuel source for vehicles has long been a dream of renewable energy firms and governments — especially those, like Costa Rica, that are highly-dependent on imported fossil fuels. Cars that run on hydrogen fuel cells are quick to fill up and can travel much longer distances than battery-powered cars.
But building a hydrogen-powered vehicle fleet has been hampered by the expense of generating, storing and shipping the gas, and the difficulty of creating the infraestructure to support its widespread use. Some experts feel there are much better options for reducing emissions from cars.
Still, many are betting on hydrogen's future. The U.S. state of Hawaii, which depends on imported petroleum for 90 percent of its energy needs, has committed to developing a hydrogen-based vehicle fleet, though progress has been slower than originally hoped.
California is also pushing hydrogen as a clean energy source for the road, by offering subsidies to carmakers and consumers, and to private companies to build hydrogen fueling stations.
Major carmakers have been ramping up development and production of models that run on hydrogen fuel cell in recent years.
See a video on hydrogen fuel development (sponsored by Toyota):
Chang sees hydrogen fuel as the perfect fit for Costa Rica's small size and its car-loving population.
"We have a huge motorized fleet for the size of the country," he said. "Costa Ricans tend to like big vehicles, so we have a huge job ahead of us to become carbon neutral by 2021, and there's no real plan, as far as I can see, to accomplish that goal."
Ad Astra Rocket uses wind and solar power to produce hydrogen from the electrolysis of water. When used in a car, Chang explained, "out the tailpipe comes water vapor. Zero pollution. It's beautiful stuff."
Committed to Costa Rica
Chang sounds slightly heartbroken when he talks about his company's breakup with RECOPE.
"Being from Costa Rica, my heart is here. I want this country to do this. It's the right thing to do. It's exactly what the country needs," Chang said.
But "as the head of a company, I need to be looking strategically which way we're going to move on this."
After news spread of the breakup, RECOPE circulated a statement emphasizing that the decision was made unilaterally by Ad Astra Rocket.
In the statement, and in subsequent media interviews, RECOPE representatives have said they're waiting for the Government Attorney's Office to determine whether the state-owned refinery is legally allowed to get involved in energy projects beyond petroleum and petroleum derivatives. (Chang points out that hydrogen is a petroleum derivative, though his company produces hydrogen from renewable energy rather than fossil fuels.)
RECOPE's statement said that its president, Sara Salazar Badilla, considered the state-owned refinery's role in helping the Costa Rican government achieve its energy goals "extremely important." Last year President Luis Guillermo Solís reaffirmed the country's pledge to become carbon-neutral by 2021.
RECOPE said it's willing to continue the project with Ad Astra Rocket but needs to hear from the Government Attorney's Office first.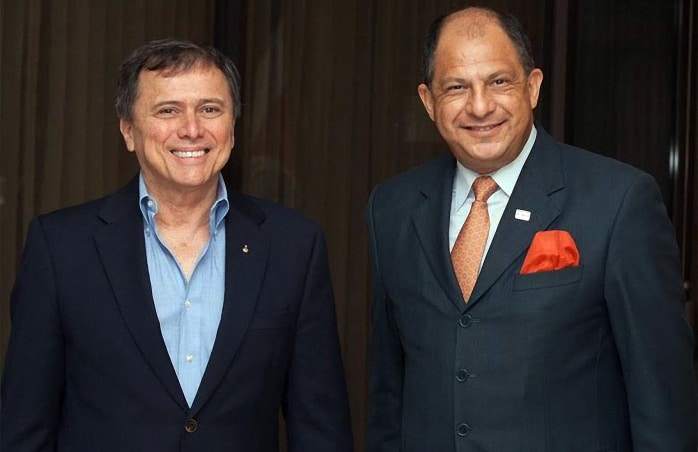 Chang wrote off the refinery's legal concerns as "very silly." He speculated that the new RECOPE board of directors, which was seated last year when President Solís took office, didn't know enough about the project and was scared to make mistakes.
Chang said Solís has been very supportive of the project, despite the president's public silence on the recent impasse.
Following the breakup, former Environment Minister René Castro (2011-2014), who helped broker the original deal with Chang's firm, took to Facebook to rail against the state-owned oil company for its failure to explore alternative fuels, especially biofuels.
"Does RECOPE want to commit suicide?" he began in a March 5 post.
"The production of biofuels hasn't been taken seriously by RECOPE," Castro wrote. "Rather, there's been serious opposition from some unions and professional groups, who have continuously boycotted the plan."
Castro noted that incorporating biofuels into Costa Rica's energy mix has been part of the country's National Development Plan since 2006.
Though the government has initiated some alternative fuel pilot projects, they have thus far had minimal impact, by the government's own admission.
Castro wrote in his Facebook post: "Over and over again, attempts to get [biofuels] to 5 percent of [energy] consumption have been postponed. … Now it's hydrogen's turn," he wrote, referring to the Ad Astro Rocket-RECOPE breakup.
Despite the fizzling of Ad Astro Rocket's principal project with the Costa Rican government, Chang said he has no intention of moving his firm out of the country.
"There is no reason why we cannot do rocket research here in Guanacaste," Chang said, adding that his decision 10 years ago to put a piece of his company in Costa Rica has been a good one.
He said his offer to work with RECOPE still stands, if the refinery puts forth a letter of intent to continue with the project.
"I'm not going to give up on the government yet," he said. "Costa Ricans have a way of coming out from behind," Chang said, setting up for the inevitable World Cup reference.
"I still have a lot of hope that in the end, they will score the goals that are needed to win the Cup. I'm just saying that anything's possible, that's one of the beauties of this country," Chang said. "Sometimes reason does prevail."
Still, Chang said, he also has a company to run. "And I can't just be sitting here waiting for a miracle."
In the meantime, legislators are trying to resolve the impasse by proposing a change to RECOPE's law. The proposed amendment would make it clear that the traditionally oil-based institution can explore cleaner energy sources.