CARACAS, Venezuela — Venezuela had its credit rating cut by Moody's Investors Service to the world's worst among countries not in default, as falling oil prices strain a government already confronting food shortages and 64 percent inflation.
Moody's said Tuesday it has cut Venezuela's rating two levels to Caa3, putting it on par with Ukraine, racked by conflict with Russia-aligned rebels, and Jamaica, which has defaulted twice since 2010.
Falling oil prices mean the Venezuelan government must rely on dwindling hard-currency income to pay for imports of food and medicine, which in turn could leave fewer resources to meet the country's dollar-denominated debt obligations, according to Moody's. Increased scarcity and faster inflation also may contribute to social unrest that could lead to regime change, Barclays wrote Tuesday in a separate note to clients.
"With oil declining, the default risk has increased substantially," Jaime Reusche, a senior analyst in the sovereign group at Moody's, said by telephone from New York. "It seems highly likely there will be a credit event in the next one to two years."
The new grade signifies "very high credit risk," according to Moody's. Only Argentina, which defaulted last year, has a lower grade. If Venezuela stopped making payments, bondholders would be likely to get less than 50 cents on the dollar in a restructuring, Moody's said.
Traders in the credit-default swaps market already are pricing in a 75 percent probability the country misses payments in the next 12 months and a 97 percent likelihood it defaults in the next five years.
Venezuela's benchmark bonds due in 2027 fell 1.4 cents Tuesday to 37.42 cents on the dollar as of 12:03 p.m. in New York, on course for the lowest close since 1998.
"Moody's is effectively putting it at the lowest possible tier before default, which is where it should be," said Siobhan Morden, head of Latin American fixed income at Jefferies Group.
The price of Venezuela's oil, which accounts for about 95 percent of exports, fell last week to $42.44 a barrel, down 58 percent from a peak on June 27.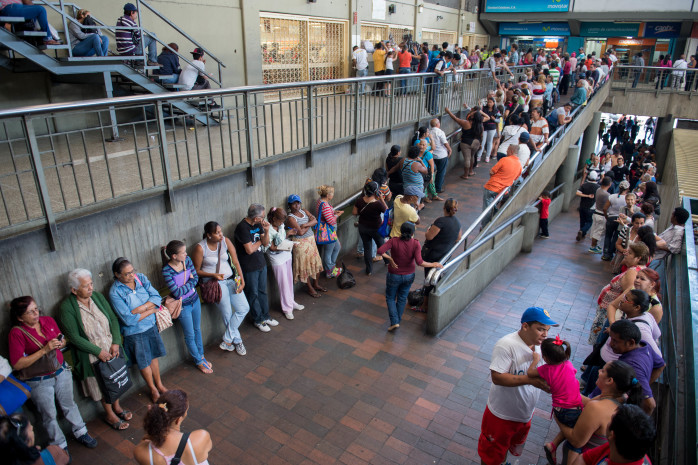 President Nicolás Maduro, who is on a tour of OPEC countries this week in a bid to rally support for higher oil prices, has said that the economic equilibrium for crude is about $100 a barrel.
Trying to limit the outflow of dollars risks deepening Maduro's unpopularity in a country already beset by shortages, according to Moody's Reusche. Maduro's approval rating is just 22 percent, according to Datanalisis.
Foreign reserves declined $1.2 billion over the past week to about $20.9 billion, the central bank said Monday.
"Devaluation or measures to curb imports will only hurt the government's popularity even more and might even incite further social unrest and further protests," he said.
Increased scarcity and faster inflation may contribute to social unrest that could lead to regime change, Alejandro Arreaza, an economist at Barclays, wrote Tuesday in a note to clients. The supply of basic food and goods is likely to deteriorate in coming months because Maduro has been so slow to act, he said.
Investors shouldn't discard the "scenario of an exit of President Maduro because of the escalation of social conflict, voluntary resignation or a replacement due to a rebalancing of forces inside Chavismo," Arreaza said. Chavismo is the populist movement inspired by the former president.
On Monday, the government sought to solve the shortages that have led to long lines outside supermarkets by cracking down on queuing. Police are enforcing a government directive limiting Venezuelans to two shopping days per week at government-owned stores.
Two-time opposition presidential candidate Henrique Capriles yesterday called on Venezuelans to "express indignation."
Ntro Pueblo tiene tdo el dcho a movilizarse y exigir respuestas al caos,están bien pelados en el Gob si creen q la gente se la tiene q calar

— Henrique Capriles R. (@hcapriles) January 12, 2015
Under Maduro and predecessor Hugo Chávez, Venezuela has run the deepest budget deficits of any major economy, printing money in order to plug the gap and generating the world's fastest inflation.
"Venezuela is a solvent country that has met its debt obligations over the past 15 years," Maduro said last month, blaming ratings agencies for waging an "international financial blockade" on the country.
Fitch Ratings downgraded Venezuela's foreign-currency bonds to CCC last month, while Standard & Poor's cut Venezuela to CCC+ in September.
"We think it's unlikely they'll take forceful policy measures," Reusche said. "But even if they do things like implement administrative controls to curb imports, adjustments to the multiple exchange rates or even raising the price of domestic fuel so that they can decrease consumption, these are all unlikely to materially change the conditions that heighten the probability of default."
Boyd reported from Santiago. Julia Leite contributed from New York.
© 2015, Bloomberg News