Costa Rica's Prosecutor's Office and the Judicial Investigation Police (OIJ) have opened an investigation into the causes of the Pura Vida Princess catamaran accident to determine whether or not the ship's captain was negligent, Tatiana Vargas, spokeswoman for the Prosecutor's Office, confirmed to The Tico Times.
The Pura Vida Princess, owned by Global Crust Firm S.A., sank off the Pacific coast of Punta Leona Thursday morning with 109 people on board, mostly foreign tourists. Three foreign tourists – all over 68 years old – drowned in the accident.
The catamaran's captain and first mate both passed a breathalyzer test administered by the OIJ in its Garabito office at the request of the Prosecutor's Office. No charges have been filed against the captain or anyone else at this point, Vargas said in an email.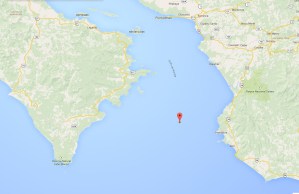 The Pura Vida Princess had 150 life jackets on board for the 99 tourists and 10 crew members but the floatation devices were not distributed until after the vessel began to sink, and safety instructions were not given before the ship embarked from Playa Herradura, according to a statement from Casa Presidencial.
The president's office announced that it would seek legislation requiring the obligatory use of life jackets on all tourist vessels.
In as press conference on Thursday, Vice President Ana Helena Chacón said that an onboard fire had been ruled out as the cause of the accident and that "all indications" pointed to unusually strong winds capsizing the ship. Gusts of wind reached 40 kilometers per hour in the Central Pacific, where the accident occurred, and would have created choppy seas, according to a statement issued by the National Meteorological Institute on Thursday afternoon.
Vargas said that the Prosecutor's Office will wait until the OIJ issues a final report on the investigation before determining if any charges will be sought.
Strong winds along the Pacific coast also capsized a Costa Rican kayaker near the Las Catalinas resort in Guanacaste on Wednesday, according to a statement from the Public Security Ministry. The Tico was apparently unharmed and taken to a nearby hospital for a health check.