Costa Rica released its 2015 ad campaign for U.S. and Canadian visitors this month, but the country's history as a destination for the rich and famous is endorsement enough. Here's a rundown of the biggest celebs who stamped their passports "pura vida" in 2014.
1. Destiny's Child reunites in Papagayo:
Beyoncé Knowles flew down to Costa Rica for Destiny's Child co-star Kelly Rowland's wedding to manager Tim Witherspoon in May. The third member of the platinum-certified rhythm and blues group, Michelle Williams, was also in attendance. Entertainment gossip bloggers went crazy when they realized that Beyoncé's husband, Jay-Z, was absent from the nuptials, which came shortly after the "Flawless" singer's sister, Solange, was caught on film fighting with Jay in an elevator in New York on May 5 following the Met Gala bar.
2. 'Thor' actor Chris Hemsworth chills out

The beach can be a great place to chill out, but few took the phrase as literally as "Thor" actor Chris Hemsworth, who participated in the "ALS Ice Bucket Challenge," which raises awareness for the lethal neuromuscular illness also known as Lou Gehrig's disease, during his trip to Costa Rica in August.
"It's actually quite refreshing," the Australian actor mused after a bucket of cold water hit him from stage right. Hemsworth challenged "Avengers" co-stars Jeremy Renner, Mark Ruffalo and Chris Evans in a wet tank top.
3. Oscar-winning family man Matt Damon in Santa Teresa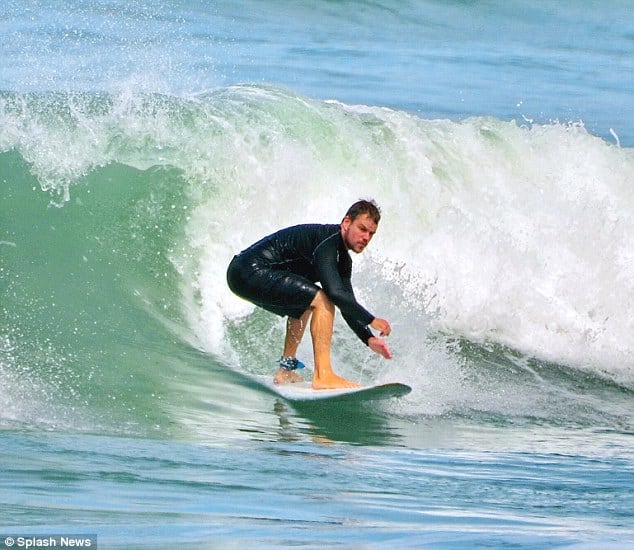 Matt Damon and his family are no stranger to Costa Rica. The "Ocean's 11" star has vacationed in the remote, star-studded beach town of Santa Teresa before, and stayed there this summer for almost two months between June 28 and August 16.
The Oscar winner was spotted surfing and generally being a stand-up guy, according to locals, who said the family strolled the dusty streets without pretension and posed with fans for photos. The Boston native's latest film, "Interstellar," premiered in November.
4. World's fastest man Usain Bolt parties in San José
Olympic gold medalist Usain Bolt reportedly lived it up with Jamaican reggae singer Chris Martin during a private party at the bar Nova in San Pedro, just east of San José, in September. The sprinter posted a photo with Martin and three other friends announcing, "Day 1 in Costa Rica let the vacation begin." He even threw in a #PuraVida for good measure.
5. Man vs. Paradise: Bear Grylls in Costa Rica
The "Man vs. Wild" star and reality-TV-survivalist Edward Michael "Bear" Grylls arrived in Costa Rica Nov. 14. Unlike the vacationing stars mentioned above, however, Grylls was here to work. The Tico Times got a tip from a reader that Grylls was spotted filming in the Venado Caves near La Fortuna, Alajuela. The caverns, which still have sections yet to be mapped, have rooms as tall as 35 meters.
Read more Year in Review 2014 stories here.