SAN FRANCISCO, California – Robin Williams's death had people worldwide scouring the Internet for insights into the famed comic's life, making him the hottest search trend of the year on Google, the web giant said Tuesday.
"The passing of beloved comedian and actor Robin Williams shook the world, bringing many people online to search for more information and to remember, and putting Williams in the #1 spot on our global trends charts," said Google's vice president of search, Amit Singhal, in a blog post.
"There was even an uptick in searches related to depression tests and mental health in the days following his death."
Williams, known for high-energy, rapid-fire improvisation and clowning, was found dead on August 11 at his home in Marin County, north of San Francisco.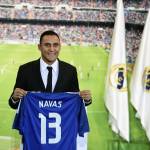 Google also released its most searched items by country. Dominating Ticos' searches for 2014 was the Costa Rican superstar goalkeeper Keylor Navas, who commanded steady searches during his stand-out World Cup performance in June, his recruitment to soccer club Real Madrid in August and the illegal investigation by the Judicial Investigation Police of him and his family in October.