Robin Williams, the Juilliard-trained actor and uncontainably exhibitionist comic who became one of the most dazzling all-around talents in show business, winning an Academy Award for a dramatic role in "Good Will Hunting" and an Emmy for his stand-up work, was found dead Monday at his home in Tiburon, Calif. He was 63.
The Marin County Sheriff's Office said a preliminary investigation indicates the cause of death was a suicide due to asphyxia but that an investigation is continuing. His media agent said he had been battling depression.
Long fueled by an alcohol and cocaine addiction, Williams was a motormouthed and unpredictable entertainer in whatever medium he was working, whether movies, television, Broadway, or gala performances before Prince Charles of England. "In England, if you commit a crime, the police don't own a gun and you don't have a gun," he told an audience, referring to the tactics of London police toward criminals. "So it's stop … or I'll say stop again."
He was a satirist, an Oscar-winning dramatic actor and mimic of everyone from Carol Channing to Jack Nicholson, from a British actor rendering "Hamlet" to a ghetto tough to Henry Kissinger channeling the morgue-voiced actor Peter Lorre. Williams once said he took a crash course in Russian and was so good that he fooled real Russians into thinking he was one of them, "or else Czech or Polish."
Audiences gravitated to his unprintably profane comic riffs on guns, drugs, God and politics. Of Arnold Schwarzenegger, the former bodybuilder and Hollywood-action-star-turned-California-governor, Williams equated his branding as a moderate Republican to "a Volvo with a gun rack — you don't see a lot of them."
Of the lackluster economy toward the end of President George W. Bush's administration, Williams pointed out: "They say the economy is essentially sound because people are considering buying things. That's like saying fat people are healthy because they might exercise."
Once, upon spotting a man carrying a poster from Alcatraz prison, he shouted, "A gift shop at Alcatraz!" and in a child's voice pleaded, "Daddy, get me the electric chair."
It was nearly impossible to harness his style — although, when under skilled direction, he was able to offer restrained and surprisingly deft dramatic portraits.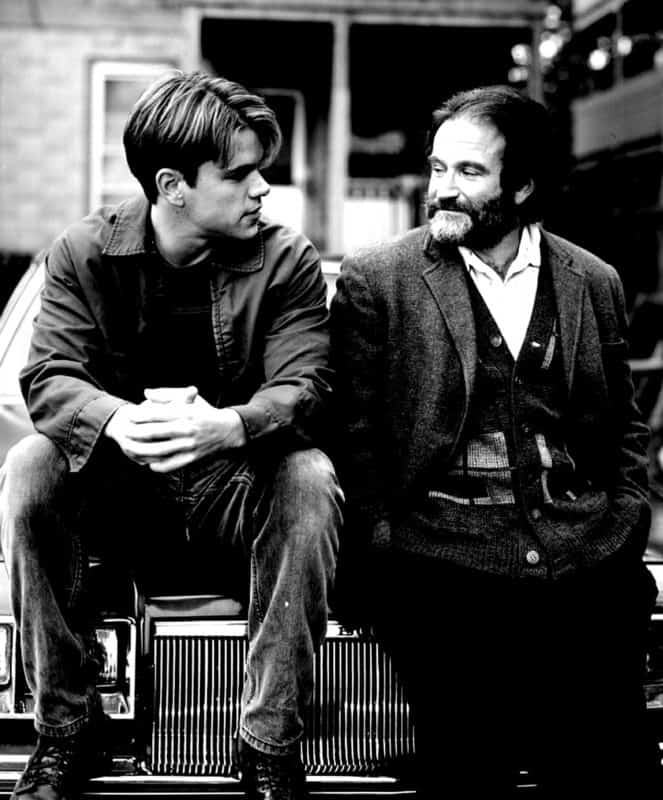 Williams won an Oscar as best supporting actor as a therapist in "Good Will Hunting" (1997) after having been nominated for leading roles three times, for his roles as an irreverent disc jockey in "Good Morning, Vietnam" (1987), an inspirational boarding school teacher in "Dead Poets Society" (1989) and a distraught widower in "The Fisher King" (1991).
As a Hollywood actor, he was almost always compelling but uneven in his choice of roles, which shifted dramatically between riveting ("Awakenings") and maudlin ("Patch Adams") and in the comic realm between the expertly served ("Mrs. Doubtfire," "The Birdcage") and thuddingly mediocre ("Night at the Museum").
He also became a sitcom star as an eccentric extraterrestrial in Boulder, Colorado, on ABC's "Mork & Mindy" (1978 to 1982) and always brought an unpredictable presence to cameo roles on television series of interview programs.
http://www.youtube.com/watch?v=m7vQ-IEbiJE
Robin McLaurin Williams was born July 21, 1951, in Chicago and raised in a 30-room mansion in the affluent Detroit suburb of Bloomfield Hills, Michigan.
His father, Robert, was a sales executive at Ford Motor, and his mother, Laurie, was a former model her son would later call a "Christian Dior scientist." Each parent brought a much older child from a previous marriage into the family, leaving Robin to play by himself with 2,000 toy soldiers — giving each a different voice.
As a child, Robin developed a sharp humor to attract attention from his parents. To his father, who liked to be called "sir," he instead used the honorific "Lord Stokesbury, Viceroy of India." He said his earliest comic influences were his mother, who enjoyed reciting funny poems, and Jonathan Winters, an absurdist improvisational comic of film and TV.
In a remembrance of Winters after his death in 2013, Williams wrote in The New York Times that he was entranced by Winters's effect on his normally staid father as the comedian played a series of more lunatic characters. And Winters' tools were simple. By donning a pith helmet, he morphed into a "great white hunter" whose conception of wild game is squirrel.
"I aim for their little nuts," Winters said.
Williams wrote:
My dad and I lost it. Seeing my father laugh like that made me think, 'Who is this guy and what's he on?' . . . Each transformation was a cameo with characters and sound effects. He was performing comedic alchemy. The world was his laboratory. I was hooked.
Williams's father retired and moved to the family to Marin County, just north of San Francisco, during Robin's senior year of high school. There, classmates voted him the funniest and least likely to succeed.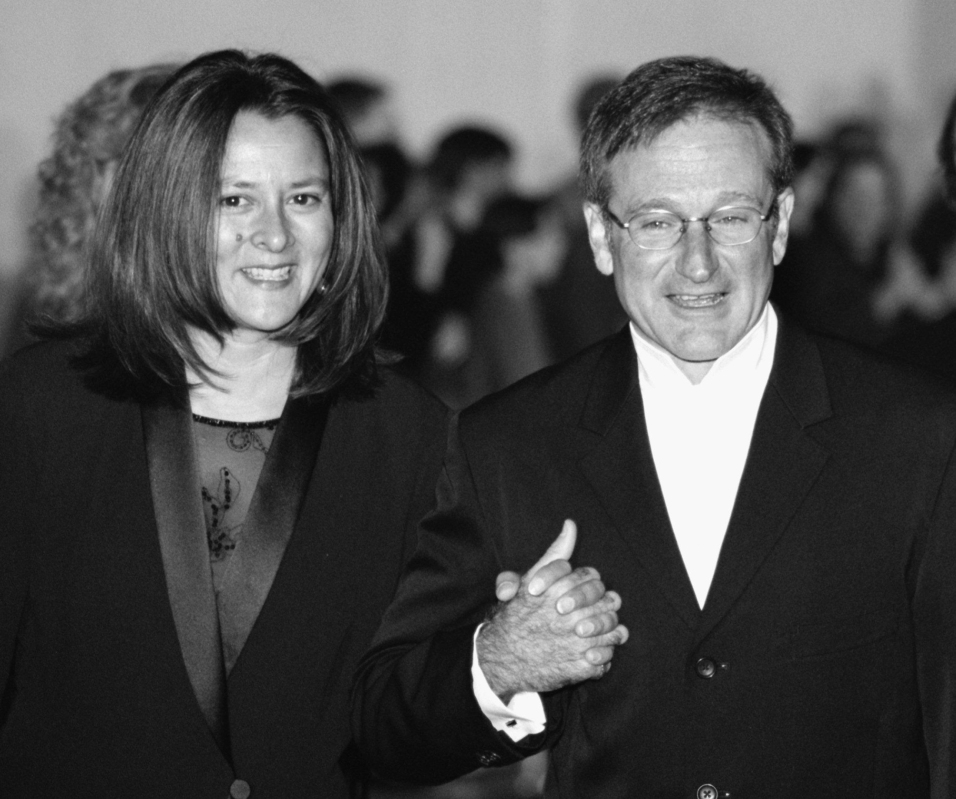 While studying political science at Claremont Men's College, he took a class in improvisational comedy that changed the course of his life. He won admission to the Juilliard School in New York on a scholarship and trained under John Houseman, among other prominent stage actors and directors. His classmates included Christopher Reeve, William Hurt and Mandy Patinkin.
He left in his third year to work in comedy clubs in San Francisco and, in 1978, married Valerie Velardi, a dancer. They had a son before divorcing. He married Marsha Garces in 1989 and had two children with her before they divorced. Survivors include his third wife, Susan Schneider. A complete list of survivors could not be immediately confirmed.
"This morning, I lost my husband and my best friend, while the world lost one of its most beloved artists and beautiful human beings. I am utterly heartbroken," Schneider said in a statement. "As he is remembered, it is our hope the focus will not be on Robin's death, but on the countless moments of joy and laughter he gave to millions."
It was his first wife who suggested Williams move to Los Angeles and direct his talents at television. His routines at prominent clubs — including a skit playing the chain-gang escapees portrayed by Tony Curtis and Sidney Poitier in the 1958 drama "The Defiant Ones" — won him the attention of TV producers in the audience. This led to guest appearances on shows, including ABC's sitcom "Happy Days" as the alien Mork.
The show's producers had turned down 50 performers for the role before Williams auditioned for Mork. "About five o'clock, in walked this boy with rainbow suspenders," producer Jerry Paris told The New York Times. "When he sat down, I asked if he would sit a little differently, the way an alien might. Immediately, he sat on his head. We hired him."
Audience reaction was so swiftly positive that the network gave Williams his own show as Mork in 1978. "Mork & Mindy" was about an alien from planet Ork sent to Earth in a giant egg to learn the mystifying habits of its people. Besides sitting on his head, Mork's quirky tendencies include getting drunk on soda and falling hopelessly enamored of mannequins. His catchphrase: "Nanu nanu."
The sitcom co-starred Pam Dawber as a human love interest and, eventually, Winters as Mork's extraterrestrial baby, Mearth, who ages in reverse. Critics found the show tiresome in its formula, but they were near-unanimous in their praise of Williams, who was afforded the rare freedom on network television to improvise on the set.
He continued to perform on the comedy circuit while starring on TV, and he created a menagerie of profane and ridiculous characters such as the French-born conservationist Jacques Cousteau shilling for an oil company and the classically trained actor Laurence Olivier filming a commercial for Ripple, the low-budget plonk.
His success as a TV star helped make one of his first comedy albums, "Reality … What a Concept" (1979), a million-seller, and propelled his work in movies.
Williams made his leading man debut as the title sailor in "Popeye" (1980), a part he took because the critically esteemed Robert Altman was the director. However, the live-action film, based on the cartoon character, was a debacle that sunk at the box office.
For the remainder of his career, Williams selected a wide range of parts in the hope that audiences would not only forget "Popeye" but see the dramatic potential behind the comic. This led to starring roles in "The World According to Garp" (1982), an oddly meshed comedy drama based on the John Irving novel, and "Moscow on the Hudson," director Paul Mazursky's comedy about a Soviet musician who defects at Bloomingdale's and makes an uneasy adjustment to American life.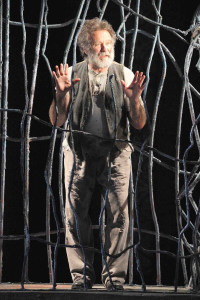 With the Harold Ramis comedy "Club Paradise" (1986), Williams said he made a stab at the blatantly commercial, much to his regret. "'Club Paradise' was a sheer effort of greed," he told the Los Angeles Times. "I just went for the cash and went, 'Great, now make a commercial movie,' and I got creamed."
He dove next into "Seize the Day," a 1986 drama that aired on PBS and was based on a Saul Bellow novel about a man whose life is a series of work and family distresses. Williams told the Times he took actor's scale wages and regarded the performance as one of his finest.
The film that made Williams a bona fide star was "Good Morning, Vietnam" (1987), as the loose-lipped DJ Adrian Cronauer on Armed Forces Radio in Saigon. The film, which reportedly made more than $120 million domestically, was best remembered for Williams one-liners amid the raging Vietnam War.
In one scene, he is teaching New York-style insults to an English class filled with Vietnamese. He says he is from Queens.
"What are Queens?" one student asks.
"Tall, thin men who like show tunes," he replies.
If "Good Morning, Vietnam" proved Williams's commercial potential on-screen, it took "Dead Poets Society" (1989) to transform him into a believably dramatic performer in the minds of mass audiences. The film critic Pauline Kael praised his "astonishingly empathetic performance as an eager, dedicated prep-school teacher in the late '50s" who tries to liberate the minds of his students by urging them to "seize the day."
From there, came a run of more serious-minded films such as "Awakenings" (1990), based on Oliver Sacks book about a doctor (played by Williams) who tries to use a new drug on seemingly catatonic patients at a Bronx psychiatric hospital (one is portrayed by Robert De Niro). In director Terry Gilliam's "The Fisher King" (1991), Williams was a homeless schizophrenic and onetime medieval scholar — the sort of injured innocent he liked to play at that stage of his career.
The next several years were a run of mass-appeal comedies: "Hook," "Toys" "Jumanji" and "Aladdin," the latter was the Disney comedy in which he voiced the role of the genie.
Recommended: Robin William brought brutal honesty to his best roles
© 2014, The Washington Post