GRANADA, Nicaragua – Women in bright colored dresses indicative of their various ethnic backgrounds marched despite the rain in the colonial city of Granada on Tuesday to call for an end to global violence against women.
"Las mujeres mojadas, jamás serán calladas," they chanted, playfully refitting the popular chant, "the people united, will never be defeated," to one more appropriate for the weather.
"We know that a march is not necessarily going to make tangible change, but what it does is it establishes that we are not complacent, that we are aware, and that we will continue to make the invisible visible," Sue Ann Barratt told The Tico Times during the march. Barratt is from Trinidad and Tobago.
Representing 25 countries, the 50 women who marched were in Granada for a three-day conference for female journalists hosted by the International Association for Women in Radio and Television (IAWRT) in conjunction with the Nicaraguan feminist organization Puntos de Encuentro. The conference, taking place from Nov. 17-19, was the first-ever IAWRT conference held in Central America. Many of those present, both young and old, are from Nicaragua and other parts of Central America; but women came from as far away as India, Malaysia and Tunisia.
"It's a major thing to just have Central American events where people from Honduras, El Salvador and other places come to Nicaragua for a meeting. To be able to have a meeting where people from 25 countries are coming together, from continents where most of these people will never ever be able to visit, is almost like getting this window to the world in a fairly easy way for Central Americans," explained Amy Bank, co-founder of Puntos de Encuentro.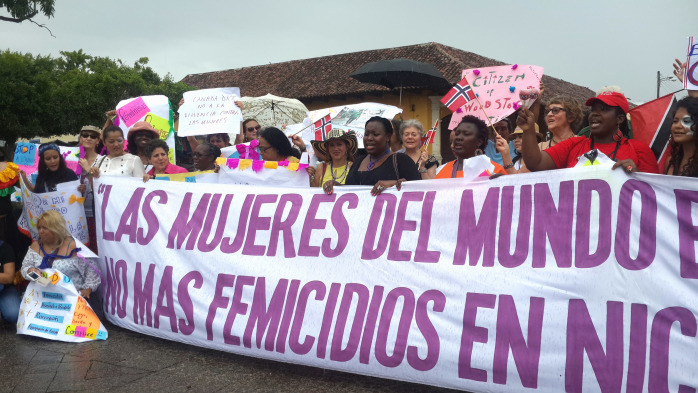 Under the banner of South-to-South cooperation, the conference featured panels and discussions on various topics pertaining to violence against women as well as first-hand accounts of the violence around the world. Other sessions were more practical. One such session held on Monday afternoon taught women how to protect themselves from things like cyber-abuse and surveillance, police stops and rubber bullets. The session offered basic first-aid training to prepare participants in case of an accident.
But conference organizers said that networking and the social experience was even more important than the planned sessions. Throughout the conference attendees succeeded in forging ties while laughingly navigating language and cultural barriers.
"I think the gathering here has been quite remarkable and I think that a lot of people have made important connections that will lead to other things in the future," Bank said.
Bank's testimony took on a somber tone, however, as she recalled two invitees from Nicaragua who could not attend at the last moment due to various forms of violence. According to Bank, one woman's colleague was killed and the other was dealing with the fallout after a "hostage situation." Another woman arrived late because her son had been accosted.
"Those things are very sobering and make you realize that there is a lot to do," Bank said.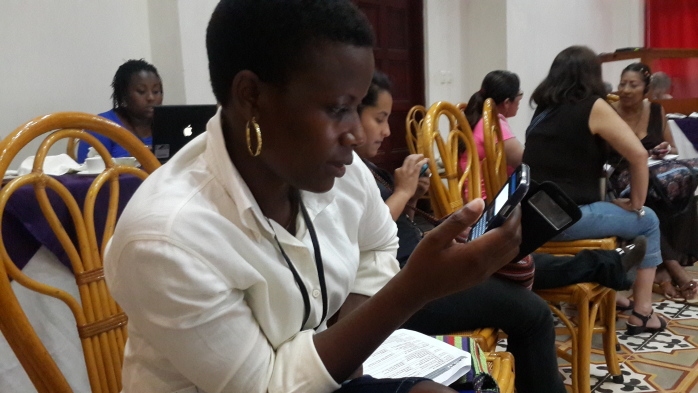 Central America, like much of the world, has a high femicide rate, as well as overall violence against women. Of the 25 countries that have "very high femicide rates," more than half are in Latin America, according to the Small Arms Survey, conducted in 2012. El Salvador has the highest rate of femicide in the world, with Guatemala trailing in third, according to a 2011 report. In both countries these crimes against women are often committed with impunity despite national legislation protecting women against femicide.
Domestic violence is prevalent in Central America, but there is also a high level of systemic state violence against women.
"A 2012 survey of women human rights defenders from Mexico, Honduras, Guatemala and El Salvador found that the majority who had received threats or attacks reported that the state itself was the suspected perpetrator," according to the Americas Program of the Center for International Policy.
"Violence against women everywhere is a product of machismo and of sexism and of men thinking that they either own or can control women," Bank said. "The places where there is a lot of violence are places where social roles and gender roles are in contention and where women are often beginning to rise up, and that is threatening male status and domination."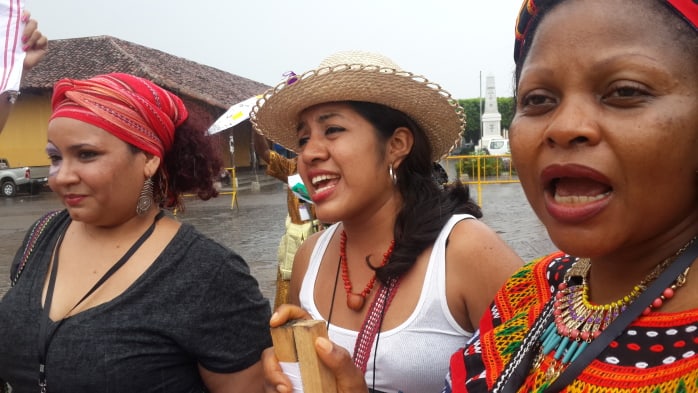 Costa Rica has far lower rates of violence against women and femicide than its Central American counterparts. The country has seen a decrease in femicide in recent years.
In addition to a general call to end violence against women, the journalists of the IAWRT conference also called for what they called "conscientious journalism." Women discussed at length the role of female reporters in promoting women's rights. Bank said that spreading women's stories is what will ultimately strengthen the movement around the world.
She said: "Being in in any kind of communications — media, whatever — expressing yourself, it spreads the debate. It puts things on the table. It gives another perspective. It gives voice to people. It tells the stories in a more public way. And each time a story is told and someone identifies with it, you begin to create a sense of community and also a critical mass of people beginning to identify with each other."
The march and conference took place just a few days before the start of the global "16 Days of Actions against Violence Against Women." The action days begin on Nov. 25.
Sarah Blaskey is a freelance reporter based in Pérez Zeledón, Costa Rica. Her work has appeared in various publications and can be read here. 
Recommended: For Central America's migrant women, life can change in a second