Growing coffee — a reliable staple in Central America — has become increasingly risky in recent years as climate change has caused evermore extreme weather. But farmers who take on this heightened risk are not reaping greater rewards due to a constellation of factors from volatile coffee markets to droughts to inefficient management, according to experts at Costa Rica's annual Sintercafé coffee trade conference, taking place this week.
Peter Baker, a senior scientist with CABI, an organization that focuses on commodities and climate change, said the Earth's changing climate already is affecting coffee production in the region, but it is difficult to anticipate how. Baker said climate models suggest Central America will experience warmer, drier conditions, and more droughts like this year's should be expected. As weather patterns become increasingly erratic, Baker said farmers should prepare for more extreme conditions and even diversify away from coffee in some cases.
"To be 100 percent in coffee these days I think is extremely risky," Baker told The Tico Times.
Climate change is widely blamed for the outbreak of a leaf rust fungus known as roya. The fungus has caused $1 billion in damages to the regional economy and has been exacerbated by the isthmus's aging coffee plants. Baker said that as base temperatures in Central America creep up, problems like roya would continue.
"We can't say that next year will be like this year, it could be the opposite," said Ronal Peters, director of the Costa Rican Coffee Institute, or ICAFE.
"It's clear from what happened in 2012 [the year roya hit Costa Rica] that climate change took us by surprise and we weren't prepared to act immediately," Peters said.
The ICAFE director said Costa Rica has since started to make coffee farming more sustainable and resistant to the vagaries of climate change, through Nationally Appropriate Mitigation Actions (NAMA) certification to reduce coffee's carbon footprint and payment for environmental services that provide incentives for sustainable farming practices, and water and forest stewardship.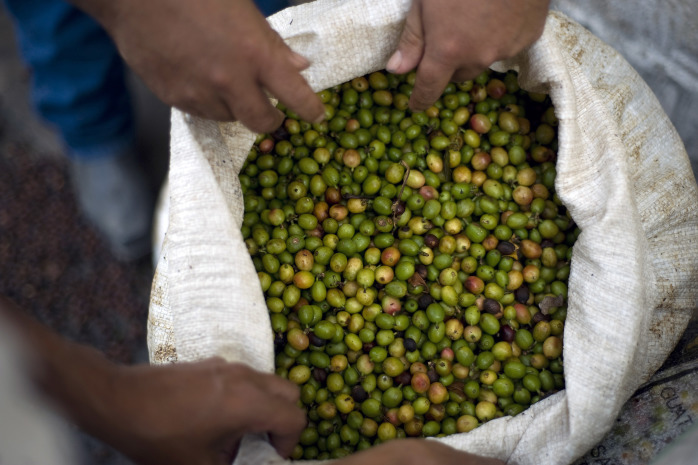 Costa Rica has enjoyed some success controlling the fungus thanks to more aggressive prevention techniques and rising coffee prices. ICAFE estimates that coffee production in Costa Rica will grow 4.5 percent during the 2014-2015 season when compared to the same period last year, to more than 1.55 million 60-kilogram sacks of processed coffee.
Costa Rica exported over $300 million in green, unprocessed coffee in 2013, making up 2.6 percent of that year's exports, according to figures from the Foreign Trade Ministry.
Another hurdle facing Central American coffee in the face of climate change is the age of its coffee trees.
"The problem of roya has always been around. We've had it for years. What happened was that the coffee landscape has never been so bad to face a problem so serious," said Ernesto Telles, operations manager for ECOM in El Salvador.
Telles said that many coffee trees in El Salvador are 40 or 50 years old, and the country has seen steep drops in coffee production in recent years. Colombia, meanwhile, has seen some of the strongest growth in production in Latin America and boasts that 65 percent of its coffee is less than five years old.
"If climate change brings another blow like [roya], how well prepared are the plants to face it, be it drought or any other thing that climate change brings," Telles asked.
Baker said that coffee producing countries like Costa Rica need to meet with richer, coffee-importing countries and large coffee businesses to identify long-term solutions.
"The market for quality coffee is growing and that's our market. The problem is in the production," Peters said. "We need to adapt."