If the phrase "Pura Vida" came with a soundtrack, it would probably sound like Sonámbulo Psicotropical. That's easy to say, since the global-fusion jam band is one of the most successful recent outfits in Costa Rica, with a raging fan base and routinely sold-out concerts. But the music also embraces the "Pura Vida" spirit: Fun, diverse, and effortlessly collaborative, the 11 Sonámbulo players have turned funky dance music into a lifestyle. They have absorbed every Latin- and jazz-based art form north of the equator. If you hear a Sonámbulo song and don't feel an uncontrollable urge to dance, you are legally dead.
This week, Sonámbulo released its latest album, "Psicosonorama," an energetic addition to their previous compilations and a sure sign that good times are still to come. Indeed, their last full album was "A Puro Peluche," in 2009, and after a sprinkling of singles in the past year, a ravenous public is ready to feast on "Psicosonarama."
So how is "Psicosonorama?"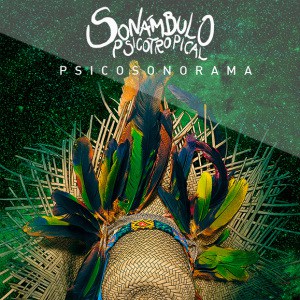 Sonámbulo has the best problem a jam-band could have: Their concerts are so thrilling, so irresistibly fun, that their albums can only fall short by comparison. To see the entire band playing in concert – with solos, shout-outs, coordinated dancing, onstage embraces, sing-alongs, screamed requests, and the beaming expressions of the performers – is an experience completely lost in their recordings. Oh, the music itself can stand alone, and it's fun to blast from your car while cruising through a beach town, but those bare tracks aren't remotely as satisfying as seeing Sonámbulo live.
Overall, "Psicosonorama" is a predictable continuation of Sonámbulo's style (same collage of sound, same high-spirited attitude), yet it also cements the band's reputation as Costa Rica's musical melting pot and even offers some nice surprises. Among fans, Sonámbulo can do no wrong; as long as they keep their zest, everybody's happy. Yet the band continues to experiment, and "Psicosonorama" is inches closer to greatness.
To start with, the bandmates' eight-year union has resulted in masterful vocal harmonies, creating a sound that is less like a bunch of excellent musicians singing together and more like a tight-knit fraternity of singers. The performers have always sounded solid, but with "Psicosonorama" there is no doubt about their creative unity. After tours across Costa Rica and visits to the United States and Europe, their partnership is audible in their voices.
But "Psicosonorama" also demonstrates just how wide-ranging their influences are: Parts of "Hermanos Smith" have the dirty, bass-heavy sound of Western rock before reverting back into familiar funk riffs. (If any song from the Sonámbulo canon has a chance at a Quentin Tarantino soundtrack, it's "Hermanos.") In contrast, their song "Maraca," which has already enjoyed success as a single, is played at a frantic pace, although the rhythm pauses at times for staccato verse. In concert, this gives the band a chance at call-and-response with the audience, in tune with their Afro-Caribbean roots. "El Último Bikitin" actually opens with a flurry of Spanish guitar, and "Habichuela" incorporates flamenco-style clapping.
Throughout the album, the band betrays little emotion about its lead singer, Daniel Cuenca, who was diagnosed last year with a rare and debilitating spinal condition. Despite Sonámbulo's emphasis on solos, the frontman has always been the band's anchor: Sinewy and tall, the goateed singer almost always wears a rough-spun sombrero onstage. Cuenca has not been able to perform with the band for the better part of a year, and "Psicosonorama" is their first attempt to promote an album without him.
Perhaps it is the bias of knowing Cuenca's health complications, but I couldn't help but think of him while listening to "Luz," a long, funereal song that builds over the course of nine minutes. What begins as a distorted pulse and watery sound effects gradually builds into a thrum of percussion and the ghostly wail of saxophone. For the first half, "Luz" is far more emotional than the usual Sonámbulo oeuvre, and the vocals are poetic and even mournful. Then, in a surprising twist, the song becomes feisty and loud, though it is still not the fiesta music that partygoers blast in tenement living rooms. The recurring refrain, "Prenda la luz," or "Turn on the light," is eventually shouted in tandem into the microphone. It is hard not to see a connection between this urgent call and Cuenca's condition.
"Luz" is perhaps the least "psicotropical" track on the album – the genre that the band purports to pioneer – but it is also by far the most moving. It is risky for any upbeat band to compose a song that is in turns somber and defiant, but "Luz" packs an admirable punch. The song will never be the hit single, but its light should stand out.
"Psicosonorama" is now available on iTunes and on the band's official website.
Watch Sonámbulo perform "Manifiesto" on Costa Rica's Conquista Sessions: