See also: Turrialba Volcano eruption in Costa Rica: Photos from the web
TURRIALBA, Cartago – The Turrialba Volcano continues to be highly active, and during a visit Friday by The Tico Times, the National Seismological Network (RSN) had reported at least four strong explosions and emissions of ash. So far, no injuries have been reported since the volcano began erupting last Wednesday evening.
RSN volcanologist Gino González reported the strongest explosion occurred at 12:45 p.m. Friday. He said the volcano had begun spewing ashes early in the morning following explosions that began at 2 a.m.
Experts from the RSN and the Volcanological and Seismological Observatory of Costa Rica (OVSICORI) were waiting for conditions at the crater to allow them to take samples of crater material to analyze the explosions' origins.
"So far there are no serious risks in Turrialba canton, and all tourism businesses but one are operating normally," said Massi Devoto, president of the Turrialba Tourism Chamber (CATUR).
Pedro Ferreira, manager of the Guayabo Lodge – located 7 kilometers south of the volcano – told The Tico Times Friday the hotel was operating normally, and a faint smell of sulfur is the only noticeable result of the volcano's activity.
"We haven't heard any rumblings or felt any tremors, and we haven't seen any ash on our property," Ferreira said. "We're currently in the middle of the green season, and we're at about 30 percent occupancy, with mainly European tourists and a few local visitors. None of them have asked to leave early, and they don't look too concerned. We haven't received any cancellations for the weekend."
Hotel employee Janeth Solano said she lives about 3 km from the volcano and can see vapor trails and ashes from the crater. "But the wind takes it all to the west," she said. "We've felt some minor tremors."
Karla Hernández, a guest at Guayabo from Heredia, booked her stay earlier last week and arrived on Thursday. "We decided not to cancel our reservation, because we knew this area isn't affected. So far we haven't had any problems," she said.
The only area hotel that seems to have been affected is Volcán Turrialba Lodge, according to CATUR's Massi Devoto. Hotel owner Laura Piza said there haven't been any problems directly related to the volcano's eruptions, but the hotel is located in a 1-km security area established around the volcano by emergency agencies on Thursday evening.
The lodge is the only tourism business inside the security perimeter, and that has prevented some guests from reaching the hotel. On Friday afternoon, Piza said she was still waiting for an update from National Emergency Commission officials about whether or not guests could travel to the lodge over the weekend.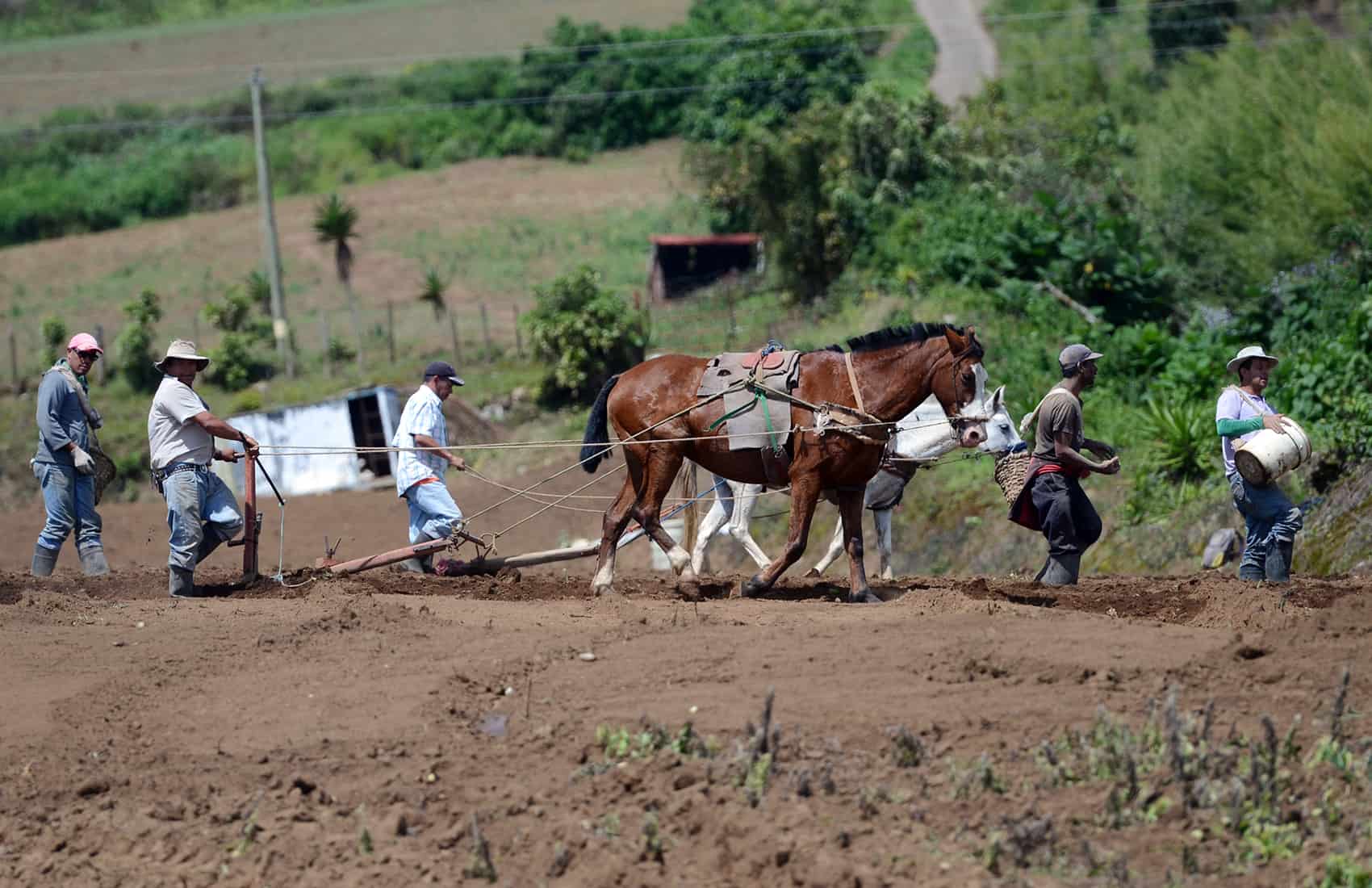 So far, so good

The spreading of ash to nearby areas is being evaluated by experts from the Agriculture and Livestock Ministry and the National Animal Health Service (SENASA), who conducted inspections of 120 farms with approximately 4,000 animals, according to SENASA Metropolitan Area Director Allan Sánchez Mora.
A report by inspectors on Friday said they had found no evidence of financial damages for local farmers. They also did not find any injured animals.
Dairy and crop farming are the primary productive activities northeast of Cartago, where farmers grow vegetables, tubers and flowers. About 80 percent of potatoes consumed in Costa Rica are produced in this region, according to the Agriculture and Livestock Ministry.
Inspectors said 350 farm animals were exposed to ash because owners don't have barns to protect them. About 120 animals need food because pastures at their farms are covered with ash.
Dairy cattle in the region can't be relocated because a drastic change in temperature or altitude could kill them, SENASA's Sánchez said. Sudden environmental changes can cause parasitic infections, he added.
Agriculture Ministry and SENASA officials are coordinating the distribution of hay, and over the weekend volunteers from the World Society for the Protection of Animals and from the National University's Veterinary School aided farmers in washing animals' eyes, skin and mouths to remove ash. Officials on Saturday resumed farm inspections, Sánchez said.
Emergency response agencies have not received any reports from local residents with health problems associated with the volcano's activity. Farming continues normally, and those with land inside the 1-km security perimeter are allowed access to their properties to asses crops and animals.
Officials also are allowing into the area dairy companies that buy milk from the area's farmers. Cows must be milked on a daily basis to avoid infections.
A yellow alert issued by the National Emergency Commission (CNE) on Thursday remains active in five Cartago cantons, the agency confirmed in a press release.
On Friday evening, President Luis Guillermo Solís visited the area and met with government officials and lawmakers from Cartago. Solís said he approves of the security measures being enforced and urged people to avoid the volcano area. "At this time, it cannot be considered a tourist destination," Solís said.
The president also said he ordered Public Works and Transport Ministry (MOPT) officials to send materials and equipment to the area to improve a local road that would be used as an evacuation route if an alternate is needed. Solís said work would be funded by the CNE and that no budget amendments are required from MOPT.
On Friday, during a visit by The Tico Times to the Turrialba Volcano area, RSN experts registered a strong explosion at 12:45 p.m.
https://www.facebook.com/RSN.CR/photos/a.637975969599313.1073741829.266416453421935/795797543817154/?type=1
Follow wordpress-257819-2837440.cloudwaysapps.com for updates.