Argentinian musician Kevin Johansen and his band The Nada (a play on the phrase "de nada"), along with Argentinian caricaturist Ricardo Siri, known as "Liniers," swept their Costa Rican audience off its feet during their first concert in Costa Rica Tuesday night. Those who visited the Jazz Café Escazú for a night of unwonted music with a broad Latin American perspective simply fell in love.
Johansen, whose mother is Argentinian but who was born in Alaska, had never visited Costa Rica before. Liniers joined him and illustrated his songs live during the performance. (Read more about Johansen's background and the band here.)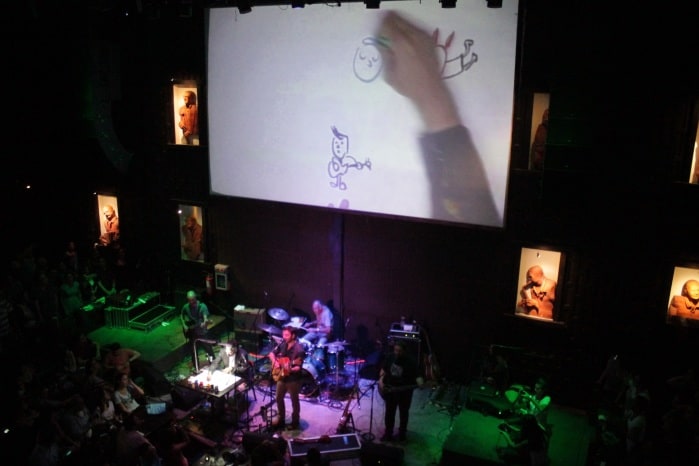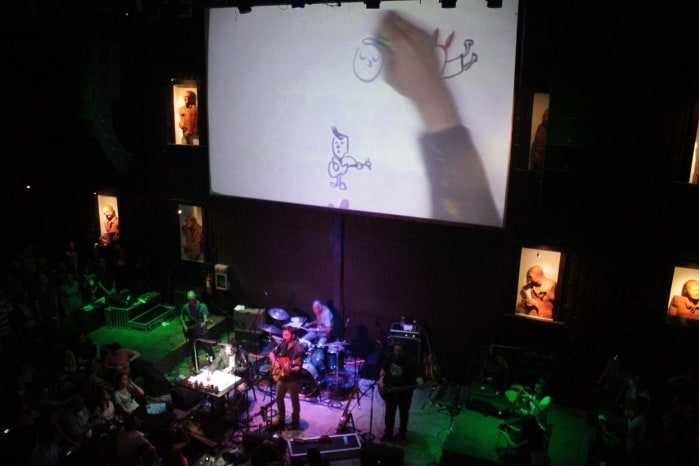 The show was nothing short of a party that seemed to last all night. Liniers made paper airplanes with his drawings and threw them into the audience, just to watch as people went nuts trying to grab them. The Jazz Café, located southwest of the capital, was packed to the gills and Johansen, with his gingery voice, left his fans aquiver, especially with the verve and force of "Baja a la tierra," a song he originally performed with Mexican artist Lila Downs, and the unabashedly optimistic "No digas quizás."
When he announced that he would take a moment for some social protest, he took out a pink guitar with a Hello Kitty face and proceeded to make fun of those trendy songs that are played over and over on the radio, singing ironic ditties such as "SOS tan fashion" and "McGuevara and CheDonalds." In the latter song, which criticizes marketers' endless use of the late Argentinian revolutionary's image, the screen displayed the face of "el Che" with the phrase, "Hasta la McVictoria Siempre."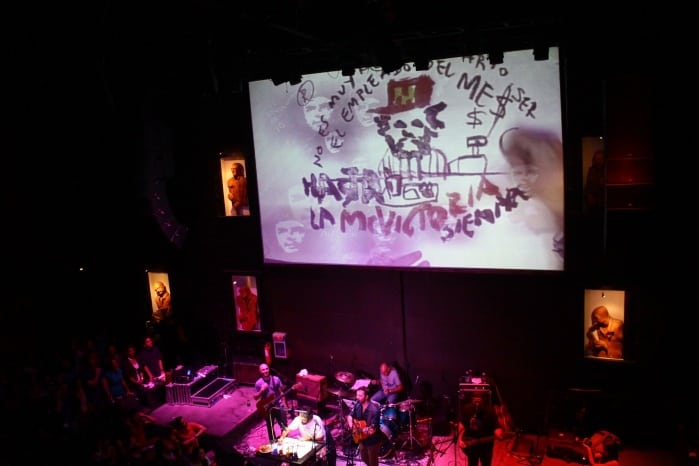 His songs are indelible, brainy and charged with humor and tenderness, such as "En mi cabeza," "Anoche soñé contigo," "No me abandones" and "No tiene nombre," which he sings with Natalia Lafourcade of Mexico.
Check out Tuesday night's performance of "Hindue Blues":
Liniers played the harmonica and illustrated the songs with red, yellow, blue and green crayons and paints. The images he created floated and rotated on the screen, and his sketches during the saddest songs can be best described as doodles of hate.
Near the end of the show, Johansen spoke about how he and Liniers have complemented and influenced each other as artists. "I'm his muse," said Johansen. "You're my Muse-olini," Liniers shot back.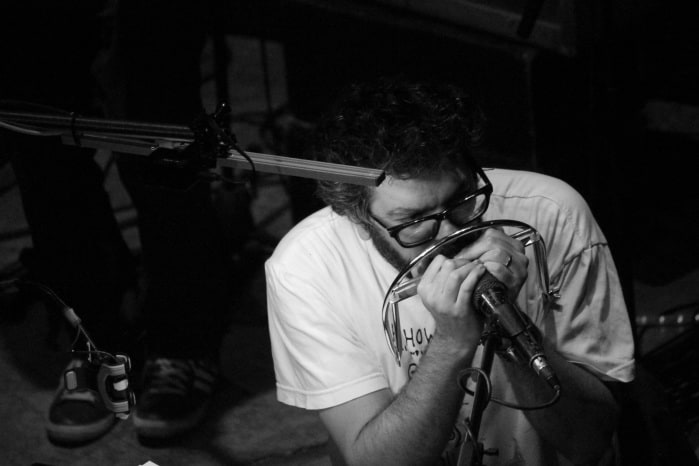 Johansen has spent time in various places, having grown up between Argentina and North America. In Argentina he formed the synth-pop band Instrucción Cívica, whose album "Obedencia Debida" received a Disco de Oro award in Peru in 1985. As a bit of a nomad, in 1990 he decided to "rediscover the North America of his infancy," according to Profana Latinoamérica, the production company that brought him to Costa Rica. Most of the subsequent 10 years were spent in New York, where he founded The Nada and recorded the group's first record. He then decided to head southward once more and in 2000, made his home in Buenos Aires.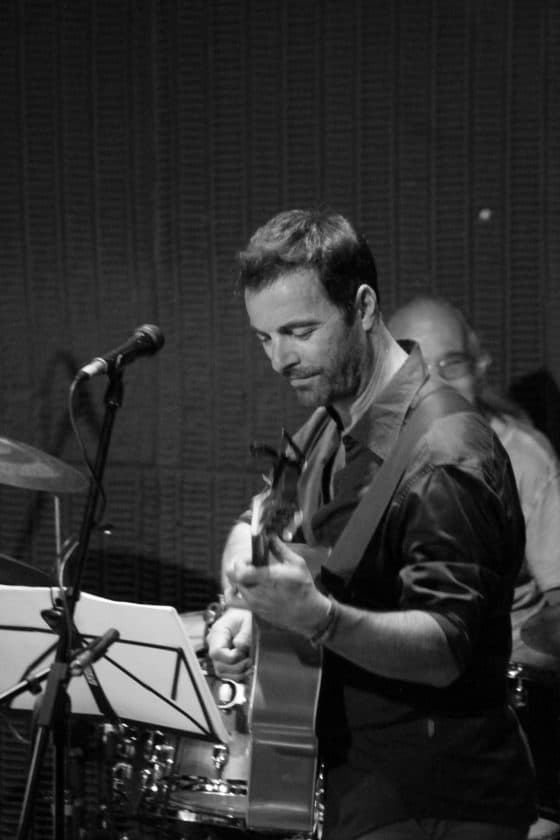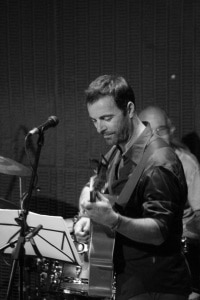 In this, his first visit to Costa Rica, Johansen confessed to The Tico Times that he likes all music, including "la música fea." Asked what this means, he responded that, "Today it would be very easy to say reggaeton, or a trendy, melodic pop singer from Guatemala [pobre Arjona], but I don't think that's the case. I think music and time are a mystery. My son likes 'Staying Alive' by the Bee Gees. When I was a kid, that was the cheesy music. Now that I'm an adult, I listen to the Bee Gees and I think, 'Wow, que buenos.'"
At another moment in the interview, Johansen said he hopes never to become a "cansa-autor." "The singer-songwriter ["cantautor"]," he said, "can quickly become a 'cansa-autor' if placed on a podium and if he thinks he can teach others about life. … The cansa-autor repeats a demagogic formula of songwriting and is nothing more than a pseudo-socio-politician."
Judging by the turnout and crowd reaction at Tuesday night's show, Johansen won't have to worry about tiring Costa Ricans any time soon. The only question, really, is: When's he coming back?