The late Cuban musician Juan Formell, who headed the famous Los Van Van band and won two Latin Grammys, is now featured at Cuba's Wax Museum, local media reported on Tuesday.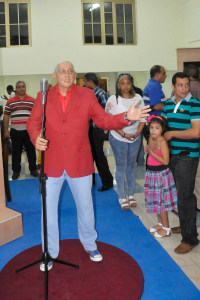 The life-sized sculpture of Formell, portrayed singing in front of a microphone and dressed in blue pants with a red shirt and jacket, was unveiled on Monday to coincide with Cuba's National Day of Culture, the official newspaper Granma reported.
"Formell already was in the imagination of Cubans, and now he always will be in the popular memory," the vice president of Cuba's Artists and Writers Union, Pedro de la Hoz, said at Monday's ceremony, which was attended by Formell's family members and former bandmates.
Los Van Van is now directed by Formell's son, Samuel.
Juan Formell died last May at the age of 71, five months after receiving the Latin Grammy for Musical Excellence. A superb bassist, Formell also composed, sang and directed Los Van Van, one of the most popular Cuban dance bands of the past four decades.
In 1999, Formell received his first Latin Grammy for the disc "Llegó Van Van."
Cuba's Wax Museum, located in the city of Bayamo, 760 kilometers east of Havana, also features other Cuban musicians such as Benny Moré ("El bárbaro del ritmo"), Francisco Repilado (Compay Segundo), Rita Montaner ("La única de Cuba"), Ignacio Villa ("Bola de nieve"), Carlos Puebla ("El cantor del pueblo") and Sindo Garay (a traditional trova great).