In a large country, a "national gallery" would host only high-caliber artists. Countries like the United States and Russia dedicate the halls of their Smithsonians and Tretyakovs only to national treasures – the statues and paintings that are famous enough to merit their own postage stamps.
But in an intimate country like Costa Rica, the National Gallery needn't feel so stuffy. Hence "Portales Creativos" ("Creative Portals"): For the next couple of weeks, the students of Saint Clair High School can see their work hanging in one of the most magnificent art spaces in San José.
"Portals" is an impressive collection of 80 pieces, all produced by Costa Rican teens and tweens, lining the corridor that leads to the National Gallery's main space. There is no overarching theme or medium; penciled faces are displayed next to watercolor landscapes and drawings of ponies.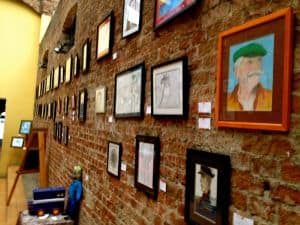 It's a fitting addition to the Costa Rican Center for Science and Culture, a converted penitentiary in the middle of San José, which also houses the Children's Museum. The building is already a kind of kids' paradise: There are interactive science exhibits, robotic dinosaurs, and plenty of room to run around. It is the perfect place to display some adolescent artwork, and the range of their subjects and styles is a pleasure to behold, whether you know the students or not.
Venture a little deeper into the gallery and you'll find "Alta Resolución" ("High Resolution"), an exhibit dedicated to graphic art by university students. Only slightly older than the colegio kids, the students from the Universidad Creativa demonstrate how sophisticated their classes are: "High Resolution" incorporates about 250 experiments in graphic design. In most cases, students were asked to take a photograph of themselves and manipulate it into a narrative piece. In each example, ordinary-looking undergrads transform into heroes and demons, movie stars and androids. On one hand, "High Resolution" demonstrates how much can be accomplished with a little Photoshop magic. More importantly, the Photoshop magic demonstrates how much a 20-year-old can accomplish with a healthy imagination.
Both exhibits are short-lived and will likely be replaced by more traditional exhibits soon. But both "Portals" and "High Resolution" are smile-inducing collections and worth a visit before they close. A lot of these students are clearly destined for a future career in the arts, and it's exciting to see their work during their formative years. The other students – the ones who will become tax attorneys and firefighters – will always be able to say, "This one time, I had a painting in the National Gallery."
"Portales Creativas" continues through Oct. 25, while "Alta Resolución" continues until Oct. 17 at the National Gallery, former penitentiary, downtown San José. Mon.-Fri., 8 a.m. – 4:30 p.m.; Sat. & Sun., 9:30 a.m. – 5 p.m. Free. Info: National Gallery website.