When you see the banners for "Valoarte" hanging in the streets of Avenida Escazú, you may wonder what it is exactly. Even if you know that "Valoarte" is an exhibit of international art, and the series is on display in a brand-new high-rise building that overlooks the highway, you may still feel confused. Why is "Valoarte" taking place in such a random venue? And why for so short a time? (The exhibit closes Oct. 24.) What is "Valoarte," and why should it occupy a neighborhood that already overflows with art galleries?
The short answer is that "Valoarte" is a platform for promoting artists, selling their work to collectors, and helping the community: Proceeds from art sales benefit Hogar Siembra, an organization that helps house and educate at-risk families. This is the 11th iteration of Valoarte, which has taken place in numerous spaces.
If you're a cynical type, you may scoff at "Valoarte" as a circus of commercialized art. Why should a month-long celebration of Costa Rican creativity take place in Avenida Escazú, an upscale shopping district that looks imported directly from Beverly Hills? Indeed, what self-respecting curator would share a building with a newly opened P.F. Chang's and impending Lexus dealership? Surely such a bright and shiny building undermines the authenticity of the work. Real artists live in garrets and show their work in urban warehouses. When we think of La Vie Bohème unfolding in edgy cafés, the cafés we picture are not generally Starbucks.
Such cynics will find plenty to grumble about besides the locale: Inside the gallery, a banner reads "Esencial Costa Rica," bearing the nation's controversial $650,000 logo. Bourgeois lifestyle magazines are scattered throughout, with titles like "Ego" and "Vida y Éxito" ("Life and Success"). Rather than a museum or gallery, the show space is seventh-floor real estate, whose square meterage may one day be devoted to cubicles and ergonomic chairs.
Here's the counterargument: "Valoarte" looks amazing. The massive space is expertly partitioned and arranged, and "Valoarte" contains every kind of visual art imaginable, including paintings, prints, sculptures, photographs and mixed media, plus some modest installations. With its comfortable seating and funky layout, the exhibition feels both commanding and fun. The colossal plate-glass windows that circumscribe the building permit deluges of natural light, and the view of Escazú and its environs is breathtaking.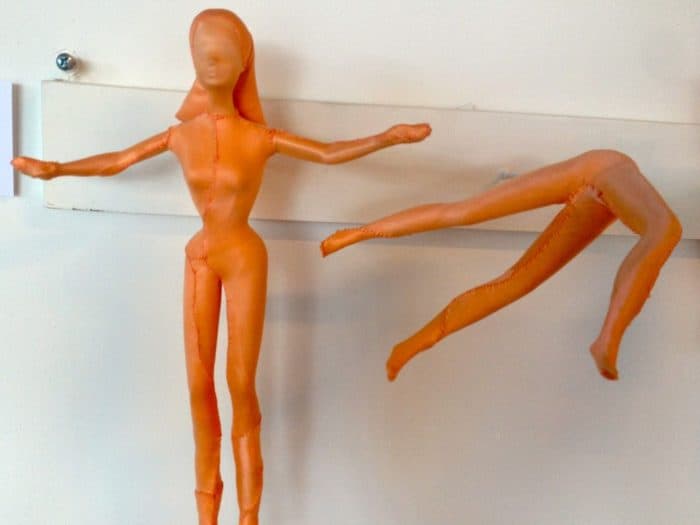 Meanwhile, the artists themselves seem free and feisty: You will find the usual feel-good landscapes, but you will also find fiercely political work, like Karla Herencia's mangled Barbie dolls, or María Raquel Cochez's paintings of people eating. Indeed, Raquel's portrait "Chris and María con Dulce" is downright sexual, the way the two characters euphorically apply food to mouth. The works in "Valoarte" show incredible breadth of style and message, exploring such diverse themes as drugs, gender, urbanism, wildlife, and violence. Some pieces are poppy, others look like street art, and some are the kinds of watercolors you'd give your father as a retirement gift.
In summary, Valoarte's context is odd, but the exhibit itself is masterful – it's more attractive and welcoming than almost any museum in the country – and one can only admire its fundraising mission. The temporary nature of "Valoarte" is a wise choice, maximizing interest in a short period of time. But let's hope that someone in San José, or really anywhere, takes the same idea and expands it. There is a lot of talent in this country, and as "Valoarte" proves, there are a lot of artists in countries like Venezuela and Panama who want to debut their work here. Let's find more vacant spaces and see what they've got.
Valoarte continues through Oct. 24 at Avenida Escazú. Tue.-Fri., 10 a.m. – 5 p.m.; Sat. & Sun., 11 a.m. – 7:30 p.m. ₡1,500 ($3). Info: Valoarte Facebook page.