RIO DE JANEIRO — Brazil's president, Dilma Rousseff of the Workers Party, established a convincing lead in the first round of the country's presidential election Sunday — but it was not enough to elect her outright.
With just under 42 percent of the votes, Rousseff will meet Aécio Neves, the candidate from the center-right Brazilian Party for Social Democracy, who rode a growing wave of last-minute support, in a matchup Oct. 26.
The late surge by Neves, who won 34 percent of the vote, carried him into the second round past Marina Silva, a "third way" candidate from the Brazilian Socialist Party, who just a few weeks ago was polling even with Rousseff.
"It's because she is a known quantity," said David Fleischer, professor of political science at the University of Brasília, of Rousseff's win. "That is the big advantage of any incumbent. And also, an incumbent has a massive political machine at her advantage."
With 99 percent of the vote counted two hours after the polls closed, Rousseff's first-round victory was solid and Neves would have to win nearly all of Silva's voters to beat her. Silva finished with just over 21 percent of the total.
Voters in Rio on Sunday said they had voted for Rousseff for continuity.
"She is more secure. She has more experience," said shop owner Joaquim da Silva, 56.
"I would like to continue the same government, the same management," said Bruno Gonçalves Ferreira, 30, an engineer. The result is a remarkable feat in what has proved an emotional and volatile campaign.
Thanks in no small measure to the patronage of her predecessor, the charismatic and popular former union leader and metalworker Luiz Inácio Lula da Silva, Rousseff beat José Serra in a second round vote in 2010 to become president.
She initially looked like she would walk to re-election when campaigning began earlier this year. But the election was turned on its head when Eduardo Campos, the original Socialist candidate, was killed in a plane crash on Aug. 13 and Silva, his running mate and a former environment minister, took his place.
Campos had been polling at 9 percent, according to the Brazilian Institute of Public Opinion and Statistics, IBOPE. His funeral drew 130,000 people to his home town of Recife, in Pernambuco, northeast Brazil, where he had twice been governor. Days later Silva confirmed her candidacy, and rapidly tripled his poll share, putting her equal with Rousseff and ahead in a one-on-one matchup, according to polls.
Silva's party released an ambitious program to reform Brazil's tax system and cumbersome bureaucracy, promising to spend 10 percent of GDP on education alone. Many Brazilians who wanted an end to Workers Party government saw her as the most viable opposition candidate.
"I wanted the Dilma government to end, and Marina was in the front," said Juliana Ribeiro, 30, a public servant in São Luíz in Maranhão state in northeast Brazil, who voted for Silva on Sunday — and who, like most Brazilians, referred to the candidates by their first names.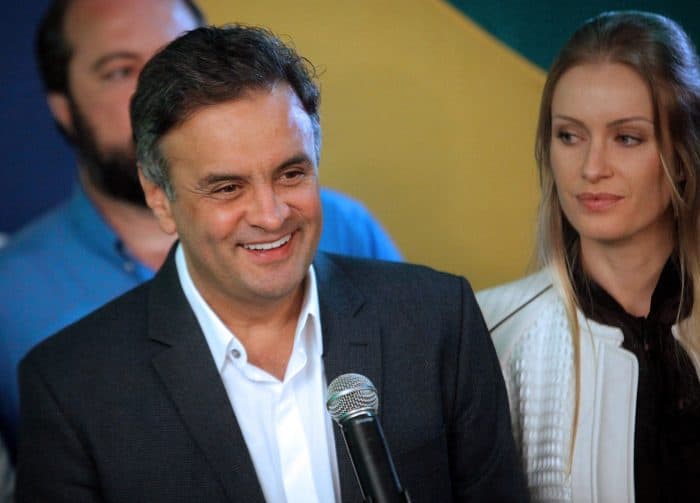 Rousseff's approval ratings had plummeted after a million Brazilians took to the streets to protest failing public services, corruption and World Cup spending in June of 2013. But Silva was unable to capitalize on the frustration. Rousseff, with more than five times the television advertising time of Silva under election rules, launched an effective attack on her rival — suggesting in one commercial that Silva's plans for an autonomous central bank would deliver the country to the bankers. Silva's campaign floundered.
"She suffered a dehydration process because of an enormous and aggressive campaign by the Workers Party," said José Moisés, a political scientist at the University of São Paulo. "There was an imbalance in the campaign."
Silva, an evangelical Christian, was also unable to capitalize on expectations that she could pick up the so-called "protest vote." Many were turned off when she amended proposals in her party program on gay marriage and outlawing homophobia a day after it was released. "People perceived that she did not represent what they thought she did," said Nina Oliveira, 28, a cultural producer in Brasília.
Oliveira voted for Luciana Genro, the candidate for the much smaller left-wing Socialism and Freedom Party, who took an aggressively liberal stance in television debates.
In the wake of the 2013 protests, Rousseff made promises of political reform to a system that struggles to function because the governing party is dependent on making deals with coalition parties to get anything done. But her government imported thousands of Cuban doctors to make up for a shortfall in the Brazilian health service, thus dealing with some of the criticisms over failings in the country's health service.
Economic growth has sputtered — Brazil entered a "technical recession" after retracting 0.6 percent in the second quarter of this year, and 0.2 percent in the first quarter. The Brazilian financial market preferred the more orthodox liberal proposals offered by Silva and Neves.
But as Silva's campaign weakened, Neves made a last-minute, dramatic surge into second place. "He managed to communicate with a segment of the electorate that wanted changes. This segment did not want to vote for Dilma," said Moisés.
"He presented the best proposals. It was a proposal for change," said Irene de Sena, 66, a retiree in Porto Alegre in the south of Brazil, who voted for Neves.
Over 12 years of Workers Party rule, 36 million Brazilians have left poverty and more than half of the population is now classified as a lower middle class. Brazilians who benefited from social policies such as an income support plan and a housing finance program were reluctant to experiment with Silva's vision for a different Brazil, as were the country's many public servants.
"Another president won't do what she is doing," said civil servant Vanir Paraná, 52 — who voted for Rousseff in Rio on Sunday "for continuity, to finish what she started."
© 2014, The Washington Post