RIO DE JANEIRO, Brazil – Brazil's electorate is split a week ahead of presidential elections, with polls showing leftist incumbent Dilma Rousseff locked in a dead heat with main rival Marina Silva, who preaches the need for a "new politics."
A total of 142.8 million voters will cast ballots next Sunday to decide the next leader of the continent-sized nation, the world's seventh-biggest economy.
Voters will also choose 27 state governors, 513 congressmen, 1,069 regional assembly lawmakers and a third of the senate.
Rousseff, handpicked by charismatic predecessor Luiz Inacio Lula da Silva, had been expected to win a second mandate until former Workers Party (PT) colleague Marina Silva crashed the party.
Silva became Socialist Party candidate only after the August death in an air crash of Eduardo Campos, her former running mate.
Earlier polling had put Rousseff well clear of both Campos and Social Democratic Party candidate Aecio Neves.
That all changed with the arrival of Silva, 56, who served as Lula's environment minister before switching to the Green Party, and whose 2010 presidential bid netted her 20 million votes, for third place.
This time around, Silva enjoyed a month of polls suggesting a narrow run-off vote victory before the Rousseff camp began a vigorous fight back, with the latest surveys giving Rousseff the lead ahead of a likely second round on October 26.
Yet despite her current upsurge, the scenario is less rosy for Rousseff than four years ago.
The 66-year-old daughter of a Bulgarian entrepreneur donned the presidential sash following eight largely euphoric years under Lula that saw an economic boom help fund a vast range of welfare programs that lifted tens of millions of Brazilians out of poverty.
They joined a burgeoning middle class who are now showing their frustration at rising costs of living as well as political corruption.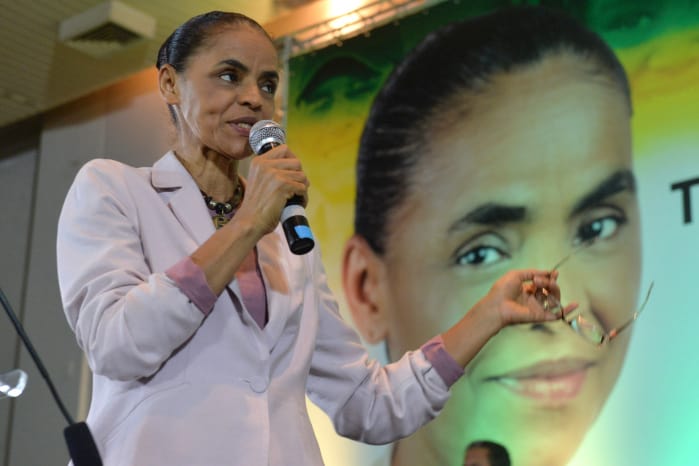 Dark clouds
After Rousseff took office in January 2011, dark clouds appeared over the economy as the global economic crisis helped put a brake on growth while inflationary pressures pushed living costs up.
The Rousseff administration's economic credibility took another a hit last month with confirmation the country had entered a recession.
Rousseff's government had already been enduring a bumpy ride after protests drew around a million people onto the streets in June 2013 to protest poor public services while Brazil was investing in the World Cup.
The protest movement accused the political elite of being inefficient, corrupt and unable to deliver health, education and transport systems worthy of the developed country Brazil aspires to be.
Voters now have the chance to pass judgment on the Rousseff years and, if they wish, to put their faith in Silva's vision of a new start.
Rousseff vs. Silva
In Rousseff, voters can stick with a former guerrilla who was jailed and tortured under the military dictatorship, a tough-talking economist and PT leftist who served as energy minister, then as Lula's chief of staff.
Or they can twist with Silva, who rose from a humble background in a village in Amazonia, the daughter of rubber tappers who only learned to read at 16 and worked as a maid before rising to become Brazil's youngest senator and then environment minister.
The religious convictions of a woman who could become Brazil's first black leader wow some in a country where evangelicals are on the rise — but equally turn others off.
A Silva win would end two decades of domination by the PT and the Social Democrats, who held power under former president Fernando Henrique Cardoso from 1995-2003.
Without a strong party base, Silva is courting the large constituency of those disaffected by party politics, symbolized by last year's demonstrations.
Investors also prefer her to Rousseff's financial interventionism, which they blame for Brazil's economic ills.
Silva says she hopes to govern "with the best" across the political spectrum in a break with partisan politics.
"We are going to recover the economic stability of Fernando Henrique's government, … lost under the current government. And we are going to maintain and deepen social inclusion started under the Lula government — today threatened by Dilma's with the return of inflation, high interest rates and feeble growth," Silva said.
Rousseff retorts that Silva's lack of a party machine could paralyze politics as she may struggle to find a majority in Congress.
"In a democracy, nobody can govern without a party," said Rousseff, noting Silva's Socialist Party base is just 33 lawmakers.