"Chunche" is one of the cutest words in the Costa Rican lexicon: It basically means "thingamajig" or "whatchamacallit." You call something a chunche when you can't be bothered to remember its actual name.
For his exhibit, "Chunches," multimedia artist Benvenuto Chavajay uses the term playfully, but his installations do not share that casual cuteness. Indeed, Chavajay is a very serious artist, and his themes are intensely political. Raised in Guatemala and fiercely protective of his indigenous ancestry, Chavajay rearranges unconventional materials in different forms.
The Costa Rican Museum of Contemporary Art and Design has dedicated its largest space to Chavajay's diverse works, and it is obvious, from the second you step inside, how boundless his creativity is. He uses clay to replicate light bulbs and pistols. He uses hundreds of buttons to represent maize kernels, which cover his synthetic ears of corn. He removes the plastic straps from sandals and uses them to connect a queue of large rocks.
His oeuvre is not limited to sculpture: In one large-format photograph, Chavajay himself is pictured with a tattoo on his chest, which reads "Ch'ab'aqJay." According to the explanatory plaque, "Ch'ab'aqJay" is Mayan for "mud house," but no outsider can correctly pronounce it, so Spanish-speakers have changed his surname to Chavajay. Most of his work references his indigenous origins, usually in cryptic ways, contrasting industrial-age objects with ancient, Pre-Columbian themes.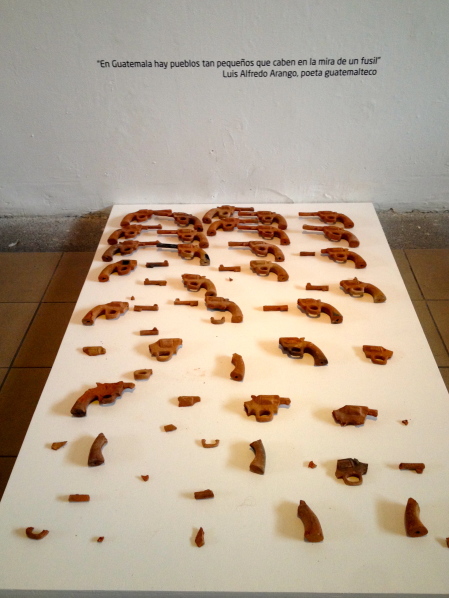 At the same time, the exhibit is clearly a showcase of Chavajay's individual works and is not likely meant to form a cohesive whole. The name "Chunches" might seem dismissive, but it's also basically accurate: Here's a bunch of peculiar objects from his studio. Each tells a story or asks a question. Take a few steps farther into the room, and you'll find a different peculiar object that tells a different story or asks a different question. It's like stepping inside Chavajay's mind and rooting around the surreal images that occupy it.
The adjacent room houses a second exhibit, "Gaur [Sic]," whose origins are a little more obscure. In the Basque language, "Gaur" means "today," and the name represented a group of avant-garde artists in the 1960s. If you're not familiar with your radical European art movements of the Vietnam Era, well, the Gaur folks were among them.
Like "Chunches," the "Gaur" retrospective has something to do with rebuilding an ancient identity in a postmodern world, but unlike Chavajay, whose indigenous references are fairly clear (corn, clay, stone), the "Gaur" collective is much weirder, the kind of stuff you create when you're reading a lot of Foucault and tripping on acid.
For starters, the "Gaur" works are all video segments, projected on walls or shown on small TVs. In one video, an energetic young woman bounces a ball down the street. She's very adept, rebounding the ball off every surface imaginable. Suddenly the ball crashes through a shop window. Inside, a female shopkeeper tosses the ball back to her and smiles. Voilà! The whole thing was staged!
As usual, it's nice to see the Museum of Contemporary Art and Design present such daring and eccentric pieces. I would guess that visitors will probably gravitate toward Chavajay's exhibit, if only because the artist seems more earnest. Either way, they're both fine collections and worth a visit on a rainy afternoon. You might even be inspired to take a picture with your doohickey.
"Chunches" continues through Nov. 13 at the Museo de Art y Diseño Contemporáneo, downtown San José. Mon.-Sat., 9 a.m. – 5 p.m. ₡500-1,500 ($1-3). Info: MADC website.