The anthem of the province of Guanacaste reminds us of the unique and magnificent history of this region ever since it became a part of Costa Rica: "Guanacaste is the flowered land that gave itself to our homeland with love."
In tough times, pressures on water resources abound. Climate change will have a dramatic impact on these pressures; it is essential to our national life to invest in intelligence, beginning with initiatives that have been warmly received by the people of Guanacaste.
It's always possible to overcome adversity. The water issue for Guanacaste goes beyond any single speech or argument. It can represent a paradigm shift if, by building the Piedras River reservoir, we provide irrigation for more than 12,000 hectares and potable water on the plains of Guanacaste and the Nicoya Peninsula.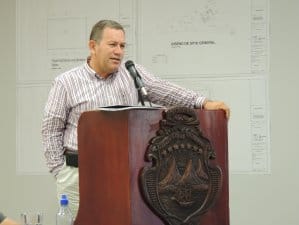 In addition, the overflow and waste of good water in the Gulf of Nicoya is an unavoidable truth at the moment. Public investment should be made based on a project that allows us to revert the effect of climate change on Guanacaste.
Scientists have explained to us that climate change will tend to make arid lands even drier; that increasing temperatures will intensify cycles of evaporation and precipitation; and that, as logic dictates, if we irrigate the lands of the rising sun, we will be a society with a greater capacity to respond to climate problems, which will be overcome by the state and society together, working together.
We are ready for the frequency of droughts to drop with "Water for Guanacaste"  [a joint initiative of the Planning Ministry and the Agriculture and Livestock Ministry to address the region's water crisis]. We are ready for drought and high temperatures, which lessen and vary our agricultural yields, to give way to the intelligence of those who take a stand in favor of a project that's necessary for social and economic reasons, but above all for environmental reasons.
The environmental crisis can't defeat us. We can combat instability and decreasing precipitation with a solid and well-articulated strategy, and with the implementation of projects that go beyond immediate concerns or descriptive narratives – projects that create a long-term vision that empowers Guanacaste as a land of progress and well-being.
"Water for Guanacaste" has as its primary task ensuring the supply of water, but the initiative should also seek to mobilize economic and technical resources to put into practice a strategic plan to improve agricultural productivity, make possible sustainable food systems, avoid deforestation, and conserve our biodiversity, among other goals.
There is much to do: energy, minerals, agriculture and ecology are all present on Guanacaste's agenda, and go hand in hand with the issue at the heart of this article.
We must reformulate our way of thinking in order to advance and respond to an overwhelming reality.
It is time to demand, and time to act – from the land of the rising sun.
Marco Antonio Jiménez Muñoz is mayor of Nicoya. 
•
For more on the issue of water in Guanacaste, see a special data journalism investigation by The Voice of Guanacaste. The investigation and creation of a water app were carried out by Mariana Santos, a Knight Foundation Fellow and creator of Chicas Poderas, Costa Rican journalist and data journalism expert Giannina Segnini, Costa Rican web programmer Roberto Rodríguez, president of 3Vot, and U.S. web programmer and designer Brian Boyer, visuals editor at National Public Radio. The investigation found that Guanacaste has plenty of water – 8.7 times the amount that's needed for human consumption – but it is not distributed efficiently, fairly or effectively. Read that report and see the app here.