School vacations are a time for camping, sleepovers with friends, and visits to museums. In Alajuela this year, kids were able to do all three together. The Juan Santamaría Musem offered them "A Night in the Museum," a chance to learn about Costa Rican history and have fun, too.
The museum and cultural center is dedicated to the Campaign of 1856, whose hero, Alajuela-born Juan Santamaría, set a torch to the headquarters of U.S. filibuster William Walker in Rivas, Nicaragua on April 11 of that year, leading to victory for Central America. Visitors of all ages can learn about the past through the museum's theatrical tours, but these area children got up close and personal with the nation's past in a unique way.
Two sessions were held, one for seven- and eight-year-olds, and one for older kids. The idea was to learn about their country's history and its traditions in a way that was appropriate for their age level. It proved to be exciting, educational, and a bit scary, too.
The first order of the evening was setting up the tents with help from a mom or dad, and staking out a sleeping place. Many of the children knew each other from other museum vacation activities which included traditional games like jump rope, raising the rope to see who is nimble enough to cross over or scrunch under, and a treasure hunt complete with clues.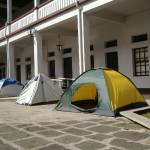 None of the kids expressed the slightest hint of fear – well, maybe just a little – about sleeping in a museum filled with memorials to the distant past. "It's fun. We learn new things and our history," said Tiffany. "We learn about the museum, and Ronald said we won't get scared," said Valeria, referring to program director Ronald Alvarez. "We're learning history and there are no ghosts," and "I made new friends," were other observations.
After the participants settled in, there was a tour of the museum in the half-light of evening; what an exciting way to learn history. Next, a dance class taught students a simple routine to show their parents before bedtime. An eight o'clock snack was followed by lights out. But not sleep. Not just yet.
Because here came a parade of characters out of the past: President Juan Mora Porras, who gave the call to arms to defend the country against William Walker and his mercenary army; Bishop Llorente y Fuente; Costa Rican soldier Quincho, in his uniform circa 1856; and doña Nacha, who accompanied the troops to help win the war. There too, was the villain William Walker. The players, museum staff and actors all, talked to the children and answered their questions.
Then came a walk to the back part of the museum that was once a prison. Many strange things happened here, explained a museum guide. Several prisoners died here.
At that moment a loud BANG echoed around the cement walls and barred doorways, causing a few heart to flutter. But nobody got scared. Not really. Between Alvarez and helpers Andrea Sibaja and Andrea Chacón, and the comfort of mom or dad nearby, everyone got settled down for a cozy night's sleep.
The museum is in front of Alajuela's Central Park and is open Tue.-Sun. 10 a.m. to 5:30. Want to participate for yourself in one of the theatrical tours? They're offered Wednesdays and Saturdays; visit www.museojuansantamaria.go.cr for more information.