All of them got on the Boeing 777: the world renowned AIDS researcher, the 77-year-old nun, the aspiring chemist who rowed crew for Indiana University — Dutch by birth but who showed her affection for her Midwest campus by once showing up to a costume party dressed as an ear of corn. A grandfather shepherding his three young grandchildren back to Australia. A 19-year-old U.S. citizen traveling to meet his family for a Malaysian vacation. Eighty children, three of them infants.
In total, 298 people, a cross-section of life and experiences, boarded a 12:15 p.m. flight on a partly cloudy day at the airport in Amsterdam.
One of them, a Dutch man leaving for a holiday with his girlfriend, was struck with a darkly humorous thought. Remembering the last time Malaysia Airlines made the news, for vanished Flight 370, Cor Pan snapped a photo of the aircraft he was about to board and posted it to Facebook: "If the plane disappears," he wrote, "this is what it looks like."
Within five hours, the plane, Flight 17, would be shot down in Ukrainian airspace. All of the passengers — the nun, whose name was Sister Philomene Tiernan, but who went by "Phil;" and the grandfather, Nick Norris, and his grandchildren, Mo, Evie, Otis — were killed in the crash that left debris and bodies strewn throughout fields and neighborhoods near the eastern border of Ukraine.
The victims included 44 Malaysians, including a crew of 15, 28 Australians, 12 Indonesians, 10 Britons, four Germans, four Belgians, three Vietnamese, three Filipinos and one person each from the United States, Canada, New Zealand and Hong Kong. Some of the victims had dual citizenships. The country with the highest number of casualties was the Netherlands. At a news conference Thursday night at Amsterdam's Schiphol airport, an audible gasp rose when it was announced that 154 Dutch citizens had been on the plane. The number of Dutch citizens who died was later increased to 189 — a figure that U.N. Ambassador Samantha Power noted in a tweet is proportional to the number of U.S. citizens who died in the terrorist attacks of Sept. 11, 2001. However, the Associated Press put the number of Dutch dead at 192.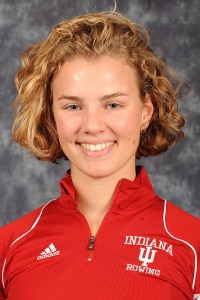 Karlijn Keijzer, 25, was a Dutch woman who had come to the United States for her graduate studies. On the campus of Indiana University, she was known as a hard-working doctoral student who spent long days in the lab testing Alzheimer's drugs. She was also known as a quirky, exuberant member of the university's rowing team, who energized her teammates by pounding her chest and yelling before 5 a.m. practices.
"Every day after practice, we asked her to teach us Dutch words," remembered Jaclyn Riedel, who was at times Keijzer's rowing partner. "And she did, with so much happiness."
They once asked her to teach them the word for "garden gnome," which turned out to be "kabouters."
"It made no sense, but it was so funny, and from then on wherever we went, if we had a good practice we would cheer 'kabouters, kabouters.' If we won a game, it would be 'kabouters!' " Riedel said.
Keijzer had returned to the Netherlands for summer break and was flying to Malaysia for a vacation with her 29-year-old boyfriend, Laurens van der Graaff.
Quinn Lucas Schansman, a dual Dutch-American citizen, was also heading to Kuala Lumpur on a holiday. The business student's family had already left for Malaysia, and Schansman was traveling on his own to meet them.
Schansman "stuck up for you and made you laugh when he saw there was something wrong," according to Fabienne Schriek, a former classmate from his high school, Alberdingk Thijm College in Hilversum. He also was a peacemaker, Schriek said via a Facebook conversation. "If there was a fight in class he could cool everyone down again, made a joke, and it was like it never happened."
Schansman loved soccer. He posted frequently on Instagram, smiling selfies and casual photos with his arms around friends. In a final picture, uploaded last week, two people were sprawled on an outdoor trampoline. He hashtagged the event "just chillin in the garden feelin like a duck."
Hours after Flight 17 was shot down, Schansman's girlfriend, Floor van Dranen, had changed her Facebook cover photograph to one of the two of them embracing, prompting friends to leave pictures of hearts and tears, and grief-stricken messages in Dutch.
"Sterkte," many of the messages encouraged van Dranen. Strength.
All of the passengers were traveling to Malaysia's capital, Kuala Lumpur, for different reasons, as a final destination or just as a transit point. Some were vacationers, like Schansman and Keijzer. The nun, 77, had been on a retreat in France. The grandfather, 68, was ferrying his grandchildren home to Australia from a family trip so they wouldn't miss the first few days of school in Perth. At least seven of the passengers were traveling to Melbourne to the 20th International AIDS Conference.
Among them was Joep Lange, a Dutch researcher who had been a pioneer in the field since the earliest days of the AIDS epidemic, and who worked to improve developing nations' access to medication.
"Joep was a calm voice but an absolutely fierce and committed advocate for access to HIV care for all," wrote Paul Volberding, the director of the AIDS Research Institute at the University of California at San Francisco, via email. Volberding was already in Australia for the conference, where 14,000 attendees were still stunned by the losses to their community. Lange "was unafraid of speaking the truth and especially willing to take public officials to task when they deserved it."
U.S. President Barack Obama used the AIDS researchers as an examples of goodness amid the "outrageous" violence of the tragedy.
"In this world today, we shouldn't forget that in the midst of conflict and killing, there are people like these," the president said at a White House news conference Friday morning. "People who are focused on what can be built rather than what can be destroyed; people who are focused on how they can help people that they've never met; people who define themselves not by what makes them different from other people but by the humanity they hold in common."
All of them boarded the plane and none of them left it.
Families that had hoped to greet loved ones instead waited for news of their last minutes alive.
Australian citizen Kaylene Mann had already lost her brother, Rod Burrows, in March when Malaysia Airlines Flight 370 vanished en route from Kuala Lumpur to Beijing. On Thursday, she learned that her stepdaughter, Maree Rizk, was on Flight 17.
"It just brought everyone, everything back," Greg Burrows, Mann's brother, told the Associated Press. "It's just … ripped our guts again."
Malaysian citizen Akmar Mohamad Noor had been looking forward to spending Eid, the festival marking the end of the holy month of Ramadan, with her sister, who lived in Geneva and hadn't been home for the holiday in several decades.
"She was coming back from Geneva to celebrate [Eid] with us for the first time in 30 years," Akmar told reporters at Kuala Lumpur's airport. "She called me just before she boarded the plane and said, 'See you soon.' "
Washington Post staffers Ariana Cha, Mary Pat Flaherty and Julie Tate contributed to this report.
© 2014, The Washington Post