For the second time in a month, Citizen Action Party (PAC) members of the Legislative Assembly seem ready to trade away the interests of LGBT Costa Ricans in order to secure votes for something they more desire.
In early May, rumors circulated that in order to maintain control of the legislative directorate, PAC made a deal with political parties of the religious right that included a promise not to move forward for at least a year on any civil union legislation in exchange for PAC's control of the Assembly directorate.
Only a social media outcry and the Broad Front Party's threat to withdraw support from PAC forced them to find a majority that didn't include the obstinately anti-civil union lawmakers.
On Tuesday night, a motion offered by National Liberation Party legislator Antonio Álvarez Desanti to move consideration of an amendment to the Family Code – an arcane legal document that governs marriage and family in Costa Rica – from 26th place on the agenda of the Assembly's Legal Affairs Commission to second place was mysteriously opposed only by two PAC lawmakers. The modification was to be considered along with a civil unions bill that would afford same-sex couples legal recognition and protection.
Access Without Exclusion Party's (PASE) Óscar López complained later that members of the commission took advantage of his absence from a meeting to move the issue up on the agenda, and he promised to "bombard" the proposal with motions, revealing again how one person – or a handful of determined ideologues – can hold hostage the entire legislative process.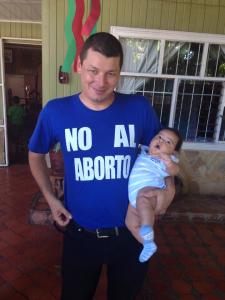 A Legal Affairs sub-commission that includes "Bombardier" López, Álvarez Desanti and the Broad Front Party's Edgar Araya has now been created to study the legislation. The sub-commission includes members from PLN, FA, and PAC lawmaker Marvin Atencio, who now claims that the PAC government supports civil unions, but that he and fellow PAC member Laura Garro voted against the motion because they wanted to avoid conflict in the sub-commission. Did they fail to notice that they were the conflict? In López's absence, had these PAC legislators been on board, the vote to change the agenda would have been unanimous.
The next day, an action alert by the Center for Research and Promotion of Human Rights in Central America (CIPAC) sounded the alarm to social media claiming once again that issue of gay rights was being used as a bargaining chip to guarantee support for the Development Bank, one of PAC's pet projects. CIPAC asked members and citizens to call their legislative members to pressure them against making the deal. Could that have been the reason PAC was withholding its vote – and their tongues – during the commission meetings? Is there some new PAC agreement with the religious extremists in the Assembly regarding a civil unions bill?
Now assigned to a sub-commission to be "studied" for six months, the bill for civil unions already has been "bombarded" with more than 1,300 motions in an attempt to make it too unwieldy to compete in this legislative session.
For his part, PLN legislator Álvarez Desanti seems to be making good on a promise to make the advancement of LGBT rights a priority in the legislature. Along with the Broad Front Party's Araya, Álvarez Desanti has accepted leadership on the issue of civil unions. Costa Ricans may remember that as Interior Minister some 25 years ago, Álvarez Desanti issued instructions to consulates not to give visas to women traveling alone, as he feared they would be coming to Costa Rica to participate in an International Lesbian Congress. He further directed immigration officers at the airport to deny entry to "suspicious" looking women in his attempt to protect "moral values" and the "Costa Rican way of life."
Álvarez Desanti's evolution on LGBT issues is now at least a decade old and parallels the change many Costa Ricans and many in the world have experienced. In his present role of leadership on this issue, he is perhaps best situated to enlighten the religious right lawmakers, as he once shared their fears and concerns. But they don't seem eager to listen. Indeed, Costa Rican Renovation Party lawmaker Gonzalo Ramírez hectored Álvarez Desanti at a follow-up hearing, where he and others from the religious right demanded that the Legal Affairs Commission move consideration of revisions to Costa Rica's Family Code and same-sex union legislation further down the agenda – in effect burying its consideration this year.
Ramírez told Álvarez Desanti, "I had in my church Johnny Araya [PLN's presidential candidate], and he told us – the Christians at my church – that he would defend marriage. And now you come and do something completely different from what your candidate preached. … And you were his campaign manager!"
Ramírez has yet to explain why his marriage and those of his parishioners are in need of defense from a proposed civil unions bill or even gay marriage, if it were to come to Costa Rica. As many have asked in similar debates in other countries, "How do civil unions, or even gay marriages, affect heterosexual marriage?" I would be willing to wager a year's salary that many more heterosexual marriages have ended because of the actions of other heterosexuals than have ended because of lesbians and gays.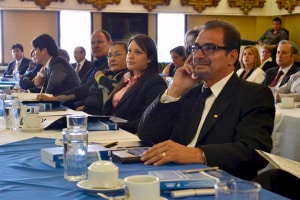 Intellectually and logically, the movement to consider amendments to the Family Code alongside any proposed legislation on civil unions or common law marriages makes perfect sense. There are several modifications of the Family Code needed to prevent further legislation from conflicting with existing law.
For example, Chapter II, Article 14 of the Family Code makes it legally impossible for members of the same sex to enter in to a marriage. Article 236 describes a husband as having legal rights of representation for his wife, and she for her husband. Article 242 describes common law marriages and all the attending rights that would come after three years as applicable only to a man and woman. These are at least three changes in the Family Code that would be required before same-sex unions could advance.
But modifying the Family Code is only one requirement. Changes are also proposed to the Labor Code, the Immigration Code, the Civil Process Code, the Notary Public Code and the law governing the Supreme Elections Tribunal. Each of these likely will be met with a flood of motions from the bombardier, Óscar López, Costa Rican Renovation Party members Gonzalo Ramírez and Abelino Esquivel Quesada, and National Restoration Party member Gerardo Alvarado Muñoz.
These four lawmakers, employing the now well-known tactics of their religious fundamentalist brethren from previous assemblies, could well delay and even stop the necessary amendments to these laws. But a determined alliance of PLN and the Broad Front Party could make passage possible if the government's party in the legislature is willing to pledge – as the Broad Front Party has – that they will not use civil unions and LGBT rights as a bargaining chip for other bills.
With only a month in office, President Luis Guillermo Solís already has made great strides on both symbolic and policy fronts. His inclusion of an openly gay person in his Cabinet and his decision to fly the rainbow flag above the Casa Presidencial are potent symbols of inclusion of LGBT issues in his administration. Also, the very huge policy change underway that will allow lesbian and gay partners to receive partnership benefits from the state-run Social Security System will make a civil unions law ever more necessary and ever less controversial.
If PAC in the legislature can start providing a leadership role on human rights that their own political platform promised when it called for the full incorporation of all sectors of life into society, Costa Rica could become the first country in Central America to adopt same-sex civil unions.
And when this happens – and the demographics overwhelmingly indicate that it is a question of when, not if – one hopes to be able to ask the question to those who so bombastically oppose its passage: "Did the passage of a civil unions law destroy your marriage? Did it wreck your heterosexual relationship? Did it cause your paramour to leave you?"
If the answer is "No," as it assuredly must be, one begs to ask another: "So then, why all the fuss?"
Gary L. Lehring is a professor of government at Smith College, Northampton, Massachusetts. He is on sabbatical in Costa Rica.