WASHINGTON, D.C. – A political consensus against trade with communist Cuba that has prevailed in Washington for half a century is showing signs of cracking.
As the head of the U.S. Chamber of Commerce, the world's biggest business lobby, pays a visit to the Caribbean island this week, support is growing for an easing of trade restrictions and an increase in academic and cultural exchanges.
While few are advocating a full lifting of the embargo or the restoration of diplomatic relations, almost four dozen former government officials, retired military officers and business leaders wrote an open letter to President Barack Obama this month urging him to ease some constraints.
In another indication of the shifting mood, Cuban-American sugar producer Andres Fanjul — part of a family long associated with support for the embargo — signed the letter, which asks Obama to use his presidential powers to authorize more import and export licenses, among other steps.
"This is a moment to act," Fanjul, executive vice president of the West Palm Beach, Fla.-based Fanjul Corp., said in an interview. "It's important to expand opportunities to build relationships between the American and Cuban families."
Supporters of further easing the 52-year embargo by executive order see a window of opportunity after the U.S. midterm elections in November, said Carl Meacham, director of the Americas program at the Center for Strategic and International Studies in Washington.
"You're seeing, slowly but surely, a ratcheting up of the pressure," said Meacham, who served as the senior adviser for Latin America and the Caribbean on the Senate Foreign Relations Committee. "The window for action starts with the election and finishes around the first quarter of 2015."
The visit to Cuba by Tom Donohue, president and chief executive officer of the U.S. Chamber, comes after the Cuban government passed a law this year to attract more foreign investment and President Raúl Castro eased travel restrictions on Cubans, including some dissidents.
"We have been told that there is a genuine shift in the economic model under way," Jodi Bond, the chamber's vice president for the Americas, said in an emailed statement. "Our plan is to see those changes firsthand and to help clarify the benefits of pro-market reforms."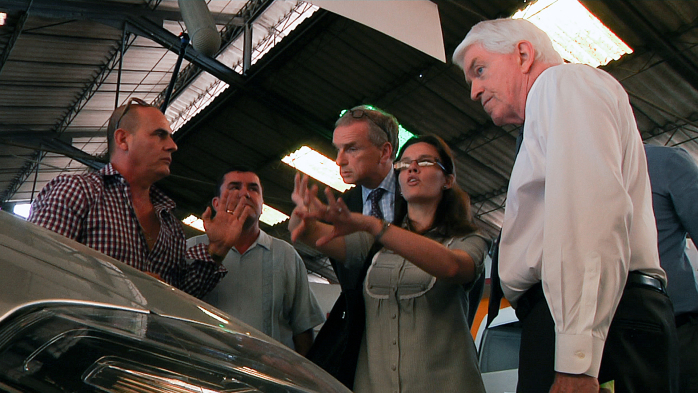 Obama has acted on Cuba before, reversing some restrictions put in place by his predecessor, George W. Bush, after taking office in 2009. Obama's moves were denounced by lawmakers such as Rep. Ileana Ros-Lehtinen of Florida, a Cuban- American Republican, who hasn't wavered in her opposition to any easing of sanctions against the regime in Cuba, 90 miles (145 kilometers) from Florida.
Having outlasted 10 presidents so far, Cuba's Castro brothers are approaching their 90s. Raúl Castro, 82, has vowed to step down after his term ends in 2018, while 87-year-old Fidel Castro is seldom seen in public anymore.
Longtime Cuba watchers such as Wayne Smith say the approaching end of the Castro regime, shifting political dynamics in the Cuban-American hot spot of Florida, where a younger generation is taking over from parents who fled Fidel Castro's rule, and an eagerness among some in the U.S. business community for trade have combined to make an opening possible.
"It shows the way the thing is moving," said Smith, a former U.S. chief of mission in Havana who served as executive secretary of President John F. Kennedy's Latin American Task Force a half-century ago. "Fewer and fewer people are sticking with the old policy. There's a lot of momentum."
The Obama administration continues to weigh how best to encourage positive change in Cuba, according to a State Department official who asked not to be identified discussing policy deliberations. The U.S. has taken steps to encourage greater access for Cubans to the Internet and social media and has started talks with the Cuban government to set up direct mail service between the countries, the official said.
The biggest obstacle to any White House movement on Cuba may be Sen. Robert Menendez, the son of Cuban immigrants who is chairman of the Foreign Relations Committee.
The New Jersey Democrat wrote a letter to Donohue criticizing him for reaching out to a Cuban government that Menendez said "jails foreign business leaders without justification, violates international labor standards, and denies its citizens their basic rights."
"Such conditions hardly seem an attractive opportunity for any responsible business leader," Menendez wrote.
Another barrier is Cuba's continued imprisonment of former U.S. government contractor Alan Gross, who was arrested on spying charges in 2009 after taking telecommunications equipment to the island.
Even with such objections, the Obama administration "by and large does want to move forward," said Richard Feinberg, a former adviser on Latin America to President Bill Clinton.
"They see positive changes on the island, both in the private sector and among the middle class," said Feinberg, who served on the National Security Council staff from 1993 to 1996. Feinberg signed the letter urging an easing of the embargo, as did prominent figures such as former Ambassador Thomas Pickering and former Director of National Intelligence John Negroponte.
Raúl Castro has worked to diversify Cuba's economy as its ally and benefactor Venezuela struggles with a faltering economy and anti-government protests. Cuba received about 90,000 barrels a day of subsidized oil from Venezuela in 2013, according to state-owned oil company Petroleos de Venezuela.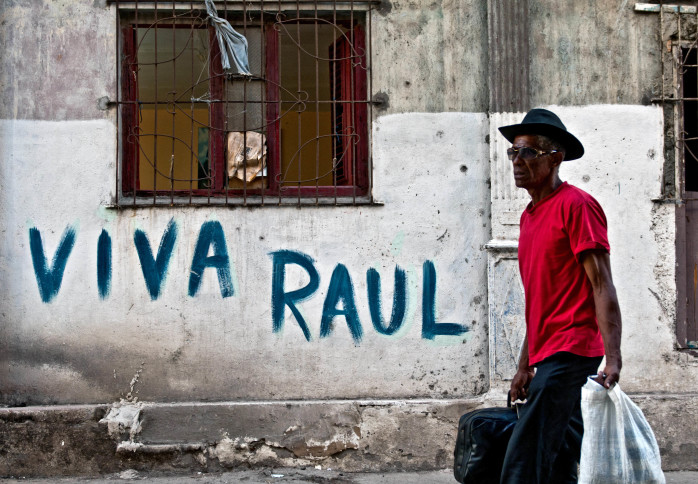 Brazilian construction company Odebrecht is upgrading the port at Mariel, China's Xinjiang Goldwind Science & Technology Co. is building 34 wind turbines for the government and the European Union is in talks over a political accord with the Castro government.
"It's better to be present on the ground than be absent," said Tomas Bilbao, executive director of the Cuba Study Group, a Washington-based organization that backs a loosening of sanctions. "I'd rather Cuba depend on us than on Venezuela or China."
Cuban dissidents on the island are divided over whether the measures called for in the Obama letter will help or hurt their cause. José Daniel Ferrer, head of the Union Patriotica de Cuba, which records almost daily detentions of activists, said in a statement that it's "not right for people or institutions, in search of economic benefits, to seek engagement at this time."
Miriam Leiva, a former diplomat during Fidel Castro's rule whose husband was imprisoned for more than a year before dying in exile last year, said more exchanges will help the Cuban people be better prepared for life on the island after the Castros are gone.
"More Americans should come," Leiva said in a May 16 interview in Miami. "Cuba is going to change. The government doesn't want it to undergo great change, but it's impossible to keep that society closed."
Faries reported from Miami.
© 2014, Bloomberg News