WASHINGTON, D.C. – Authoritarianism is gradually making a comeback throughout the hemisphere in the form of dictatorial regimes that "took root under the guise of rule of law," three Central America experts warned at a panel Thursday in Washington.
Coincidentally, the event took place just as Luis Guillermo Solís was being sworn in as Costa Rica's 47th president – and on the same day Venezuelan police demolished four protest camps in Caracas and detained 243 anti-government demonstrators.
"Hugo Chávez has been dead for over a year now, but his spirit lives on in Venezuela" through his hand-picked replacement, President Nicolás Maduro, said Jaime Daremblum, Costa Rica's former ambassador to the United States and current director of the Hudson Institute's Center for Latin American Studies, which sponsored the conference.
Daremblum said Maduro has suppressed Venezuela's opposition movement more violently than Chávez had ever done. Since February, at least 41 people have died and more than 700 have been injured in daily street protests against the Maduro government, which demonstrators say has done nothing to stop rampant crime, runaway inflation and shortages of basic goods.
"The United States obviously has a major interest in preserving Latin American democracy, yet it has shown relatively little leverage over governments in Caracas, La Paz, Quito, Managua and Buenos Aires," complained Daremblum, a frequent critic of the Obama administration.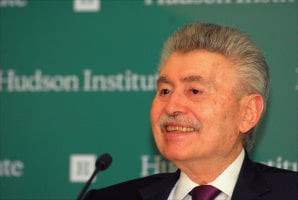 Other speakers included Kevin Casas-Zamora, secretary for political affairs at the Organization of American States and former vice president of Costa Rica, and René León, El Salvador's longtime former ambassador in Washington. Héctor Schamis, an adjunct professor at Georgetown University and columnist for Madrid's El País newspaper, also offered commentary.
"Not so long ago, Mexico was ruled by a one-party bureaucracy, Brazil, Argentina and Peru were military dictatorships, El Salvador, Guatemala and Nicaragua were involved in civil wars, and only a handful of nations were truly democratic," said Daremblum, who was Costa Rica's top envoy to Washington from 1998 to 2004.
"Compared with the early 1980s, Latin American democracy is doing pretty well. And yet, over the past 15 years, Latin America has become a region divided between authoritarian populism and liberal democracy, between 21st-century socialism and free-market capitalism," he cautioned. "But unlike in the old days – when the biggest threat to democracy came from armed guerrillas and military coups – today it's from leaders who were fairly elected but who have hollowed out democratic institutions, persecuted political opponents and attack independent journalists."
These heads of state, he said, include not just Venezuela's Chávez and Maduro but also Ecuador's Rafael Correa, Nicaragua's Daniel Ortega, Bolivia's Evo Morales and Argentina's Cristina Kirchner.
León added another leader to that list: Salvador Sánchez Cerén, who was elected president of El Salvador in March after a bitterly contested process in which his ruling Farabundo Martí National Liberation Front (FMLN) received 50.11 percent of the vote, compared with 49.89 percent for Norman Quijano of the right-wing Arena party.
"President-elect Cerén, who was kissing Castro's ring last week, said Maduro was his inspiration, and that he will follow Maduro's guidance because he's a beacon for the Americas," said León. "Cerén is taking a very moderate reconciliation discourse in El Salvador – inviting the private sector to invest in his government – while at the same time doing the exact opposite in Cuba and Venezuela. This is bad news for El Salvador, and I think it's bad news for Central America in general."
León, who represented El Salvador in Washington for 10 years before joining Creative Associates International as an "economic growth consultant," blamed the Maduro government for unfairly helping to elect Sánchez Cerén.
"Venezuela's attempts to export the Bolivarian revolution using oil money failed in Honduras – barely – last November, but it won in El Salvador in April. If there is a country that's next in line to become a competitive dictatorship, sadly enough it will be El Salvador," said the former ambassador.
León claimed that the Petrocaribe program – whereby Venezuela provides subsidized oil to countries throughout the Caribbean Basin region – funneled tens of millions of dollars in funds to the FMLN so that the party composed of former leftist rebels could win recent elections at the municipal and national level.
"This has transformed the political class in El Salvador into the new entrepreneurial class, but it also violated electoral rules," he said. "During the current administration of [President Mauricio] Funes, the FMLN regime has attempted to dismantle the Supreme Court and also promoted changing the constitution to perpetuate its power. Not even the opposition political parties were able to derail those attempts. Fortunately they were stopped by civil society."
Ironically, says León, the National Assembly today ranks as the most discredited democratic institution in El Salvador, according to a recent survey, while the most trusted institution is the armed forces – a "contradiction," he said, for a country that spent so many years embroiled in a civil war that cost the lives of an estimated 75,000 people.
Regionally, the much bigger paradox, said Casas-Zamora, is "that right at the moment we all became democratic nations, those mechanisms to protect democracy were rendered ineffective."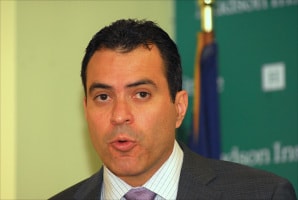 'Tectonic changes'
In his talk, Casas-Zamora outlined five "tectonic changes" he says will define the future of democracy in Latin America.
The first is a trend toward ideological convergence in which blatantly left-wing or right-wing economic and social policies will no longer sway voters.
"It doesn't matter whether candidates hail from the left or the right. According to regional surveys, 38 percent of the population of Latin America defines itself as being in the center. Another 20 percent are reluctant to place themselves in the left or right, so you have to cater to the center," said the OAS official. "Otherwise you're doomed."
The second phenomenon is the rise of civil society at the expense of traditional political parties throughout Latin America.
"Mass media has taken over the traditional functions of political representation," said Casas-Zamora, who served as Costa Rica's vice president under Óscar Arias from May 2006 until September 2007. "If you're a grassroots leader with a grievance in your community, where do you take that grievance nowadays? To the local branch of a political party, or to a TV station? Add to that the role of social networks, which have really thrown political parties off balance."
Third is the revamping of constitutional frameworks in places like Honduras and Paraguay, and "the haste in introducing political reforms and pushing them down the throats of society without carefully thinking about the consequences."
The fourth phenomenon is what Casas-Zamora calls the "hollowing out of the rule of law" – a trend he said is exacerbated by the "extremely high and growing" fear of violent crime throughout the region.
"Nearly 40 percent of the population of Latin America is willing to tolerate the abuse of authority in the name of the fight against crime, according to regional surveys. Even more remarkable, over one-fourth of the population favors taking the law into their own hands. When you travel throughout the region, this iron fist is never far below the surface. It was the single biggest issue in the last election in Honduras," he said, noting the "mano dura" approach taken by ruling National Party candidate Juan Orlando Hernández, who won the November 2013 election with 37 percent of the vote in a country that suffers the world's highest homicide rate.
"We also saw bits of that in Panama as well," said the politician, lawyer and political scientist. "When it comes to crime and the fear of crime, people adapt their behavior and simply accept a greater encroachment of their civil liberties."
The final trend, he said, is the proliferation of social demands, sparked by the growth of Latin America's middle class – which for the first time in history is larger than the low-income class.
"The middle class provides the voice that demands quality in public goods and services," said Casas-Zamora. "These profound social transformations are rarely the result of political decisions, but rather more fundamental forces such as technological or demographic change."
As a result, he predicted, "Latin American societies will have more women, be older and be more secular – no matter what the politicians do or not do. It's not politicians who will change societies in Latin America anymore."