To a jazz fan, there's always been something special about Blue Note Records. It wasn't the first record label dedicated to jazz; it didn't always have the biggest stars or release the most historically significant recordings. But it was always cool.
Since its founding by a jazz-loving immigrant from Germany in 1939, Blue Note Records has been one of the guideposts of jazz. A Blue Note album always seemed to have a certain sound, a certain look, a certain feeling that embodied the spirit of jazz.
With record labels shrinking fast and vanishing altogether in our age of YouTube and MP3 downloads, Blue Note has somehow managed to hang on to its old mystique. Books have been written about Blue Note's music and its album covers, which are still studied by graphic designers. The sound quality on Blue Note classic recordings has never been matched. After 75 years, it's still around — although not just a jazz label anymore — and it's hard to think of any other record company whose legacy would merit a month-long music festival.
Beginning next weekend, the Kennedy Center and several other Washington, D.C. venues in the United States will launch an ambitious celebration of all things Blue Note, including films, lectures, a U.S. Library of Congress panel discussion, a photography exhibition and no fewer than 10 concerts. (For a complete schedule, go to www.kennedy-center.org/bluenote.)
Jason Moran, who is taking the Kennedy Center's jazz program in new directions as its artistic adviser for jazz, is a major contributor to the programming, both as a performer and an impresario. He will discuss his favorite Blue Note albums with trumpeter Terence Blanchard at the Kennedy Center on May 10 and take part in a gala concert the following night, featuring some of the brightest stars of Blue Note, past and present, including saxophonists Wayne Shorter, Joe Lovano and the ageless Lou Donaldson — who first recorded for Blue Note in 1952; singers Norah Jones and Dianne Reeves; vibraphonist Bobby Hutcherson; and pianist McCoy Tyner.
Check out Lou Donaldson doing some "straight ahead jazz; no fusion, no con-fusion … no 50 Cent that ain't worth a quarter":

So what is it about Blue Note that makes it so worth celebrating?
In the 1940s and '50s, when jazz still claimed a small slice of the pop-music market, Blue Note was one of dozens of labels that put out memorable jazz records, including Verve, Savoy, Prestige, Riverside, Pacific Jazz, Columbia and Impulse. But, from the moment of its founding, Blue Note was different. The label was devoted to jazz and nothing but jazz, and over time it acquired a distinctive sound and visual style that set it apart.
Dozens of renowned musicians recorded for Blue Note over the years, from Thelonious Monk and Bud Powell to Clifford Brown, Art Blakey, Horace Silver and Freddie Hubbard. A 2009 Down Beat magazine article concluded that the Blue Note spirit was best captured by saxophonist-composer Wayne Shorter, whose 80th birthday was observed last year at the Kennedy Center. His groundbreaking albums "Speak No Evil," "Adam's Apple" and "Night Dreamer," blending tradition and creativity, sound as fresh today as they did when he made them in the mid-1960s.
"Whatever music was done on the Blue Note label expressed the challenge of change," Shorter told Down Beat five years ago. "Blue Note had its finger on something — that you need that overwhelming resistance to commercial stuff to be used as fuel. It takes resistance for an airplane to take off."
"Blue Monk":

If Blue Note reached its apotheosis with Shorter in the 1960s, its history reaches back much further, when two teenage friends in Berlin were besotted by a new music coming from the U.S. in the 1920s. Alfred Lion and Francis Wolff listened to jazz when it was considered a dangerous and decadent form of music that could send you to jail in Nazi Germany.
Lion, who was born in 1908, came to the United States in the 1920s for a short time. Recognizing the growing peril for Jewish citizens, he left Germany for good in 1933, landing first in Chile before settling in New York three years later. He worked in the import-export business while keeping his ear turned toward jazz. Guided only by his ear and his eagerness for the music, Lion held his first recording session, with boogie-woogie pianists Albert Ammons and Meade "Lux" Lewis, on Jan. 6, 1939.
He sold the records under the name Blue Note, after the flatted tones that give jazz and blues their characteristic minor-key sound. Later that year, Lion recorded New Orleans-born soprano saxophonist Sidney Bechet in a version of George Gershwin's "Summertime" that remains a classic.
Wolff fled Germany in October 1939 and joined Lion at Blue Note. After buying out an early investor, they owned Blue Note outright by 1947.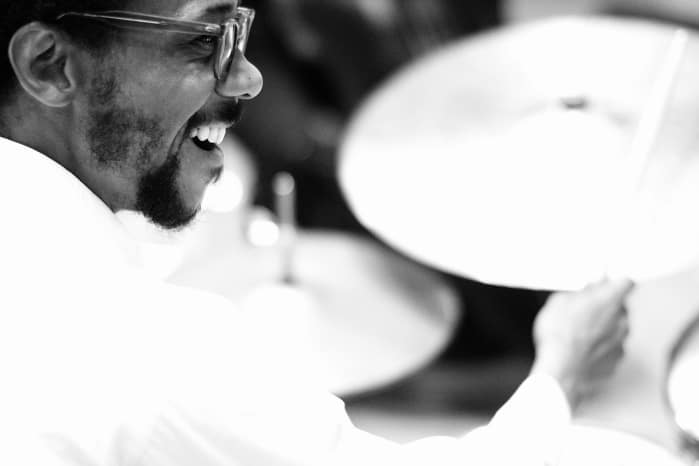 At first, Lion and Wolff favored the traditional jazz they had heard in Berlin, but they soon discovered new sounds, largely through saxophonist Ike Quebec, who became something of an unofficial talent scout for Blue Note. By the late 1940s, Lion and Wolff were in the studio with pioneering pianists Thelonious Monk and Bud Powell.
The Blue Note label began to assume something of its new identity in 1953, when Lion and Wolff made 28 new recordings, including albums by Brown, Silver, Miles Davis and Blakey's Jazz Messengers. The same year, a onetime optician from New Jersey, Rudy Van Gelder, became Blue Note's primary recording engineer.
Lion wanted his records to have the immediacy of a jazz club, and Van Gelder was able to replicate the sound, with a balance and clarity never before heard in jazz recordings. For the first time, the acoustic bass sounded distinct and alive, with a pure, wooden tone. The varied elements of the drum kit — high hat, snare, cymbals and bass drum — had a bright, punchy kick. The piano had a mellow timbre, but it wasn't overpowered by trumpets and saxophones.
There were capable engineers at other labels, but Blue Note recordings had a consistent quality that became the platonic ideal of how jazz was meant to sound.
The finishing touch for Blue Note came in 1956, when Reid Miles arrived. Neither a musician nor a producer, Miles didn't even like jazz; he preferred classical music. But by designing hundreds of album covers, he devised a Blue Note style that was bold, innovative and memorable.
Many of the albums were built around Wolff's striking photographs, most of them intimate portraits of musicians against a dark background. The images showed African American musicians concentrating on their work, as they wrote arrangements, played instruments or, in some cases, gazed directly into the camera. They were more than mere entertainers, the Blue Note albums implied; they were creative souls, giving voice to an original artistic vision.
The tightly cropped photos were balanced by clean typefaces, bright colors, lines and other graphic elements that produced an identifiable Blue Note aesthetic. Decades later, fans still recall many of their favorite albums by the cover art.
Through the 1950s and 1960s, Blue Note put out dozens of records by Silver, Blakey, Shorter, Hank Mobley, Lee Morgan, Jimmy Smith, Cannonball Adderley and others, who collectively helped define a style of jazz that became known as hard bop. A bluesier, more melodic version of the harmonically complex bebop of the 1940s, hard bop became virtually the new mainstream musical form of jazz. With each new album, Blue Note codified its own style, building a legacy that would extend for generations.
"All of the material stands up," trumpeter Nicholas Payton told Jazz Times magazine in 2009, "and over time the beauty and the meaning of these records become deeper, which is a testament to how great they were initially."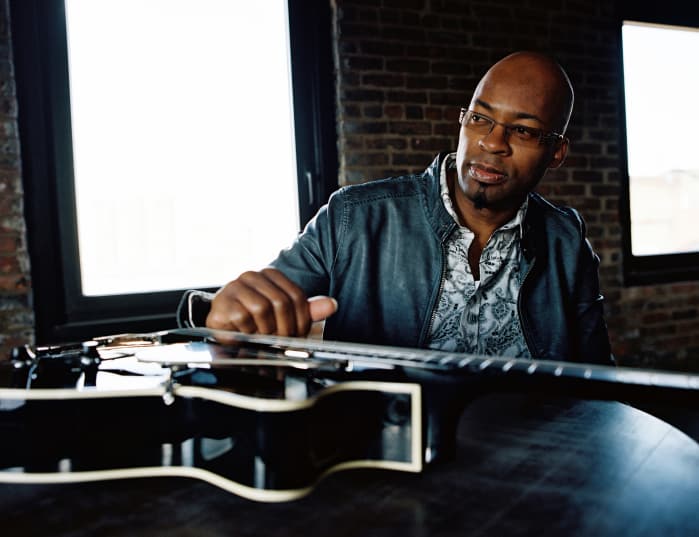 Other labels, most notably Prestige, helped propound the new hard bop style in the 1950s, but no one could match the polish of Blue Note. Musicians used to have a joke: What's the difference between a Blue Note session and a Prestige session? Two days of rehearsals.
In fact, it wasn't a joke at all. From his very first recording session in 1939, Lion defied the established practice by paying his musicians up front and offering royalties on later sales. He asked them to rehearse — and paid for it — and brought them into the studio late at night, when they were most comfortable and relaxed. Food and drink were plentiful. Lion was always there, no matter the hour, and in some of Wolff's photographs, you can see him massaging the musicians' shoulders.
"Alfred was totally dedicated," Horace Silver, who became a close friend of Lion's, said in 1987. "He saw to it that everything about his product, from the recording to the artwork, the photography, the liner notes, was flawless. He established a tradition of dealing only with music he believed in, instead of basing his plans on how well a record would sell."
The golden age of Blue Note lasted about 15 years. In 1966, the company was sold to a conglomerate, and Lion retired to Mexico and California. He died in 1987. Wolff died in 1971.
After years of dormancy, Blue Note was revived in 1984 by a new company president, Bruce Lundvall, who restored much of the label's luster. He dug through the archives to release many of the classic albums on CD, complete with their original artwork, and he was the label's guiding force for more than 25 years.
Even today, about a third of Blue Note's sales are drawn from the remarkable backlist produced by Lion and Wolff. The secret to Blue Note, it seems, was simple: It came from a love of the music and a respect for the people who made it.
© 2014, The Washington Post