PANAMA CITY – Leonardo Zambranok, who moved from Venezuela almost three years ago to take a marketing job with Procter & Gamble Co. in Panama, has watched the wave of violent protests back home and says he knows he made the right choice.
"Everyone said I was making a big mistake because they were still making a lot of money," said Zambranok, 27, who like other Venezuelans fleeing economic and political instability thought the move would be temporary. "Now it's more insecure than ever and you're starting to see young people want to move away like crazy."
An exodus that began under the late President Hugo Chávez has gotten a boost under Nicolás Maduro, who vowed to extend his predecessor's socialist policies after winning elections last April. Venezuelans in Panama predict that a new wave of young, middle-class job seekers will follow them in the wake of shortages of basic goods, accelerating inflation and anti- government demonstrations that have claimed at least 41 lives since February.
With close cultural ties, more open immigration laws and plentiful jobs, Panama offers some advantages over traditional destinations like south Florida, Venezuelans say.
Panama's immigration agency said 233,921 Venezuelans entered the country to work or visit last year, up from about 147,000 in 2010. That compares with approximately 223,000 non- immigrant and immigrant visas issued to Venezuelans by the United States last year, according to the State Department. Venezuelans seeking work in Panama often come on a tourist visa and change their status later.
For Venezuelans, Panama also offers many of the trappings of home. There are dozens of Venezuelan-run restaurants, yoga studios and bakeries in Panama City. Cable television packages include Globovision, a Venezuelan channel that has sparred with the socialist government since Chavez.
Recommended: Desperate for coffee in Caracas
Cars sporting signs with "SOS Venezuela," a slogan of anti-Maduro protesters, are regularly seen around Panama City. At pick-up soccer games in the capital, Zambranok said conversations bounce from hardships at home to opportunities in the new locale, with more acquaintances reaching out for work.
"Our culture is about relationships, where you know a guy who knows a guy who can help you," said Zambranok. He shows a photo of a friend standing in front of mayonnaise jars at a Caracas supermarket, taken amid recent shortages. "This is big news when you can get mayonnaise. It's absurd."
Venezuela's Information Ministry didn't respond to a message left by Bloomberg News regarding emigration to Panama and other countries.
Under Maduro, Venezuelan inflation has surged to 57 percent, the highest in the world. More than one in four basic goods was out of stock in Latin America's fourth-largest economy in January, according to the central bank, which has stopped publishing up-to-date scarcity data. The government last month let the bolivar weaken 88 percent in a new currency market, part of a move to increase dollar supplies in South America's biggest oil exporter.
Wedged between Colombia and Costa Rica, Panama has lured workers with economic growth that has averaged about 9 percent per year since 2008 as completion nears on a $5.25 billion expansion of its signature canal. That's prompted investments in banks, mining and real estate, including a new Hard Rock hotel, and created more jobs.
"We've had to open up our immigration policy to attract more skilled labor," Panama Finance Minister Frank De Lima said in an April 9 interview.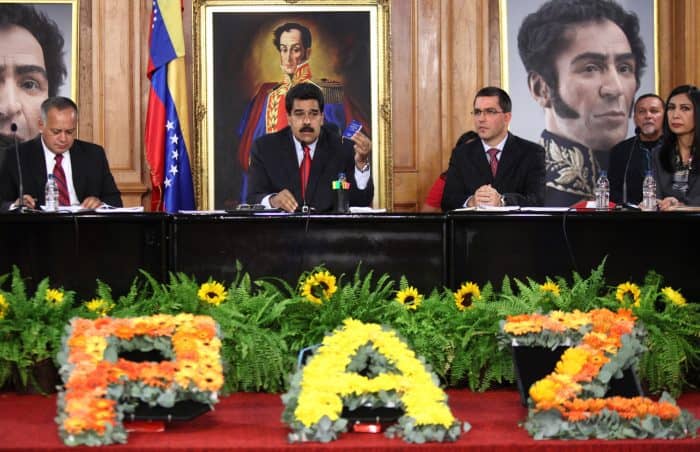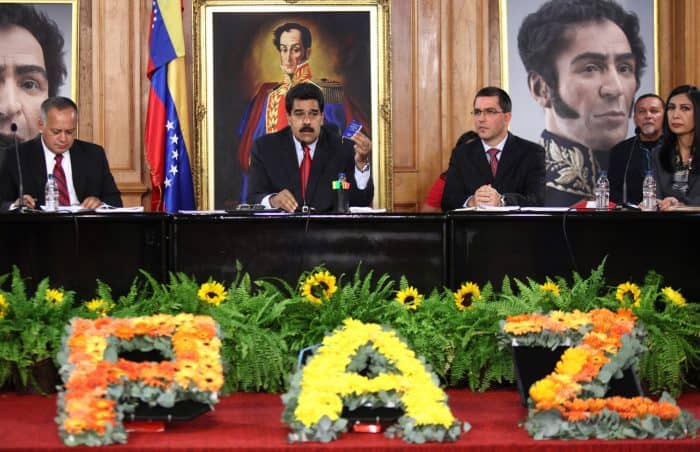 As unemployment levels hover near a record low of 4.1 percent, Panama's immigration agency said this month that it has legalized about 50,000 foreign workers since 2010 in a series of open registrations, called "melting pots." Of the 5,072 foreign workers approved in the April melting pot, 603 were Venezuelan, the fourth-highest number after immigrants from Colombia, the Dominican Republic and Nicaragua.
The government also eased requirements to gain residency for immigrants from more than 40 nations deemed friendly to the Central American country. Citizens from the United States and elsewhere can work in Panama or start a business by opening a $5,000 local bank account.
Venezuela is not on that list. Even so, Panama has "seen an increase of Venezuelan investment, companies and entrepreneurs in the last couple of years," De Lima said.
Santiago Medina, a 27-year-old Venezuelan stock broker living in Panama, said any aspirations to return home have been dashed by Maduro.
"I'd love to go back, but there are too many unknowns right now," said Medina, who moved to Panama in 2008 and works at Banco General. "I'm way more comfortable here."
Panama experienced a surge of Venezuelan brokerage license applications after Chávez's 2010 crackdown on financial firms, which sent 11 traders to jail. Eight of 12 firms applying for licenses at the time were from Venezuela, according to Panama's security regulator.
While Medina and Zambranok had visas sponsored by their employers, other Venezuelans said they found jobs initially while under their six-month tourist status and then applied to work legally.
Zambranok, who jumped at a transfer offer when his company expanded their offices in Panama City, said the transition has been far easier than it would have been in south Florida.
"Panama is still Latin America, it's a lot more relaxed here," he said.
With assistance from Pietro D. Pitts, Corina Pons and Nathan Crooks in Caracas.
© 2014, Bloomberg News