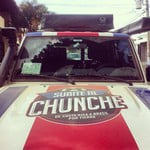 There are many ways to get to Brazil for the World Cup in June. One trio of Costa Ricans will drive there in what they call "El Chunche."
Chunche is a familiar word here, used for a thing – anything, really. In this case, The Chunche is a custom-made Toyota Land Cruiser built of old Land Cruiser parts, with a red, white and blue painted hood, and with the mottos "Subite al Chunche" and "Pura Vida" inscribed on the sides. This is the Tico way of showing support for Costa Rica's national soccer team.
Sebastian Castro, 26, Oliver Nowalski, 25, and Ricardo Cerdas, 26, will travel by to Colombia to meet The Chunche, which will arrive via container ship. They will then spend a month driving through Colombia, Ecuador, Peru, Bolivia, Paraguay and Argentina before joining the multitude of soccer fans in Brazil. Why Argentina when it's not on the way? Why not?
And why is it called The Chunche?  Firstly, because it's a thing. But also, the car is named for Mauricio "Chunche" Montero, one of Costa Rica's most talented and popular players, now retired from the game. They expect to meet Montero in Brazil, and will invite Chunche to ride in The Chunche.
They anticipate that the route will include mountains, lowlands, deserts and jungles, hot and cold weather, breakdowns, slip-ups and shenanigans, and it will take about a month. They plan to spend a month in Brazil watching the tournament that runs from June 12 to July 13.
This trip took considerable planning. Nowalski, an engineer, Castro, a journalist who worked for CNN, and Cerdas, a film producer, all took time away from work to seek out sponsors and look into all the details. And while the trip promises to be fun, there are other reasons for why it's happening.
Traveling around Costa Rica in The Chunche in the weeks leading up to the trip, the men have gathered much support from Ticos. "We have a social mission," Sebastian explained. "The Chunche belongs to everybody. Everyone wants to help. Someone wrote a song about the chunche. A nutritionist planned menus."
"It's true Pura Vida," Ricardo added. "It's also creative. We want to show young people that they can create. They can create their own jobs. We show that it can be done."
A series of reality shows will be produced on the trip. The episodes will air on YouTube and Teletica (Channel 7).
"Subite al Chunche" means climb aboard the thing, and that's just what is happening. Running such errands as delivering computers to a school in Sarapiqui for the Lifting Hands Foundation, the travelers tell kids about their trip and encourage them to think big and go on adventures. The trio said that everywhere they go, people come to ask questions, take photos and shake their hands. As ambassadors of Costa Rica, they have won a lot of affection and support.
The idea of driving an attention-getting car to Brazil was hatched at the World Cup in South Africa in 2010, when Sebastian and Oliver worked as volunteers for FIFA. Back then, they decided to rent a Volkswagen, call it The Chunche, cover it with signs proclaiming "Pura Vida," and stick the Costa Rican flag on the hood. They may have been one of the few Costa Ricans in South Africa, but they got a lot of spotlight. They could barely wait four years to do it again.
Now The Chunche has been tricked out with a kitchen and bathroom, and the men are on their way. The plan is to arrive in Brazil in The Chunche in time for the opening match, having rallied support for Costa Rica all along the way.