Costa Rica's permanent representative to the United Nations, Eduardo Ulibarri, delivered an impassioned speech before the U.N. General Assembly Thursday morning in defense of the sovereignty of smaller nations, before voting to support a resolution denouncing the recent annexation of Crimea by the Russian Federation.
The U.N. General Assembly on Thursday adopted a non-binding resolution backed by the United States and European Union declaring Crimea's breakaway referendum illegitimate and refusing to recognize Russia's annexation of the peninsula. Costa Rica and Nicaragua, however, embroiled in their own border disputes, found themselves on opposite sides of the resolution. 
"The resolution before us is of universal importance but its relevance is amplified for the states that, because of their small size and limited resources, can only count on the force of international law to protect our sovereignty, defend our integrity, reinforce our security and strengthen our peace," Ulibarri said.
"[Costa Rica] does not have the means to defend itself against external aggression. Our weapon is international law. We see in this resolution a way to reaffirm it and defend it. If we do not stand up against these implications of such serious events, we will create conditions for more — and perhaps worse — future violations," Costa Rica's representative said.
NATO and Western powers voted overwhelmingly in favor, and in Latin America, Costa Rica joined Chile, Colombia, Peru, Mexico, Panama and Honduras with a "yes" vote.
Costa Rica's support for Ukraine's resolution is not necessarily just one of international solidarity. The resolution resonates for the coffee-producing country's ongoing border disputes with Nicaragua, observed Carlos Cascante, a professor of international relations at Costa Rica's National University.
Costa Rica currently has several pending land and maritime border disputes with its northern neighbor, Nicaragua, at the International Court of Justice at The Hague.
"If Costa Rica did not vote in favor of the resolution, everything that they've defended about territorial integrity, international law, territorial sovereignty, which has been the legal foundation Costa Rica has presented in regards to its problem with Nicaragua, would have little weight," Cascante told The Tico Times.
"The facts are different but the principle is the same: You can't annex the territory of another state by violent means," the international relations expert said, referencing the alleged invasion of the Costa Rican territory Isla Portillos, also known as Isla Calero, by Nicaraguan forces in 2010.
President Laura Chinchilla called for stronger precautionary measures to ensure more countries abide by the world court's rulings during her September 2013 address to the U.N. General Assembly.
The non-binding measure passed with a comfortable majority in the 193-member body, with 100 votes in favor and 11 votes against. But 58 abstained and more than 20 did not vote.
Meanwhile, Nicaragua threw its lot in with Russia, voting against the resolution. Russian Defense Minister Sergei Shoigu said that Russia planned to expand its permanent military presence to Cuba, Nicaragua and Venezuela, among other countries, reported RIA Novosti in February.
The 11 countries that voted against the text were Armenia, Belarus, Bolivia, Cuba, North Korea, Russia, Nicaragua, Sudan, Syria, Venezuela and Zimbabwe.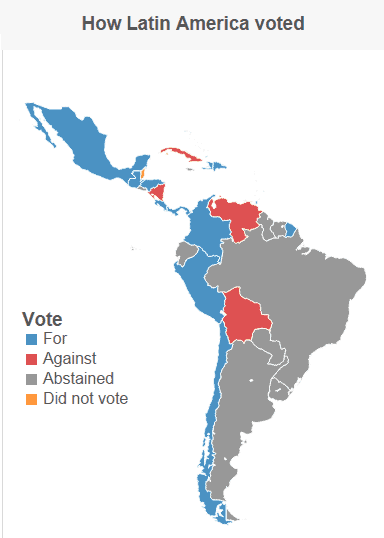 AFP contributed to this report.