CARACAS, Venezuela – Supporters and opponents of Venezuela's leftist government staged dueling rallies Saturday in Caracas and other cities in the latest public displays of discontent at soaring inflation and basic goods shortages.
About 3,000 opponents dressed in white and carrying red, blue and yellow Venezuelan flags gathered in an affluent area of the capital of the oil-rich but economically troubled nation.
They filled a plaza in the Las Mercedes neighborhood and spilled out into nearby streets, just days after demonstrations left three people dead.
The protesters, mostly students, have spearheaded nearly two weeks of marches against President Nicolás Maduro. Rampant crime, soaring inflation and basic goods shortages are their main grievances.
On Saturday they demanded the release of about 100 detained students and other opposition activists, and an end to police repression. The depth of the unrest on what is now the 12th day of street protests was underscored by Maduro's decision to address a counter-rally.
Speaking before thousands of supporters gathered in downtown Caracas, the president accused conservative Colombian President Álvaro Uribe of "funding and directing" the "fascist movements" he blames for the protests.
Maduro's government has also taken Colombian news channel NTN24 off the air, saying it was inciting anti-government violence.
Protests have taken place in different cities in Latin America and on Saturday, dozens of activists, many of them youths, rallied in front of the Venezuelan Embassy in Washington.
They carried banners reading "SOS Venezuela," "We say no to dictatorship" and "Venezuela is not alone." Many wore clothing in the colors of the Venezuelan flag.
A handful of pro-government protesters held banners at the embassy gates that read "We are with the Bolivarian revolution."
Crackdown after violence
Two anti-government protesters and a pro-Maduro demonstrator died in a rally Wednesday, in violence that raised alarm throughout Latin America and as far away as Europe. Some 60 people were also injured.
"Before, we would not go out on the street because of crime. Now, we go out to protest and they kill us," said university student Isaac Castillo, 27.
"We young people have neither faith nor hope. There are no jobs and even if we get one, it is not enough to make a decent living."
In downtown Caracas, government supporters wearing the bright red symbolizing the leftist movement of the late Hugo Chávez and Maduro, his handpicked successor, filled several plazas.
Some protesters danced or did aerobic exercises to the rhythmic beating of drums played by their fellow demonstrators.
And other demonstrators unfurled huge Venezuelan flags and pictures of South American liberation hero Simón Bolívar and of Chávez.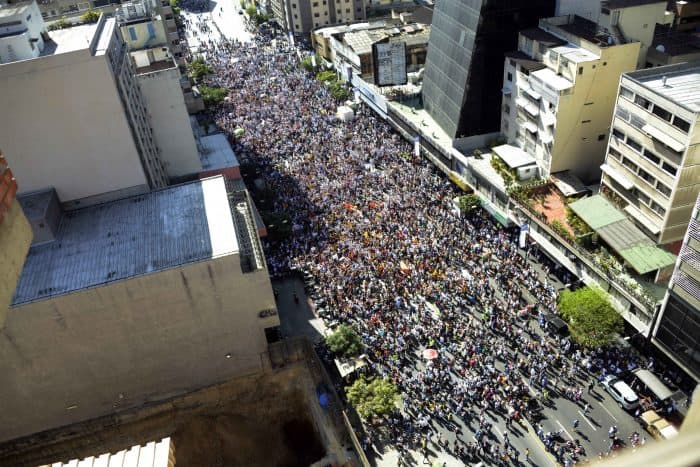 Maduro says the protests against him signal the rumblings of a coup to depose him, vowing to use force to prevent unauthorized street gatherings.
The president has accused opposition leader Leopoldo López of being one of the main backers of the protests, and he is wanted for arrest.
"Turn yourself over, coward! The people want justice," Maduro said.
The latest anti-government movement, launched by students with backing from some of the country's fractured opposition groups, poses the biggest challenge to Maduro since 2013 elections, after Chávez died of cancer.
A nationwide security crackdown has followed the violence in a country where the economy has been battered by inflation of more than 50 percent.
The U.N. High Commissioner for Human Rights urged the Venezuelan government Friday to bring those responsible for the violence to justice. The European Union also expressed concern.
Seeking to quell the unrest, Maduro unveiled a 10-point plan to crack down on crime that includes disarming the population, increased police patrols and unspecified "clear rules for television."
The protesters have demanded that Maduro step down, although opposition leaders have not endorsed the request.
Despite having the world's largest proven reserves of crude oil, Venezuela has severe economic problems and a deep divide between rich and poor.
And with an institutionally socialist government dependent on oil revenues in a state-led system, the nation has been hurt by a shortage of hard currency, while dwindling supplies of consumer goods have frustrated even some government supporters.
The government, however, blames "bourgeois" local business interests for trying to profit from its largely low- and middle-income political base.