While a few political flags waved in the streets Saturday night, Costa Ricans quietly readied themselves for the end of a hard-fought electoral campaign and a Sunday vote to decide the country's next president and Legislative Assembly.
For the first time, two of Costa Rica's left-leaning parties have a solid shot at taking the presidency and disrupting decades of ruling party governance.
Despite occasional honking of caravans supporting one of the top four candidates, most of the country's cities and neighborhoods were quiet Saturday, as some three million voters get ready to pick President Lauran Chinchilla's successor.
The outcome is anyone's guess, as polls show a tight race between National Liberation Party candidate Johnny Araya, Broad Front Party candidate José María Villalta, the Citizen Action Party's Luis Guillermo Solís and Libertarian Movement Party candidate Otto Guevara.
Polls showed Araya and Villalta as the two frontrunners heading into Sunday's vote. But Solís came on strong in the final weeks of the campaign, more than doubling his support in polls last week.
On Saturday, Villalta – a progressive candidate who opponents attempted to link with the socialist governments of Venezuela and Nicaragua – acknowledged that he had been assigned a police security detail after reportedly receiving death threats. Villalta, however, seemed unfazed by the development.
"We have reinforced security a little, which is normal as Election Day approaches. It's normal that candidates boost security," he said, according to the news site AmeliaRueda.com.
Araya, the 56-year-old former mayor of San José, and lawmaker Villalta, 36, have traded the top spot in several polls in recent weeks. Pollsters say they are in a virtual tie. Right behind them are Solís and Guevara, with nine other presidential candidates and several legislative candidates on the ballot.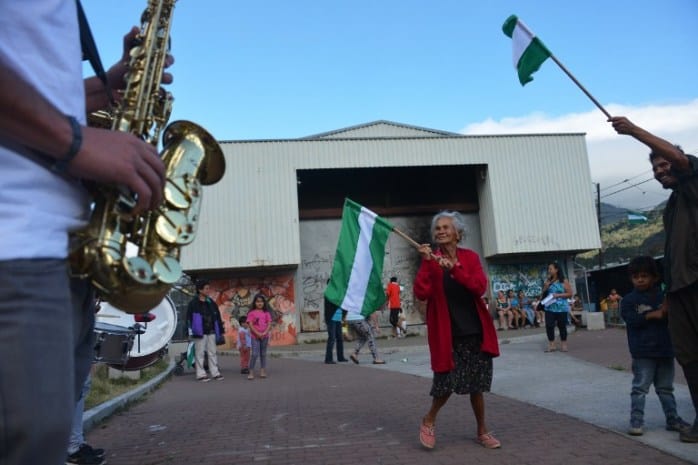 The candidates spent the day Saturday playing football in parks, walking through neighborhoods with supporters, and visiting markets and coffee plantations.
Many analysts say an April runoff is unavoidable, as none of the candidates appear in a position to reach the 40 percent of the vote needed to win in a first round.
"It's practically impossible to avoid a second round. But it's difficult to determine which candidates will make it," political analyst Víctor Ramírez said.
Ramírez pointed out that according to the most recent polls, undecided voters topped some 30 percent – a significantly high number in a country that has the longest and healthiest democracy in the region.
Corruption and inequality
Despite its lauded social and democratic stability, which contrasts with Central American neighbors, economic inequality grew more in Costa Rica in 2013 than any other Latin American country, and with it, public discontent, said analyst Constantino Urcuyo.
"There are huge corruption cases, we have a 20 percent poverty rate and inequality is growing. People are tired and they want solutions," 46-year-old vendor Manuel Rodríguez said.
That set the stage for the quick rise of a leftist lawyer and environmentalist who spoke out against corruption and a free trade agreement with the United States, converting himself into the "protest vote" for many Costa Ricans, analyst Jaime Ordóñez said.
Villalta and Solís blame the traditional political class for the country's current woes, and note that the ruling PLN has dominated the political scene for the past 60 years, along with the now-weakened Social Christian Unity Party. Many voters have grown disenchanted with the PLN's neoliberal economic model implemented over the last 30 years. Critics say that policy has slowly eroded the public health and education systems, among others, which had been a source of deep pride for the country of 4.3 million.
"The time for change has arrived. Thirty years of the neoliberal dark night is about to come to an end. They call me a communist because they can't call me corrupt. But I won't be copying other models," Villalta said, referring to his opponents' allegations that the young progressive would follow the path of Venezuela and its late leader Hugo Chávez, who died last year.
Araya, meanwhile, has promised to reactivate the economy, decrease poverty and modernize the country.
"There are those who have an apocalyptic vision. But I want to build upon our strengths," Araya said.
Serving as the capital city's mayor for more than two decades, Araya inherits significant contempt for the past eight years of PLN administrations in the Casa Presidencial. His party's current president, Laura Chinchilla, has the worst approval ratings in the hemisphere, and her administration has been criticized over corruption cases and accusations of incompetence.
Although Costa Rica has shown stable economic growth – 3.4 percent in 2013 – the country has been unable to reduce poverty in two decades. Its infrastructure is falling into disrepair – particularly the roads and ports – and the fiscal deficit tops 5.4 percent while the national debt totals 50 percent of gross domestic product.
Not a typical election
Costa Rica's complex political panorama is marked by a fractured Legislative Assembly, and the next president – who takes office on May 8 – will face the difficult task of promoting policy through the Assembly.
"Party and ideological lines have become blurred," Ramírez said.
Unlike past elections, where large caravans of cars, rallies in plazas and parks, and colorful flag-waving took place across the nation on the days leading up to the vote, this year's campaign was bitterly fought mostly on social networks.
Supreme Elections Tribunal President Luis Antonio Sobrado said the TSE would begin releasing results at 8 p.m., two hours after the polls close.
If the vote count between the top two candidates is less than 2 percent, a manual count will take place, he said.
Polls open from 6 a.m. to 6 p.m. at 6,515 polling centers, and will be monitored by the Organization of American States and other delegations. Some 12,000 Costa Ricans living abroad will be allowed to vote for the first time.
Follow updates throughout the day at http://wordpress-257819-2837440.cloudwaysapps.com.
Here's what the presidential ballot will look like: