On Feb. 2, Costa Ricans will head to the polls to elect a new president and members of the Legislative Assembly. Though non-citizens can't vote, Election Day is still an exciting civic event for anyone in the country. Here are a few facts you should know:
1. Campaign season only lasts four months
Unlike the epic years-long campaigns in the U.S. and elsewhere, the Costa Rican campaign season officially kicks off four months before an election. Prior to that date candidates are not allowed to hold public campaign events, distribute paid campaign materials or debate.
Three days before the election, the campaign season is over and an electoral ban goes into place. During this time candidates cannot distribute any paid propaganda, but can still disseminate non-paid messages via the Internet. This ban also prohibits any citizen from conducting or publishing public opinion polls related to the election.
2. A runoff is always a possibility
To win the presidency outright, a candidate must receive 40 percent of the total vote. For the 2014 election, 13 presidential candidates are running, four of whom have significant followings. According to recent polls, it is unlikely that any of the candidates will capture 40 percent of the vote in the first round for this election.
If this happens, the top two candidates with the most votes will head to a runoff on the first Sunday in April. In the months between the first and second rounds, the electoral ban is lifted and candidates again may campaign and debate.
3. For the first time in history, Ticos can vote from abroad
Before this year's election, Costa Ricans living abroad were unable to cast ballots in national elections. But two years ago the country's Supreme Elections Tribunal (TSE) announced they would develop software to allow Ticos abroad to register online and vote. Nearly 13,000 of the 300,000 Costa Rican citizens living abroad are now registered to vote.
Polling stations will be set up in Costa Rican embassies and consulates in 42 different countries. Last month, the TSE postponed the use of the electronic voting stations for this election, and Ticos voting abroad will now cast paper ballots.
4. Public funds pay a large portion of campaigns
Each party is entitled to a percentage of public money for funding campaigns for presidential and legislative candidates. During this year's election an amount equal to 0.19 percent of the country's total gross domestic product ($72,590,680) will be divided among the parties.
The amount of public campaign financing each party collects is based on the total percentage of votes the party receives. This means that funds cannot be distributed until after elections have ended. To compensate for costs before the elections, parties often take out bank loans and bonds that they pay back after the TSE distributes funding. Private fundraising also is allowed as long as donations are reported to the TSE, but public financing usually make up a significant portion of a campaign's funding for major parties. In 2010 the ruling National Liberation Party spent a total of $20.6 million on their campaign, and approximately 83 percent was a product of public campaign financing.
5. Costa Ricans also will elect a new Legislative Assembly
Consecutive terms are prohibited for lawmakers in Costa Rica. This means that every four years, a completely new group of 57 lawmakers takes over the Legislative Assembly. Each of Costa Rica's seven provinces is allotted a number of lawmakers based on their population. Costa Rica has a proportional voting system, meaning that rather than voting for specific lawmakers, Ticos select the party of the lawmaker they want to elect.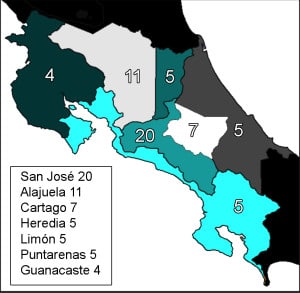 The confusing lawmaker election process in summary:
1. Before election time, each party orders lawmaker candidates in a list by priority. The first candidate on the list is the most likely to get elected.
2. After voting, the TSE divides the total number of votes per province by its population. The resulting number is the number of votes a party must receive to put one of its lawmakers in office.
3. Starting with the first candidate on a party's list, lawmakers are elected to office each time the party receives the required number of votes.
4. The leftover votes are redistributed using three different (and incredibly complicated) formulas to elect the final lawmakers.
6. You can now buy alcohol during Costa Rican elections (except for a few unlucky cantons)
Costa Rica used to have a dry law that prevented the sale of libations during Election Day and Easter Holy Week. In 2009, the government reformed the Electoral Code and chose not to define regulations about alcohol prohibition. In 2012, lawmakers decided that enforcing the law regulating the sale of alcoholic beverages would be up to individual municipalities. Fortuitously, few do.
A dozen municipalities have announced so far that they will enforce the prohibition. But even in San José, where the dry law is supposed to be in effect, police have stated they won't enforce the measure. But if locals don't behave themselves, authorities might reevaluate the decision to forgo the law.
Other miscellaneous election info:
Polls are open from 6 a.m. to 6 p.m.
If there is a clear winner, results are usually announced at about 10 p.m. on Sunday.
Campaigning outside of polling stations is not allowed, but Ticos often will wave flags and proudly display who they voted for away from the polls. If you haven't noticed, this year many Ticos have changed their Facebook profiles to represent the party or candidate of their choice.
Tico elections are fun. Head out on Election Day and see why Costa Rica is often the envy of other less-democratic nations.