Newly anointed Tampa Bay Buccaneers head coach Lovie Smith met with the local media for the first time Monday. After a year off from football (he was fired at the end of the 2012 season after coaching the Chicago Bears for nine years), Smith began his introductory press conference with an anecdote about how he spent part of his free time in Costa Rica.
Where he battled an angry howler monkey. With a machete.
At least that's what he first told the scrum of reporters. (After the initial report went out, NFL reporter Jenna Laine quickly clarified that "Lovie didn't touch, strike or injure any wild monkeys in Costa Rica.")
He later elaborated on the experience, and what happened was less gladiatorial – but equally as strange. Smith and his family had booked a 50-day vacation in Costa Rica. They stayed in a place near the rain forest, and by the sixth day started to hear the call of the howler monkey. By the ninth day, a showdown occurred:
From Greg Auman of the Tampa Bay Times (read Lovie's full tale here):
I look up, and there are two big male monkeys standing up on the table with their teeth showing. I thought 'OK, this is not going to end well.'

"Anyway, I got a broom. I didn't have to really kill one of the monkeys. I pushed him out of the house and we packed up that day and got out. That's a true story. I had the machete. I was ready. Have you ever heard a howling monkey? No one here, I guess you've been in Tampa most of your life. They're kind of a terrifying sound. I didn't have to kill any monkeys and we were able to get out of there. We left on Day 9 of a 50-day stay.
Smith, who took the Bears to the Super Bowl in 2007, will feel at home again roaming the sidelines in Tampa. He doesn't sound like the relaxed, outdoorsy type if he couldn't make it two weeks with monkeys in Costa Rica. Howler monkeys, as their name would imply, do communicate with a frightening roar (you'd expect to see a jaguar making those noises, not a primate). And they are the largest New World monkeys. Still, the coach's experience sounds unlikely for your average tourist. The monkeys prefer to spend most of their time up high in jungle canopies, not near humans or on your tables. Maybe this troop was accustomed to receiving scraps from humans, but a close encounter with a howler would be unexpected.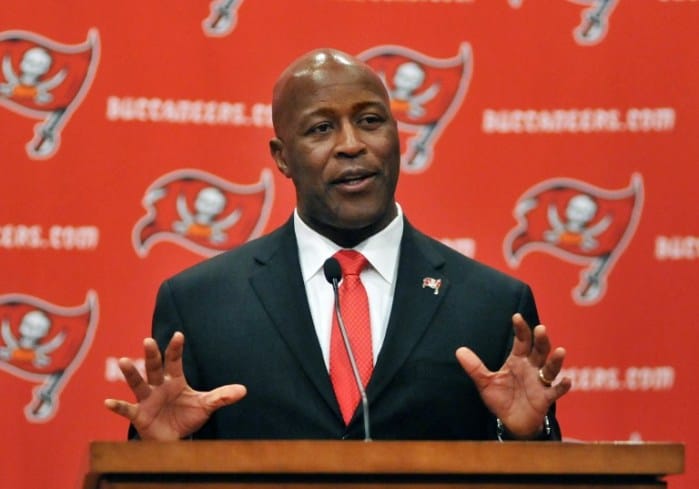 That doesn't mean the monkeys won't attack you. But they have a preferred method of ambush, from their positions high up in the trees. Howlers will poop and pee on you. I have first-hand experience with this one. During a weekend trip to Nicaragua's Ometepe Island, a howler troop suddenly ambushed me on a nature trail, pelting me with fecal matter and urine splashed around my feet. I was helpless. They had decent aim.
Even a machete is no match for an onslaught of excrement. By avoiding that most unsanitary situation, I think it's fair to say the head coach lucked out in his brush with Central American wildlife.